Thankful Thoughts
The dos (and don'ts) of saying thanks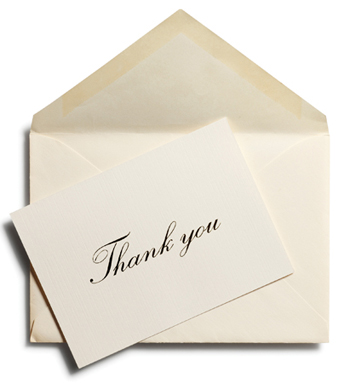 Sometimes couples get so wrapped up in the details of their weddings that they forget how important it is to say thank you—the right way. Here, etiquette experts Gloria Starr and Lizzie Post offer the most appropriate ways to thank your guests.
Timeliness is important. "Thank yous should be written within three months of receiving a gift," says Post, who is coauthor of Emily Post's Etiquette.
Keep it simple. "A really good thank-you note states how happy you were to see [your guests], how much you enjoy the gift, and some sort of well-wishing close, such as how you hope to see them soon," says Post.
Some topics are best left out. "Avoid saying things like, 'Sorry that your husband was unable to attend,' or 'You should not have spent so much money on the gift,'" says Starr. "Keep it upbeat and positive."
Don't cut corners. Never, ever, send a postcard, email, or greeting card in lieu of a traditional thank-you card. "Don't take shortcuts," advises Post. "Postcards are a horrible idea."
Make it personal. "Make sure each note is specific to the person you're sending it to," suggests Post. "You don't want it to be the same exact note to every person."
Explain it. If a guest gives you cash or a gift card, "Tell the person doing the gifting what you have purchased or what you intend to purchase with the money," says Starr.
Make sure everyone who deserves a thank you gets one. Gift givers and people such as your attendants, officiants, and vendors who have gone above and beyond should receive a thank-you note, says Post. It's also nice to give one to your parents.
Use a pen. Always hand-write a thank you, including the envelope. "It's in poor taste to use a label,"
says Post.
Share the responsibility. You're a team now, so your new husband should be writing half of the thank-you notes, adds Post.