Thanks, Skip
The pickle into which Skip Stam's ignorant stunt placed his old partner in politicking, Thom Tillis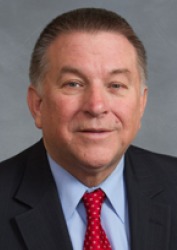 Paul "Skip" Stam, a veteran N.C. House member from Apex, passed out a flyer on the House floor this week that put his Republican colleagues, especially Speaker Thom Tillis, in a difficult spot.
House members were discussing charter schools. A Democrat, Susan Fisher of Asheville, proposed an amendment that would prevent charters from discrimination in teacher hiring—including on the basis of sexual orientation.
Stam then offered as an exhibit a two-page handout, which the Institute For Southern Studies has identified as the product of a radical anti-gay non-profit, that listed such disorders as pedophilia, coprophilia, and fetishism as examples of "sexual orientation"—misstating a section of the American Psychiatric Association's "Diagnostic and Statistical Manual of Mental Disorders." Outrage ensued. Prodded for comment, Tillis publicly said only that Stam's ignorant stunt was "not helpful."
Of course it wasn't. Tillis has a statewide election to win this fall, and the latest polling results—from the right-libertarian Civitas Institute, no less—don't look great for him. Tillis has a Republican legislative supermajority to protect, too.
What people might not realize is that Tillis and Stam were key engineers in building that Republican supermajority back in 2010, when Stam was the House minority leader and Tillis was his chief lieutenant as Republican whip.
The two criss-crossed the state that summer and fall, recruiting candidates and measuring their chances in specific districts. I spoke with Stam back in September, as I was working on a piece for this magazine about Tillis; Stam's comments didn't make the final version of the story, but looking back over them in light of this week, they're pretty revealing.
"We both went around the state in August, September, October, going to newspapers, candidate forums, civic clubs, telling people all about our wonderful candidates," Stam told me with a chuckle. One of their key tactics was to draw voters' attention to what Stam referred to as "bad bills," advanced by the Democratic majority, that increased state spending and would have enforced an official moratorium on the death penalty.
"I did a lot of the speechifying and put out a lot of the press releases," Stam told me. "I had all sorts of charts and graphs that I'd put in the trunk of my car, and I'd hope the press would take pictures of my charts and graphs, and sometimes they did."
So he's an old hand at this sort of thing, pulling yet another chart-graph-flyer-canard out of the trunk of his car or brain or whatever. And it worked, to a point—it got noticed.
But his old partner Tillis, balanced on a tight rope in the U.S. Senate race, can't really afford an association with such open bigotry—nor can he afford, really, to condemn Stam outright, lest he lose his voting base, which now consists in part of the social conservatives who backed Ken Harris in the GOP primary. So he's stuck. Being a smart guy, he knows this, which explains the tepid "not helpful" comment, which pleases and offends no one.
Tillis knows something else, too, as evidenced by his now-famous comment about the Amendment One gay marriage ban in 2012: that if it passed (which it did), it probably would be repealed within 20 years. That's starting to look like an overly, er, conservative estimate. With courts across the nation—including in Arkansas!—striking down gay marriage bans, and gay and lesbian events here in Charlotte drawing hundreds of guests and support from major banks, it's apparent that public gay-bashing has lost the broad political efficacy it had just a decade ago. (It's also, let's not forget, offensive and inhumane.)
So that's what the House speaker and would-be Senator is up against. Tillis is more pragmatist than ideologue. Like any savvy politician, he can sense which way the wind is blowing, even if he doesn't care for its direction—and he knows full well that with each passing week, it's turning against the likes of Skip Stam.