Thanksgiving Fashion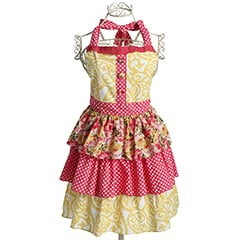 Thanksgiving: if you're not (wherever you are) in your coziest sweatpants and T-shirt, you're not doing it right. The beauty of this holiday is that your fashion should be practical. And on this rare day once a year, elastic waistbands and roomy cotton are the most practical essentials for a day devoted entirely to eating (and, of course, being thankful).
If though, you must show your face in public (and you're not completely over what your great aunts and uncles think of you sans makeup and pretty clothes) at least do yourself the favor of keeping things as comfy as possible in your favorite slippers (hint: these can be remotely fashionable if they have rubber soles but masquerade as Uggs).
If you're relegated to the kitchen, where boiling disasters pose a threat to your chic new sweater, throw on a stylish apron. Cottage Chic, Hotham, and Green with Envy have tons.
And do us a favor: don't worry about your high-waisted trousers fitting–at least until Monday morning. I'll be back to talk Black Friday sales tomorrow. But for now, happy Thanksgiving, all!