Thanksgiving Weekend Social Events
Whether you're gathering around the table with family this weekend or enjoying the sales at Black Friday, here are some more ways to spend the holiday weekend. Happy Thanksgiving, y'all.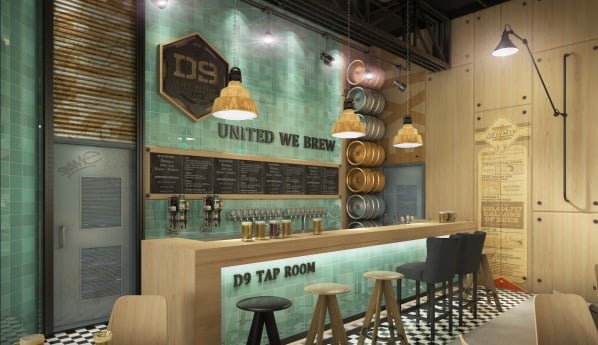 Thanksgiving is upon us, Charlotte. That means time with loved ones, a well-earned vacation and, of course, another chance for our Panthers to wow us. They take the national stage at 4:30 p.m. Thanksgiving Day against the Cowboys, by the way. Enjoy the holiday and see y'all out there!
Thursday, Nov. 26
We're taking a break tonight to spend time with the ones for whom we're most thankful. Happy Thanksgiving, Charlotte.
Friday, Nov. 27
Black Friday Brew Release Party
D9 Brewing Company puts the black back in Black Friday with the release of its Black Ice ale today. To celebrate the release of this strong ale (Seriously, it's 10 percent alcohol by volume), D9 is throwing a party from 2 p.m. until 10 p.m. So, instead of dealing with the crazed crowds at the malls, the brewery has live music starting at 7:00 p.m. and the Wingz on Wheelz food truck starting at 2 p.m. to give you a break from those Thanksgiving leftovers. D9 is at 11138-C Treynorth Drive in Cornelius.
Black Friday Blackout Party
Black lights reign supreme tonight at this party. Wear white or neon colors to glow under the black lights and get ready to dance off that Thanksgiving dinner. Doors open at 9 p.m., and the event is free with an online registration. BAR Charlotte is at 300 N. College St. Register here.
Chocolate City: All-Black Affair
Wearing all black to this Black Friday party gets you in for free from 10 p.m. until midnight. Come celebrate the end of Thanksgiving and the beginning of the holiday season at Ruth's Chris Steakhouse, 222 S. Tryon St. After midnight, ticket prices vary. Buy them here if you plan on arriving tardy to the party.
Saturday, Nov. 28
Small Business Saturday at Triple C
Small Business Saturday is the alternative to Black Friday, focusing on local stores rather than national retailers. Triple C Brewing Company will have more than 60 small businesses inside each hoping for you to spread your holiday cheer. In addition the local shopping, there will be raffles, music, the Sugar Donut food truck and, naturally, craft beer. Triple C is at 2900 Griffith St., and it opens at noon.
Dudeapalooza
If you need an idea for what to buy the dude in your life, this event is for you. Unknown Brewing Company hosts this pop-up vendor market with 15 tents selling dude-oriented stuff from socks to motorcycles. Aside from the vendors, the Wingzza food truck will also be on site. Unknown is at 1327 S. Mint St., and it opens at noon.
All-Black-Attire Affair
Don't put those black threads away so soon. Here's another black party, and this one's at the fancy Westin Uptown. The evening of music, cocktails and black ties and dresses begins at 9 at 601 S. College St. Tickets are $15, and you can buy them here.
NASCAR Hall of Fame Tree Lighting
With the passing of Thanksgiving comes a full-fledged schedule of holiday events. The NASCAR Hall of Fame invites you to join it for its first free tree lighting event tonight. The tree lights go on at 7:15 p.m., and there will also be music, a bounce house, a balloon artist, food trucks and an opportunity to get a photo inside a giant snow globe. The event runs from 5 p.m. until 9 p.m. at 400 E. Martin Luther King Jr. Blvd.
Sunday, Nov. 29
Holidays at the Garden
Still have family in town? Why not take them to the Daniel Stowe Botanical Gardens for the annual Holidays at the Garden event? Along with the beautiful gardens, the landscapes explode with Christmas lights and holiday cheer until Jan. 3. Aside from the lights, there's an outdoor fire, holiday crafts, warm beverages and opportunities to visit with Santa. Ticket prices and hours vary. The Daniel Stowe Botanical Gardens are at 6500 S. New Hope Road in Belmont.
Verify dates, times, prices, and other info at the web addresses listed for each event.
Be sure to bookmark www.charlottemagazine.com/Blogs/Dusk-Till-Dawn to stay plugged into Charlotte's nightlife and social scene. Click here to sign up to receive the weekly Dusk Till Dawn e-newsletter.
Want your event featured in Dusk Till Dawn? Follow me on Twitter @Jared_misner and let me know about your event, or send me an email at dusktilldawnblog@gmail.com.
Send Jared an email at DuskTillDawnblog@gmail.com, or send him a tweet @Jared_Misner.

Also by Jared Misner:

→This Weekend's Social Events
→Bowling For Books, First Friday Fort Mill, Electric Luau Party, Soulmatic Carolina Music Fest and More, Aug. 6 to Aug. 9
→The Moon Walk, Candy Fest, Silly String Party, Booze Cruise and More, July 30 to Aug. 2
→Christmas in July, More Christmas in July, National Dance Day, National Tequila Day and More, July 23 to July 26