That Time I Went to See a Comedian Because He Looks Like Me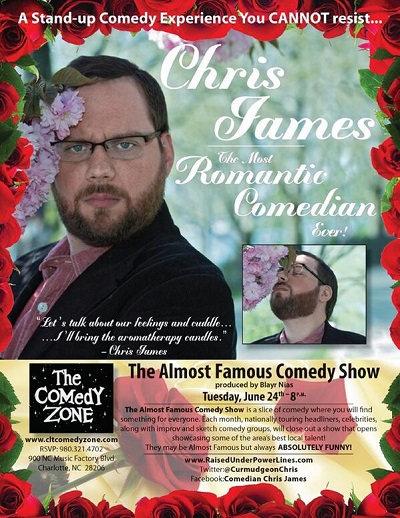 Sometimes, I see live comedy because I need a laugh. Other times, it's because I saw a flyer for a comedian who looks like me.
I was in my usual routine Tuesday at a Plaza Midwood coffee shop, compiling the weekend list of events that will appear on the Revue blog tomorrow. A phone alert interrupted, and my vanity was piqued when a friend tagged me in an Instagram pic. I spent the morning working alone, so I wasn't sure what to expect. Turns out, it was one of the best advertisements I've ever seen for a stand-up show.
Usually, comics go for one of a couple of poses for publicity shots. They're smiling on stage, one hand gripping the mic and the other giving that "I'm killing it" finger-gun to the audience. They also go conceptual. A toilet lid over their head, so you know they're zany. A silly outfit—the kind that says, "Yeah, I make jokes for living, and I'm aware of how silly that is." Chris James took a different tactic: romance.
A friend noticed the flyer, and took to the social media platform to show me. Then, slowly, more of my regular coffee shop peers began to make the same observation. So, I had to tweet about it, reaching out to the man behind the poster, Chris James.
His response:
Other tweeters chimed in to confirm our similar looks, and agreed we should meet. Even without the selfie objective, it seemed like I should go to the Comedy Zone.
Well, it turned out, James went on before I got there.
But thankfully, he was still floating after the headliner, Jennifer Snyder, killed onstage to a half-filled but lively audience. As the audience exited the show, I approached with an extended hand and introduced myself. It wasn't necessary.
"Hi, I'm the guy who looks like you," I said.
"Yep, that's right," he answered. "That's right." James tells me what I missed onstage. His act is full of self-deprecation, and he often gets personal, touching on his upbringing under the guidance of his mother and her female partner.
"That's funny," he added. "We really do look alike."
James, who also works as a freelance graphic artist in Charlotte, laughed when I asked him what inspired the flyer. "Just to be different," he said. "It just sounded like a funny idea." And then, he asked someone to take the shot of us that was written in the social media stars.
Two lessons: The first is that dreams do come true, and sometimes all they cost is a bus ride and $10 admission to Charlotte's monthly Almost Famous comedy show. The second is that there's no wrong reason to seek entertainment in the Queen City, even if you're just looking for yourself.