That Time Rory McIlroy Almost Moved to Charlotte
And why he'll be back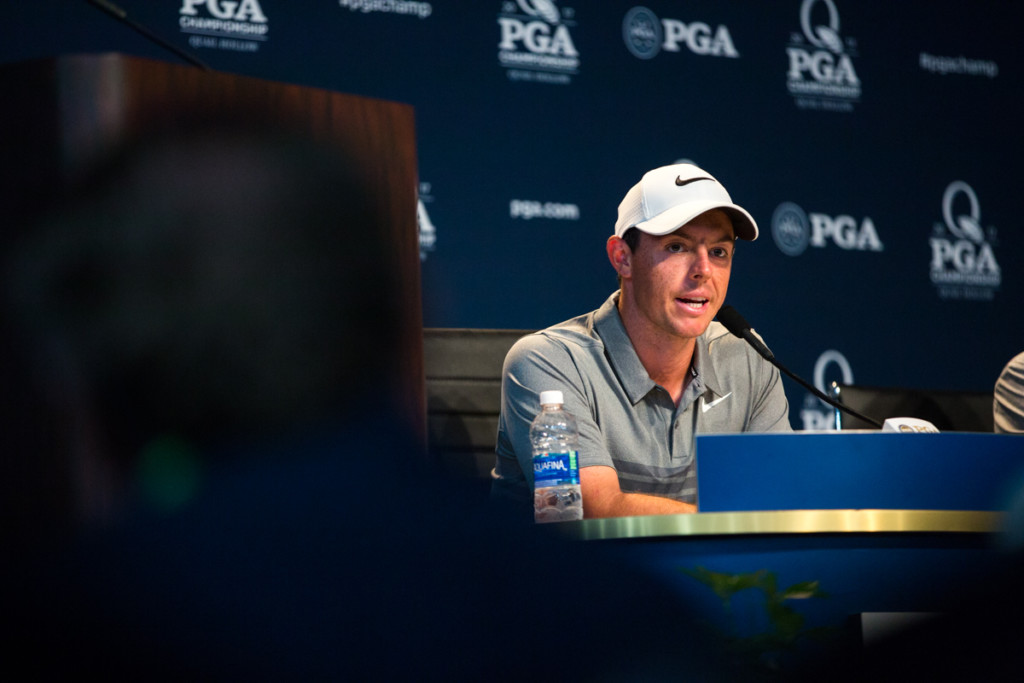 WE HAVE A NAME for people who leave the north because it's too much of one thing, move to Florida and decide it's too much of another thing, then move to North Carolina because it's a little of both things. We call them halfbacks, as in "halfway back."
You can spot them. Most often these people have silver hair, tidy but comfortable clothes, a pair of khakis for every day of the week, friendly faces, and an accent that sends every hard consonant flying in like a left hook. Most often these people are retired and chasing relaxation. Most often these people aren't 28-year-old professional golf superstars from Ireland named Rory McIlroy.
But we almost had him, y'all.
Last year, McIlroy and his wife, Erica Stoll, visited Charlotte for a wedding, and they had the conversation we've all had in some form or another.
It's really nice here.
I feel really comfortable here.
What if we just moved here?
It made sense for lots of reasons. One of Stoll's best friends lives here. McIlroy seems to always succeed when he's come to town, winning two Wells Fargo Championships—the first of which came in 2010 and was his first PGA Tour title. He even has a bald eagle named after him here; it lives on the property of Quail Hollow Club. Stoll, whom he married this past spring, is from upstate New York, near Rochester; they currently live in Florida.
From here, McIlroy rattles off a checklist of one-liners that should lead to raises for everyone who works in marketing in Charlotte. Just listen to him go:
"I think it's a very welcoming city. It's becoming a bigger city but it still has that small-city feel. … It's got a nice mix. It's got mild winters. It's got the sort of look that can remind you more of the northeast a little bit with the trees. We really like it here."
That's what he told a crowd of media gathered for his pre-PGA Championship press conference Tuesday afternoon. But it left one big question for me: Well, if you love it so much why didn't you move here, friend?
Like any scorned soul would do, I chased him down as he left the media center to ask what we did wrong. Like a gentleman, McIlroy delivered what he likes about us before delivering the bad news. Here's how it went, and how I, your everyday average Charlotte guy, processed it.
"I've always loved it here. I love the people."
Thanks, buddy.
"I guess it's a bit of that Southern hospitality type of feeling."
Y'all could come over for dinner!
"It's young families as well. I feel like there's a young vibe here."
Pssh. Yeah. TONS of energy. GREAT place to raise a family.
"It's not like Florida. In Florida, it's obviously quite old."
Florida sucks. Move here.
"But we decided to split our time between the northeast and Florida."
Really? Right here in front of God and everybody?
"But we love it here. We spend a good bit of time here."
Yep, you're definitely moving here when you have kids.
Michael Graff is the editor of Charlotte magazine.