That's the Spirit: Crafty Cocktails for Every Personality
Add a twist to typical cocktails with these four recipes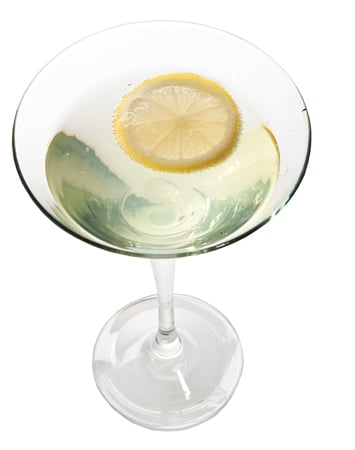 Whether you're hosting a shower or planning a reception, these simple and refreshing cocktails are crafted to fit any bride's personality:
Absolut Summertime
by Laura Massie
Head over Heels Event Planning & Décor
704-840-7549
lauramassie.com
"For the bride who wants a refreshing cocktail for her spring or summer wedding, we suggest serving these delicious Absolut Summertime drinks as her signature cocktail."
1½ ounces Absolut Citron
vodka
¾ ounce sweet-and-sour mix
½ ounce Sprite
3 ounces soda water
1 lemon wedge
Add all ingredients except lemon to shaker filled with ice. Cover and shake vigorously. Strain contents into an ice-filled Collins glass and garnish with lemon.
Big Mac Daddy
by CarrieAnn Drinnen
Serendipity Events
843-287-1102
lovethatserendipity.com
"For the fearless bride who marches to the beat of her own drum, a mix of classic and rock 'n' roll."
1½ ounces bourbon
1 ounce Disaronno amaretto
8 raspberries
2 ounces cranberry juice
1 ounce ginger ale
Shake bourbon, Disaronno
cranberry juice, and raspberries with cubed ice and strain into an ice-filled sling glass, top with
ginger ale, and garnish with a single raspberry.
Lavender Martini
by Anne Markey
Favor Me Events
704-817-9940
favormeevents.com
"For the bride who wishes to bring an organic touch to her garden wedding while keeping it clean, simple, and refreshing."
2 ounces Bombay Sapphire Gin
½ ounce dry vermouth
½ ounce lavender simple syrup
2 dashes orange bitters
Pour the ingredients into a cocktail shaker filled with ice. Shake well. Strain into a well-chilled mason jar and garnish with a sprig of lavender.
Bourbon & Champagne Punch
by Sara Hall
Hall & Webb Event Design, 919-946-4581
hallandwebb.com
"For the Southern bride, the Bourbon & Champagne Punch is perfect. Bubbly and sweet with a bourbon kick, men and women alike will enjoy this refreshing blend any season of the year."
1½ ounces bourbon
3 ounces cranberry juice
3 ounces lemon-lime soda
1 teaspoon fresh lemon or
lime juice
1 small dash bitters
Fill glass to top with
champagne
Chill all ingredients. Serve over ice in a highball glass or mason jar, depending on your wedding location and décor. Add champagne 30 minutes before serving. Garnish with a lemon or an orange slice. For a personal touch add a fun straw or stir stick.