'That's the Way It Goes'
Thom Tillis, consumer finance lenders and an episode of mutual gratification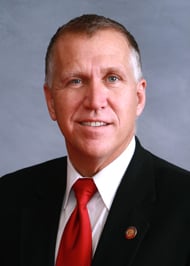 The real scandal, as the saying goes, is what's legal. So here's House Speaker Thom Tillis of Cornelius, a guy who railed against "pay-to-play politics" in the run-up to the 2010 election that led to his installment as speaker, accepting a nice greasy back scratch from a beneficiary of his legislative power and (by proxy) telling anyone who might have a problem with that to self-fornicate (from Michael Biesecker and Mitch Weiss of the AP):
The man who helped direct a $1.8 million political and lobbying effort for consumer finance lenders is co-hosting a fundraiser for North Carolina House Speaker Thom Tillis' fledgling U.S. Senate campaign, less than a week after a bill hiking profits for the industry became state law.
Tillis was expected to be in Greenville Tuesday for luncheon co-hosted by Time Investment Corp. president Royce Everette, who owns 19 consumer finance offices across the state. Everette is also the chairman of legislative affairs for the Resident Lenders of North Carolina, an industry group that championed passage of a bill raising interest rates and fees on the consumer finance loans marketed to low-income borrowers.
Everette's wife, Bonnie, and his mother, Gail Blanton, are also listed as hosts for the event held at the home of Parker Overton, the founder of a chain of watersports stores. According to an invitation sent out by the Thom Tillis Committee, hosts for the event donated a minimum of $5,200 a couple. Guests paid at least $500.
The Associated Press reported earlier this month that consumer finance lenders spent at least $1.8 million since 2010 to hire 20 lobbyists and steer at least $300,000 campaign contributions to North Carolina lawmakers, with the bulk of the money going to influential Republicans. Tillis' state campaign got more than $30,000 of that money, records show.
With the speaker's support, the industry's bill sailed through the legislature. It was signed into law June 19 by Gov. Pat McCrory, a Republican whose campaign also got money from the industry …
Tillis campaign spokesman Paul Shumaker said Monday there is no problem with the House speaker raising money for his Senate run from donors with business pending before the state legislature. He pointed out that Hagan is free to raise money from donors with interests before Congress.
"We have strict separation between campaigns," said Shumaker, a general consultant to Tillis' Senate campaign. "There is no issue there. It's understandable that individuals and media folks who may not be supportive of the speaker would raise issues like that."
Everette said Monday that he supports Tillis because he is good for business, including consumer finance lenders. He said they had been trying to get the consumer finance bill passed for about 15 years but got little traction before Republicans took control of the General Assembly in 2011.
Everette denied his financial support of Tuesday's fundraiser was payback for passage of the industry's bill. He has supported candidates from both parties over the years, he said.
"If you have a person who you think is a good person you try to support them," Everette said. "That's the way it goes. Thom Tillis is a good person. Did he help us? Yes. So I support him."
Just so we're clear here, this is legal because Everette benefited from Tillis' work in the Legislative Building in Raleigh, which in a technical sense has nothing to do with Tillis' run for Kay Hagan's U.S. Senate seat.
In reality, it's slimy as all hell. There was a time not long ago when politicians would at least acknowledge the smell and try to avoid at least the appearance of this sort of thing. It's clear, three years into the post-Citizens United world, that even that momentary glance downward is a trifle to be dismissed, even hurled back into the faces of those who might even bring it up.
There is no issue here. It's just some nonsense ginned up by people who ain't on our team. Legal bribery is just the way you conduct the people's business.