The 10 Best Southern Restaurants in Charlotte: 2020
With curbside and delivery options amid the COVID-19 pandemic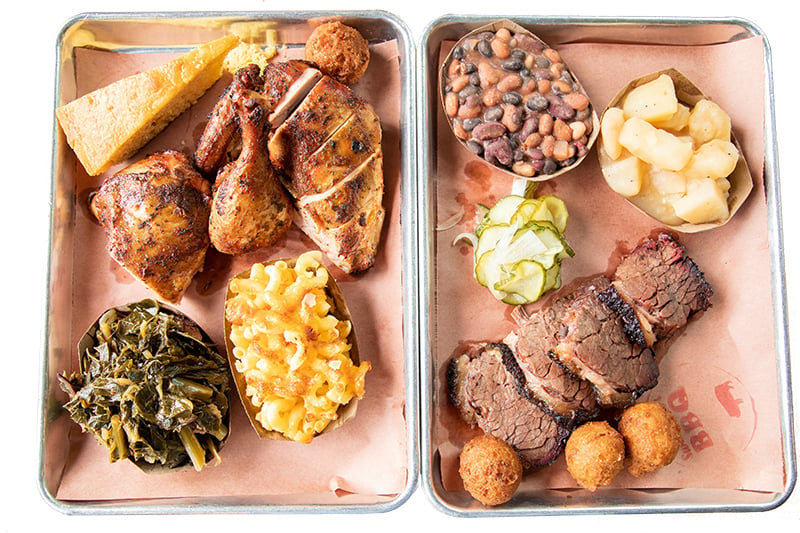 These picks are based on our 2019 25 Best New Restaurants and 2020 50 Best Restaurants list.
Sweet Lew's
Options: Limited menu items available for curbside pick-up, 11 a.m.-8 p.m. (Thurs-Sat)
Demand for Lewis Donald's barbecue hasn't wavered since the "shack" opened last year; it's not uncommon for Sweet Lew's to sell out of its brisket and chopped pork shoulder. "We don't want to serve day-old barbecue," Donald told Charlotte magazine in our June issue. "That's the bottom line … I think if you're not running out, you're not serving a quality product." The relaxed Belmont "shack"—as Donald calls it—is open from Tuesday to Sunday, but on Friday, they serve hushpuppies. 923 Belmont Ave., 980-224-7584.
---
Haberdish
Options: Order online and pick up to-go orders on the patio or curbside 4-8 p.m.
The menu at this space may be simple—fried chicken and Southern sides—but it's inspired by NoDa's mill history, something that could easily be forgotten as progress changes the neighborhood. The cocktail program, on the other hand, is more cutting-edge than any other in town. 3106 N. Davidson St., 704-817-1084.
---
Bonterra
Options: Takeout, curbside pick-up, and delivery (within 3 miles) are available. Hours are 4 p.m-8 p.m. right now.
Going to this restaurant, housed in a former church, has long been a pilgrimage for Charlotte epicureans. The wine list is one of the best in town, and chef Blake Hartwick's menu celebrates Southern ingredients. 1829 Cleveland Ave., 704-333-9463.
---
Noble Smoke
Options: Takeout at the To-Go counter (look for the yellow door and To-Go parking spots out front) from 11 a.m. – 8 p.m.

Veteran restaurateur and North Carolina native Jim Noble (Rooster's Wood-Fired Kitchen, The King's Kitchen) makes plain that Noble Smoke, the barbecue restaurant he opened on Freedom Drive in July, is only partly a nod to the past. Like its rural forebears, Noble Smoke slow-cooks its meats over wood coals. Unlike them, it serves a variety of barbecue styles in a refurbished industrial brick building in one of America's fastest-growing big cities.
---
Dogwood Southern Table & Bar
Options: Curbside pickup is available 4 p.m.-8 p.m., Tues-Sat
Each staff member here seems to have their own set of regulars, giving this SouthPark restaurant a friendliness and familiarity that's hard to find. Part of Jon Dressler's Rare Roots Hospitality Group (Dressler's, The Porter's House), Dogwood's focus is on modernized Southern fare, such as duck and dumplings, trout, and pimento cheese served bubbling hot in cast iron. Whether you prefer to sit at a table or barside with ultra-talented mixologist Brian Lorusso, you'll find a warm welcome. 4905 Ashley Park Ln., Ste. H, 704-910-4919.
These restaurants are currently closed, but you can buy gift cards to support them until they reopen:
Foraged isn't a word that chef William Dissen uses lightly on the menu at Haymaker; he actually combs through North Carolina for the best fungi for his foraged mushroom toast dish. Such details make Dissen's restaurants (including The Market Place in Asheville and Billy D's Fried Chicken at the North Carolina Zoo in Asheboro) a success, even as the new guy in town. For the main course, try the roasted pork shoulder with flowering cauliflower and cider jus. 225 S. Poplar St., 704-626-6116.
Jon and Amy Fortes' first restaurant got a facelift since our last list, earning it a spot on this one. Renovations made the dining room bigger and spaced out the tables, but the menu of comfort classics didn't need any tweaks. 3150 US-21, Fort Mill, SC, 803-802-1711.
Located in the Dunhill Hotel, this place is open for all meals, but really shines during dinner. It's not unusual to find lesser-utilized ingredients, such as beef tongue or heart, on the menu, prepared in a way that makes them as approachable as possible. Such dishes help minimize waste, but if you'd rather stick to the traditional cuts, The Asbury excels in that as well.  235 N. Tryon St., 704-342-1193.
NC Red's ambitious menu merges the cuisine of his first home in New England and his current home in the South with dishes like Nashville hot chicken and a lobster roll. But it's the details—like smoky and sweet corn pudding on the "fixins" menu—that have defined his 20-year career as a Charlotte restaurateur.