The $20,000 Mutt
You can't put a price on a best friend, can you?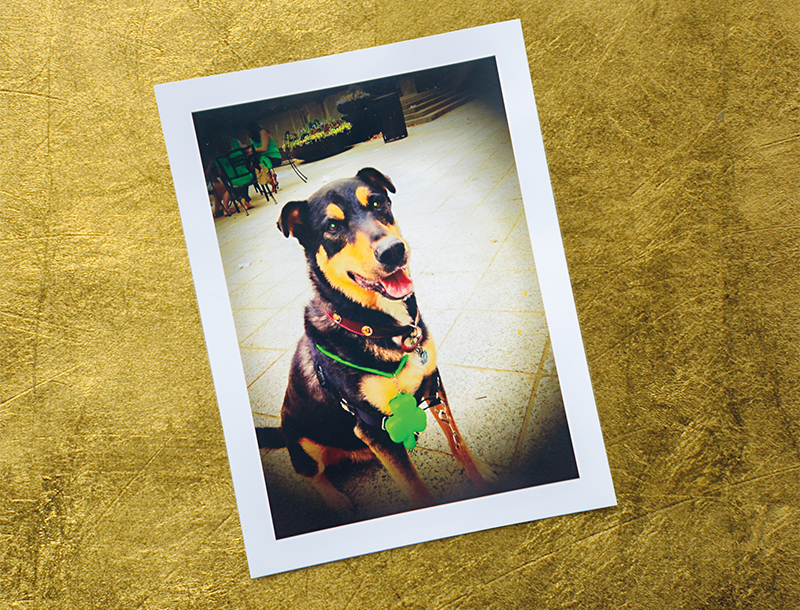 IN 2001, Marissa Boyle was 19 and living in California with her parents when she walked into a "shady strip mall store" called Pets Music that sold pianos and pets. A three month-old Rottweiler/German shepherd/Labrador mix bounced out of his cage and followed her around the store.
Boyle promptly paid $80 for the puppy and walked out with Paco.
Her parents were furious she hadn't consulted them before adopting the young dog. They told her to return him. Instead, Boyle moved out and started school at the University of California at Santa Barbara. Paco came with her.
"He was more of like a best friend than a dog to me," Boyle says.
He lived with her in off-campus apartments until she graduated in 2007, and he stayed with her when she took her first job as a hedge fund analyst. In early 2009, after the economy crashed, Boyle packed up her Toyota Tacoma and moved to Charlotte with the 90-pound mutt to acquire and manage rental home portfolios for private equity firms.
"I knew all of one person when I moved to Charlotte," Boyle says, "but Paco was always there."
Paco immediately became a hit in the city, despite some of his, shall we say, flaws. For instance, his breath was so bad from the fish-filled dog food he ate that people called him "Paki Fish Taki."
But shortly after moving, Boyle noticed Paco's energy level decreasing. He was nearing eight years old at the time, so she chalked it up to a big dog aging and slowing down.
Then the nodules appeared on Paco's neck.
"I was like, 'Oh, maybe those have just always been there,' kinda not really wanting to believe it," Boyle says.
At Paco's regular vet exam, Boyle's veterinarian referred the pair to one of only three Charlotte-area veterinary oncologists, Claudia McFadden.
Then came the bad news: Boyle's best friend had lymphoma.
***
HOW FAR are you willing to go for your pet? How much are you willing to spend?
In January 2013, Briania Bennett, a human resource sales consultant and volunteer with the American Pit Bull Foundation, made the painful decision to have her 11-yearold greyhound, Callaway, euthanized at home in the pet's L.L. Bean dog bed. Four months later, she found Molly in an area shelter. The 14-year-old dachshund had been abandoned by her previous family.
Bennett, who already had four dogs at home, called her husband, Jeff, to tell him about this tiny dog who had been left to die alone.
"When I saw her, my heart just broke," Bennett says.
The old dog, whom Bennett renamed Grandma Kettle, had arthritis in all four legs. Bennett took Grandma Kettle in to die with dignity.
That was three years ago.
Grandma Kettle is still here. Earlier this year, Bennett brought the now 17-year-old dog to Long Animal Hospital for a hydrotherapy consultation. Each week, Grandma Kettle walks in a few inches of water on a dachshund-sized treadmill in a bathtub-sized enclosure for 12 to 23 minutes at a time. The treatment program strengthens her old joints and allows Grandma Kettle to move around Bennett's big backyard more freely. As simple as it sounds, hydrotherapy doesn't come cheap.
Bennett first purchased a seven-session doggie water aerobics package for $620. It worked, so she purchased another package for the same price.
"It's literally changed her life," Bennett says of the hydrotherapy. "It's completely worth paying the fee. There's no monetary value you can put on your dog's happiness."
Chad Barringer would agree with that.
Four years ago, he and his partner, Glen Powell, got involved with the Mid-Atlantic Pug Rescue. Not long after that, they adopted two pugs—first Haley, and then a stray they named Gary Coleman.
Last year, Powell took Gary Coleman in for a routine teeth cleaning and the veterinarian discovered 10 rotten teeth.
The cost for 10 tiny tooth extractions? Twelve hundred dollars, or about the average cost of a month's rent in Charlotte.
"You don't want him to hurt and suffer and, so, you just do it," Powell says. "It's very easy when you're not in the middle of a situation to say, 'I wouldn't spend XYZ or this or that,' but when you're in the middle of it, of course you would. They're your baby."
***
LET'S GET BACK to Paco now.
"To tell you the truth, I don't remember a lot about that first visit," Boyle says of the day her vet told her Paco had lymphoma. "I just remember going home with him and laying on the ground with him and crying."
McFadden, the veterinary oncologist, discussed various treatment options. She told Boyle there was no cure for Paco's lymphoma, but there were things she could do to extend his life—and ensure it was a quality life.
It would be pricey, though. Veterinary chemotherapy typically costs between $1,500 and $6,000 depending on the course of treatment.
Do it, Boyle said.
"There's a lot of emotion. There's people who are very, very attached to their pets for one reason or another," McFadden says of cases like Boyle's. "We have people who have a pet, and it was their first child before they had two-legged children who want to do whatever they can."
McFadden started an aggressive intravenous chemotherapy treatment that required Paco to return to Carolina Veterinary Specialists every week. The chemotherapy worked. Paco went into remission.
The cancer came back a year later, though, and McFadden resumed the chemotherapy program. The dog with the smelly breath eventually went through treatment for the better part of 21/2 years.
"Animals are amazingly resilient," Boyle says. "All they know is they're going to see their buddies and they give him treats and they love it."
After the cancer returned a third time, McFadden told Boyle it was time to stop. In April 2012, Boyle decided to have her best friend humanely euthanized. Boyle has no idea how much money she spent on veterinary treatment for Paco. All she knows is that she stopped counting at $20,000.
Is an $80 dog worth that much?
"He was my family member, and that dog has been an unconditional bit of love for me for years," Boyle says, "and it was time to repay that love."
Speaking of love, Paco's story doesn't stop there.
Several months after Paco died, Boyle started dating Staci Parkins, a veterinary technician at McFadden's clinic. The two met during Paco's lengthy ordeal, and Parkins often volunteered to pet-sit Paco while Boyle traveled for work.
The couple married April 30 of this year and Boyle and Parkins now share their home with a three-year-old Australian shepherd/Irish setter mix named Doctor Watson.
At the wedding, guests enjoyed a signature cocktail created by McFadden.
The newlyweds called it a Paco-tini.
Jared Misner is a Charlotte-based writer who would probably spend thousands of dollars if he needed to on the four-year-old pit bull named Sawyer with whom he shares his home.
---
BIG DOGS, LITTLE APARTMENTS
As more people call Charlotte home, should they move into apartments with dogs? The answer isn't so clear, says Jorge Ortega, vice president of operations at the Charlotte Humane Society. Apartment dwellers should consider a few things before making a decision:
Size
Wanting a Great Dane doesn't necessarily exclude you from living in apartment. Some apartments are nearly as big as houses, and a large dog would do fine in one, Ortega says. But those in a studio might want to reconsider.
"If you realize the dog's supplies, equipment, and whatever they need are going to take over your apartment," Ortega says, "then maybe that size dog isn't what you need."
Breed
According to Kelly Reddecliff, a multi-family analyst with Real Data, 405 of 470 apartment complexes in Mecklenburg County identify as "pet-friendly." But that's a bit misleading, because it just means an apartment complex allows pets. Data from the American Pit Bull Foundation shows that out of 282 apartment complexes in Mecklenburg County surveyed that allow dogs, about 200 have specific breed restrictions. These breed restrictions are often vague and cite "no aggressive breeds," and many specifically restrict pit bulls.
Energy level
High-energy dogs, such as Australian cattle dogs or collies, probably won't be happy in a small apartment without a yard, Ortega says. But he says there are ways to entertain a high-energy dog while at work, including hiring a dog walker or providing a variety of highstimulation toys.
Schedule
"Whether you live in a house or live in an apartment, if your schedule is a very hectic schedule, when you're in, you're out, and your day is planned, you really need to consider: Do I need a pet? It doesn't matter where you live." The only difference, Ortega says, is that house dwellers may have constant access to a backyard, while those in apartments might not. "For those living in apartments, you have to get a leash on, walk downstairs, then find the dog park or a green space," Ortega says. "Some of us humans just don't have time for that."
In the end, though, Ortega thinks apartment complexes can be a great place for dogs.
"The more apartment complexes are becoming friendly for pets, the more it brings the apartment community together because you know you're going to have a lot more pet-loving people there. It gives the dogs more opportunity to socialize," Ortega says. "And it may encourage the people to talk to each other."
---
This article appears in the August 2016 issue of Charlotte Magazine
Did you like what you read here? Subscribe to Charlotte Magazine »
---