The 2016 Best of the Best Awards
319 Reasons to Love Charlotte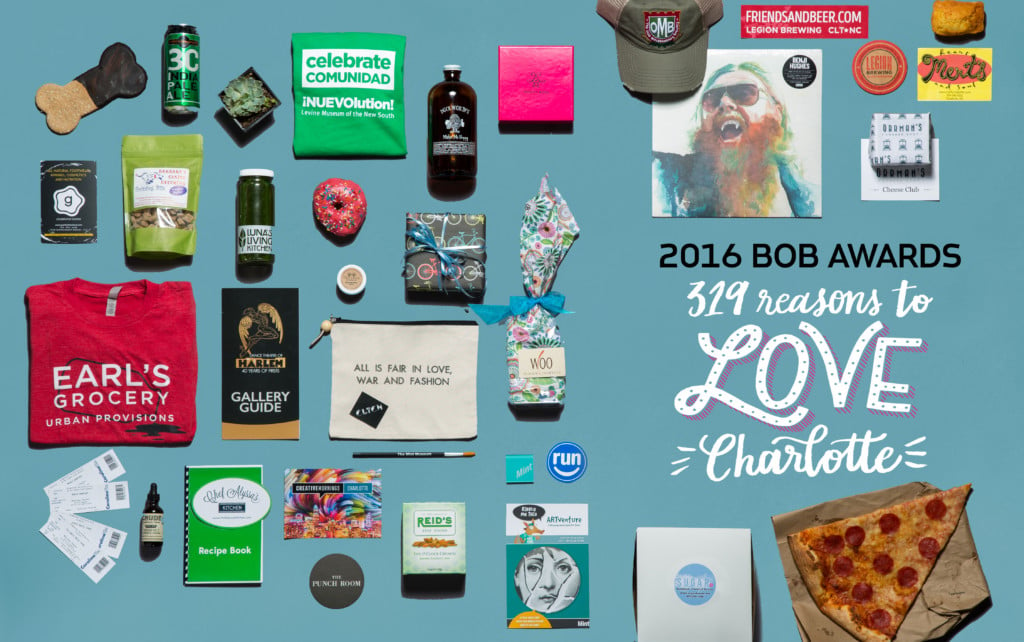 WHATCHA CROWIN' ABOUT, ROOSTER'S?
They're back? Who's back?
Oh, them! They're back!
The BOBs are back!
Hey, New Frequencies, that's what that sound is! It's like Christmas morning, Midnight Diner.
It looks like they have 319 this year. Boy, that's a lot. Charlotte must be a happening place. Looks like they have lots of other numbers, too. There's 704 Shop and Play 60 and Two Trees and Four Dogs and Rooftop 210. And look at all the fun with words: Bonnie + Bud's baskets won a BOB, baby!
And they go all over the world. Aix En Provence won for best French food. Have you ever seen France, I.C. London?
Hey, Heritage restaurant, where'd you come from? We love stories from our past. You might even say they create, inspire, spark—oh, what's the word we're looking for, Evoke?—a feeling.
The kind of feeling we get when, say, we toss on a throwback tee shirt from The Rat's Nest. Speaking of creatures, here's a riddle: What happens when a Thirsty Beaver meets a Duckworth's at Foxcroft? Yeah we don't know either, but maybe they listen to Songs in the Key of Animals by Benji Hughes.
This year's BOBs include hot dogs from J.J.'s and birthday cakes from the Canine Café. That's a little confusing, but take it easy now, and put down those shields and swords, Legion Brewing. And don't be so stiff, Wooden Robot.
This is a fun list, full of happy hours and sunset views and karaoke and a Funny Bus. There's even a Funky Geezer.
For 16 years, these awards have set the standard for excellence in our city. But for the uninitiated, here's a primer. There are two types of BOBs: editors' choice and voters' choice. All year, Charlotte magazine's team of staff members and freelancers fans out all around Charlotte, exploring all the city has to offer. The editors decide the winners in the editors' choice section. Meanwhile, the voters' choice winners are chosen during the course of about six weeks of online voting from January through March. More than 73,000 votes were cast.
Here's an important part: Advertising plays no role in the selection process. You can't buy a BOB. That's right, it's all above board, Legal Remedy.
So without any further ado, let's get to them, this year's best of the best. Eat! Play! Explore! Live! Shop! Follow! Make the most out of living in Charlotte.
OK, really signing off now. Well, maybe just one more winner …
CHECK OUT THE VOTER'S CHOICE WINNERS HERE.
---
This article appears in the May 2016 issue of Charlotte Magazine
Did you like what you read here? Subscribe to Charlotte Magazine »
---