The 3 Charlotte Arts Stories to Follow This Summer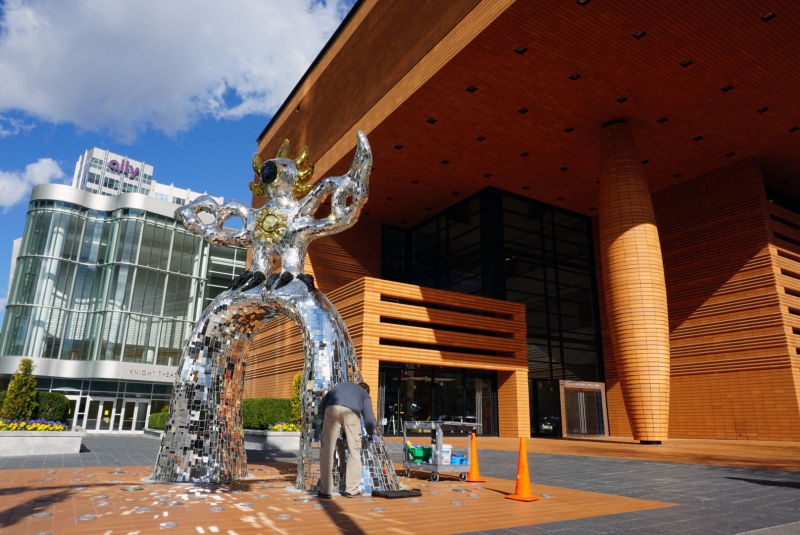 SUMMER IS NO LONGER the season in which the cultural sector lays dormant. A survey of the scene reveals that on every level, major shifts are happening right now in Charlotte arts. Below, I've compiled a list of the stories you should be following this summer.
---
1. Who will lead uptown's museums?
The shake-up of leadership and curators across the The Mint Museum, McColl Center for Art + Innovation, and Levine Museum of the New South is a gradual process. National searches are underway this summer for a few of these positions.
In the meantime, the Mint has tapped Bruce LaRowe to be its interim CEO. LaRowe spent two decades as the leader of Children's Theatre of Charlotte. Now, he's a member of LevRidge Resources, a firm that specializes in providing interim leadership to nonprofits for moments just like this. That's quite a niche, but in Charlotte, business is likely booming right now.
Leadership at uptown museums isn't just about playing Mom or Dad at the annual gala. Outside of helping to determine major programming inside the museum, several of these institutions have efforts focused on community outreach, bringing arts to Charlotte classrooms, and being high-profile ambassadors between our own cultural community and the outside world.
Hopefully, new leadership brings a more cohesive uptown arts front, as the Levine Center for the Arts continues to congeal and museums decide if want to take part in projects like the fluctuating monthly uptown crawl. A run of solid exhibitions at the Gantt, the Bechtler, the Mint, and McColl and shows at New Gallery fuels uptown's momentum, but the exit of Goodyear Arts from uptown to North End (see below) and administrative changes could affect that energy.
---
2. Live music efforts are ramping up, but will people go?
Center City Partners recently announced its "Music Everywhere" initiative, which attempts to facilitate live music events across the city in a partnership with AvidXchange. The weekly Final-E Friday Acoustic shows at uptown's Coco and the Director are an example of this effort, carrying the "Music Everywhere" banner on the CCP calendar. At the same time, Blumenthal's new, weekly "Sounds on the Square" summer concert series at Spirit Square brings another free, accessible option for live music in uptown.
The "Music Everywhere" initiative arrives at a time when names such as the Double Door Inn, Amos' South End, and Tremont Music Hall are now just memories in the cultural sector. Free live music is nice, and there's no shortage of it from cover bands and local acoustic acts in Charlotte's breweries and restaurants. But in order to really make Charlotte a city known for its sound, an effort must be made to come around the ticketed, independent venues that carry names that people want to see and facilitate programming throughout the week. For one reason or another, the venues that do this have dwindled.
Robert Earl Keen and Turnpike Troubadours headline at the Neighborhood Theatre this summer. The Monday Night Allstars, the act that once filled the Double Door Inn each week, have found a new home at Visulite Theatre, which will also host bands such as Old 97's. Meanwhile, NoDa's The Evening Muse has a full line-up of intimate shows ready for Charlotte audiences. Here's hoping that the energy all parties are attempting to foster is enough to keep garnering crowds and that the "Music Everywhere" of both bolstering local music business and developing talent unfolds as promised.
(I recently had a conversation about the music scene with Snug Habor co-owner Jason Michel, who had a fascinating take on what he thinks is happening right now.)
---
3. What's happening at Camp North End?
A few months ago, we broke the story that the Goodyear Arts residency project/collective is headed toward the industrial wonderland of Camp North End. The group used its recent prom fundraising event for the upfit, and they move in this summer.
That's enough to make the century-old, multi-building site a project to watch. But studios, live music, a handful of summer events, and the next site for co-working concept Hygge are headed to this part of town.
Goodyear previously has been an uptown-only affair, whether it was its original location in a now-demolished Goodyear store in uptown or its second location, on College Street. This time around, GYA is in for three years. With a separate 2,000-square-foot gallery led by the group and an "outdoor sculpture lawn," the GYA helping to form the character of the site is a powerful advantage for Camp North End. The group knows how to add a buzz into the environment without erasing its history.
Also, the GYA-affiliated experimental theater troupe XOXO debuts #CAKE (Year Zero) this month, an immersive experience three years in the making. The experience was partially developed through the group's residency with GYA, but artistic director Matt Cosper has been telling us about this one for years.