The anatomy of an award-winning beer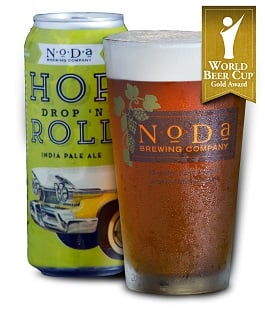 Before becoming co-owner of a brewery with his wife, Suzie, NoDa Brewing's Todd Ford was simply a homebrewer who had an affection for West Coast-style IPAs. It was during his previous job as an airline pilot when he would fly out to the West Coast and have those beers, but he never could find that style upon his trips back East.
So he decided to brew it himself, in his basement. Thus spawned what is now one of Charlotte's most popular beers, Hop, Drop 'n Roll, which in April won the gold medal at the World Beer Cup in Denver.
The fanfare that has since followed the medal win has "blown us away," Suzie Ford says. But the beer that's quickly putting NoDa on the top craft lists in the U.S. has also resulted in hate mail and calls to the brewery, and is a big reason why NoDa Brewing is looking to purchase a second production facility to keep up with the constant demand.
"What people sometimes don't realize is, there's only so much we can make," Suzie says. "It's challenging and frustrating, a blessing and a curse … amazing, humbling and incredible, all at the same time. And for it to be Todd's recipe makes it even nicer for us."
—
On its Web site, Hop, Drop 'n Roll is referred to as "the beer that started it all for NoDa Brewing." But when the brewery first opened in 2011, the HDR release didn't go as planned.
"We wanted it to be our signature beer, of course, but at the time we didn't realize there were some hops shortages going on," Suzie says. "We realized we had to get (hops) contracts eventually, but not knowing whether we were going to be successful, we didn't want to put our money on the line and do a bunch of contracts.
"We figured we'd be able to get enough hops – and boy, were we so wrong. There was a bad hop crop in 2011, so there was no surplus and it was hard to get a hold of so we couldn't roll it out initially."
The hops in HDR are what make it so unique, but what also causes some of the issues NoDa is currently facing with demands for the beer. Hop, Drop 'n Roll is brewed primarily with Citra and Amarillo hops, which give the beer its sharp flavor. The problem is, those two hops are proprietary, meaning the inventor has full ownership and can restrict access (hence, why breweries sign contracts).
When NoDa first started brewing Hop, Drop 'n Roll, there were only two hop farms (out in Yakima, Wash.) growing Citra and Amarillo hops. That number has since risen to four (the state of Washington also grows nearly 80 percent of the country's hops), but, Suzie adds, "you're completely at their mercy. They only grow what they can grow."
After NoDa was able to secure its hops contracts, it didn't take long for Hop, Drop 'n Roll to become popular at the brewery and in the Charlotte area. In 2012, NoDa entered it at the Great American Beer Festival, but it was the brewery's Coco Loco porter that came away with an award instead, winning the silver medal.
This past October, NoDa Brewing ventured into canning its beer, with the first two being Hop, Drop 'n Roll and Jam Session, its pale ale. By canning, Suzie says, NoDa nearly doubled its distribution numbers.
"With cans, people take it to the pool, to the beach, to NASCAR races, to ballgames," she says. "And you're now going to places where they couldn't get it on draft. Now, more people who aren't necessarily going out to bars and restaurants are buying it."
Then everything really changed the night of April 11, 2014. At the annual Craft Brewers Conference in Denver (where the World Beer Cup is held every two years), Hop, Drop 'n Roll was entered in the American-style IPA category, which by far had the most entrants (a record 224) out of any other. The award was announced at around 11 p.m. East Coast time. Nearly twelve hours later, there was a line forming outside of NoDa's door.
"When we opened at noon the next day, there were about 25 people waiting outside," Suzie says. "There was no party scheduled, they just wanted to come drink it from the taps and buy cans to take home. And at the time, that day marked our second-biggest sales day in the taproom."
But despite the award and following celebration, Todd and Suzie Ford were still cautious about what to expect.
"When Coco Loco won silver at the GABF, everyone said, 'Just wait, you won't be able to keep up production," Suzie says. "So we were ready. And we saw an uptick, but not like everyone told us. So when we won for Hop, Drop 'n Roll, we were like, 'Yeah, we're not going to fall for this again.'"
It didn't take long for everyone at NoDa to realize this time would be different, however. Accounts that previously never carried HDR now wanted it. And those that only carried sixtels upped their request to a half-barrel. Those who already carried half-barrels doubled their order. In short, Suzie says, "orders were coming at us from everywhere."
The brewery quickly upped its production from 180-200 barrels a week, an enormous increase from the previous 60 barrels a week, "and we still couldn't keep up," Suzie says.
That output, however, wasn't going to last, as Suzie acknowledges "we're partly to blame for getting (HDR) into everyone's hands and where people think this is an endless supply."
The Fords also realized the hop supply would likely run out before the next crop shipment came in. So by looking at the inventory and per their contract, there was enough to do 70 barrels a week. That number will be increased to 90 with the addition of three new tanks and a centrifuge (which will allow for better character flavor and additional retention), along with the purchase of a 60-barrel bright tank from Olde Mecklenburg Brewery. And NoDa has been active on the ProBrewer forum, looking to purchase any additional/extra hops from other breweries.
Because of Hop, Drop 'n Roll's quick ascension to popularity (for example, it is trading straight up for the famed Pliny the Elder from Russian River on Beer Advocate), limitations have started with the beer. There are several stores that are now putting a limit on how many 4-packs of cans you can buy, and the brewery itself has stopped filling growlers at the taproom
NoDa has also been fielding angry calls and emails (averaging two a day, according to Suzie) from disgruntled customers.
"It's crazy," Suzie says. "We have people calling, angry, saying 'You need to brew more,' or 'You need to work harder.' I mean, we're working as hard as we can work. We have four brewers who work their butts off, and the first one gets here at 4:45 a.m. to begin his day."
There's even a rumor that NoDa would be discontinuing production of Hop, Drop 'n Roll (obviously false, and for further clarification on all of these rumors, check out CharlotteBeer.com's Daniel Hartis on the five myths about Hop, Drop 'n Roll.
With the addition of the new tanks, however, that will also cap the brewing space for NoDa. So the Fords have been steadily looking for a second production facility and have narrowed it down to three locations, all within a mile and a half of the current brewery (the timeline to open would be within a year, and Suzie says, NoDa's second building will have a taproom as well, though probably not right away).
NoDa is planning on purchasing its own canning line (currently it has a contract with a mobile canning company) as well and has a planned rollout of Coco Loco in cans in a couple months. You'll also see a new recipe for the brewery's Woody & Wilcox IPA, which will land somewhere in between Jam Session and Hop, Drop 'n Roll – "something that is still floral and has an amazing nose, but not as aggressively bitter and not as high of an alcohol content," Suzie says. Six pilot batches have already been brewed; look for this beer's release in four to six weeks.
As for Hop, Drop 'n Roll, while NoDa has fielded calls from as far away as London and Italy trying to get distribution, the Fords are focused on taking care of their locals right now.
"Bear with us, and know we're working as hard as we can work," Suzie says, while adding even the NoDa staff is limited in how much HDR they can get. "We want it as much as everyone else does; after all, we are a for-profit business. So turning orders down doesn't feel good. And the bottom line is it's a great beer – we want everyone to be able to drink it."
And, she says, with a laugh, "If anyone has leads on Citra hops, call us."