The Angel Clarence and The Richest Man in Town
A Stage Adaptation of "It's A Wonderful Life" comes to town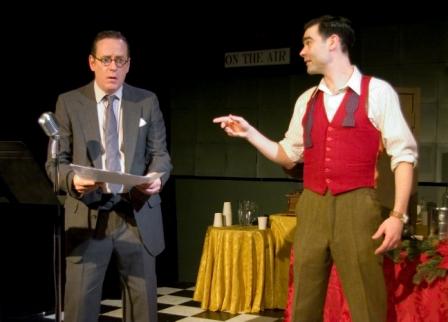 The story of George Bailey is the story of failing banks, crushing unemployment, and a shortage of affordable housing. Ripped from today's headlines, you say? Well, yes, but Frank Capra's screenplay was set during the Great Depression.
In the stage adaptation at Booth Playhouse, it's Christmas Eve 1945, and a handful of radio actors have braved the blizzard to perform that evening's broadcast of It's a Wonderful Life.
Charlotte native Willie Repoley, who wrote the play, chatted with us about his madcap version and the timeless themes inherent in the tale of an everyman who finds out one snowy Christmas Eve just how lost his family, friends, and hometown would have been, had he never lived.
Q. When and where was this play first staged?
A. At North Carolina Stage Company in Asheville in 2009 … a joint production of N.C. Stage and Immediate Theatre Project, where I am the producing artistic director.
Q. Everyone knows and loves the movie, It's a Wonderful Life. How is this stage adaptation similar? How's it different? I know it's about a radio station performing a live radio broadcast of the movie. But, is it a story-within-a-story?
A. So basically, the story you see is the story you remember. When I was adapting the show for "radio," though, I kept asking the question, "Why?" Why do it as a radio play, besides the fact that it is a neat idea? Why do it with only a few actors instead of a cast of thousands, besides the fact that it's fun for the actors and for the audience? Not that those are bad reasons, but they weren't quite enough. That's where the story-within-a story comes into play.
We learn at the very top of the show that WVL Radio, the station ostensibly presenting tonight's live broadcast of It's A Wonderful Life, is struggling financially. So much so, that one big crisis will put them off the air for good. Combine that with a winter storm that has prevented almost all of the regular actors and support crew from getting to work, and you have a compelling reason to perform with just four people. The station and all the people it employs are hanging in the balance. The WVL Radio story is just a back drop for the Bedford Falls story, but it sets up a situation where the audience is drawn into the conflict almost immediately, and has, essentially, two teams to root for, two groups of individuals banding together to make the best of a bad situation.
Q. How closely does your adaptation stick to the original? All the same lovable characters are there, I hope — George Bailey, Clarence. And, the detestable Mr. Potter is still the villain, right? Are any new characters introduced? Any characters we might be surprised to discover absent?
A. Yup, everybody's there. It might be surprising that the very first radio version of It's A Wonderful Life, which featured Jimmy Stewart and Donna Reed, did leave out some pretty major characters, including Bedford Falls bad girl Violet Bick, in order to fit into the hour-long Lux Radio broadcast.
But aside from Potter's goon who wheels him around (somehow the wheelchair makes for a better visual effect and aural!), we have just about everybody from the movie, from immigrant bar-owner Mr. Martini, Clarence the Angel, to Carter, the bank examiner. There are a few surprises in who plays some of the roles, though, and in how they are brought to life by just four actors.
And although this is slightly off topic, it is a delightful diversion nonetheless, and one that will likely be remarked upon by everyone who sees the show, so I might as well mention it first. The radio format, combined with the WVL Radio story, gives us an opportunity to make some creative casting decisions. Case in point: the George Bailey part is written to allow either a white actor or an actor of color to play the role. I myself have played the part twice in Charlotte, and although I will miss it this year, I'm delighted that Charlotte audiences will get to see this very cool twist this year.
Q. What part do you play? Have you played the role before?
A. I have played the George Bailey role every year we have done this adaptation until this year. This year I'll be at home with my wife and three-year-old daughter.
Q. The audience is actually on the stage with the actors. How does that work? Does the audience become part of the action?
A. Yes, I think so. There is a slight, but important, distinction in the audience's part in the production, because they are really asked to take on a role: the role of the audience. Yes, it sounds redundant, but the nature of the WVL Radio story, which starts with a direct address to the audience as if it were 1946, combined with the wonderful intimacy created by having the audience on stage, creates in the audience, I think, a strong sense of ownership of the story. They feel as if they are active participants in a way. The outcome of the broadcast affects them directly, in their role as the audience, if they choose to buy into that. That's part of what makes this production so much fun. When the audience has a stake in the action, it makes every little triumph a little bigger and each setback a little more disappointing. It can actually seem a little like rooting for a team at a sporting event, in some way, and with the WVL Radio story, the audience, as I said, really has two teams to root for, and twice as much at stake.
Q. It's hard to imagine there's anyone who hasn't seen It's a Wonderful Life, but suppose there is. Will the play make sense to them?
A. No.
Just kidding. We have worked very hard to make sure that the story of It's A Wonderful Life, the story people want, is the story they will get. And part of that is making sure that it is every bit as clear to first-timers as it is to the folks who know every line of the movie by heart. Those two groups of people will have a different experience of the show, certainly, but I think both experiences will be equally rewarding.
Q. The movie is set during the Great Depression, and the play is set not long after it's over. We're living through our own banking crisis and housing crisis now. The play seems more relevant than ever. Can you talk a bit about the parallels you see?
A. Yeah, the longer we perform this play, the more relevant in becomes, unfortunately. It's amazing, some of the talk that rings so surprisingly familiar, about mortgages and foreclosures, especially. And of course, we have tapped into that in the back-story as well, which is a struggle to save the radio station and the jobs that it supports.
But to me, what rings truest, and seems most timeless, is the question that ultimately faces George: who are we when the things we thought we could count on are not there? What is left when our job is jeopardized, when our savings are suddenly wiped out, when all the work we have done our entire lives seems to vanish in a puff of smoke, leaving us a legacy of trouble and strife but without the promised payoff? We forget sometimes just how hard life comes at George Bailey, and how far he falls. I hope that for us, the answer to these questions comes a little easier. And I think the answer must be each other. That's what we are left with – our relationships, and the stories we tell each other, and the good we have done. It's not much, maybe, but it is everything. It's the only thing.
Q. Anything else our readers should know about this show?
A. Maybe bring a tissue?
Actually, this might be of interest. One of the difficult things about the production is that we are confined to such limited stage space. The only place the actors can act is in front of a microphone. There are two vocal mics and two sound effect mics. That's it. So we have had to basically invent a new language of theater. We are caught in between an actual radio play, which has no movement because all the visuals are created in the listener's mind, and a traditional stage play where the movement of the actors on stage can be as important in telling the story as the words they speak.
It has been a lot of fun, and a real challenge, to figure this out. We find ourselves asking questions like, "How do we create a sense of intimacy in this scene without putting both actors on the same mic again?" and "How do we create the sense of a crowded room with just three actors, while one actor carries on a conversation with himself, as two different characters?" Not to mention, "I have an egg beater, an eggplant, a washboard, a washtub, and a ceramic bowl. Any idea how to make that sound like a ringing telephone?"
Live from WVL: It's A Wonderful Life plays Dec 6-18 at Booth Playhouse. Learn more.