The Asbury's Matthew Krenz Wins Statewide Chef Showdown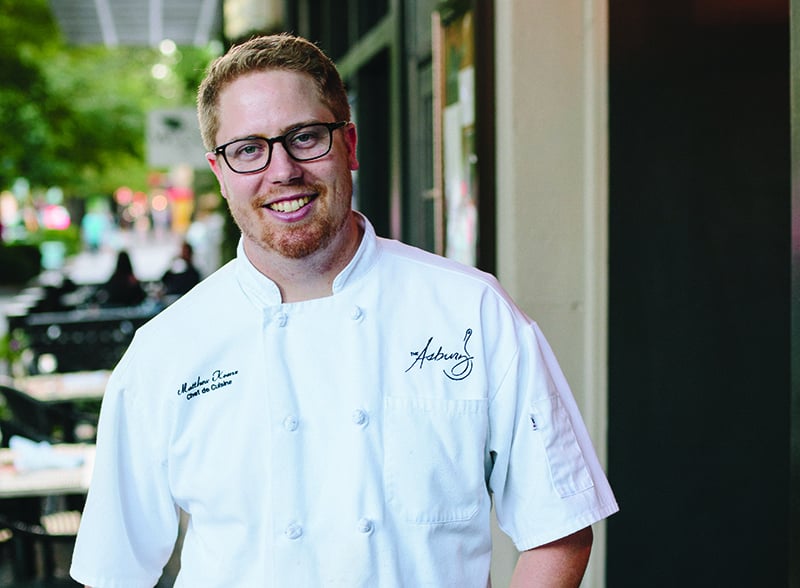 Matthew Krenz, executive chef/culinary director at The Asbury in uptown, was one of 16 chefs competing in Raleigh's second annual N.C. Chef Showdown last night. And with his beef fat confit sweet potato, Krenz nabbed the coveted Chef of the Year award at the event, which is part of the North Carolina Restaurant & Lodging Expo. The showdown invites chefs, pastry chefs, and bartenders from across the state to show off their talents in the combined event spaces of 214 Martin/Market Hall in Raleigh.
The winning dish is a beef fat confit sweet potato, with sweet potato and sorghum purée, goat cheese crema, pickled poblanos, cold-smoked jalapenos, and Trinidad peppers. Krenz says he'll be offering special tastes of the dish this weekend at The Asbury. And you'll find it in the late summer menu at the restaurant.
Krenz was announced as executive chef of The Asbury in May 2016. He previously spent time at Four Square in Durham and Charlotte's Passion8. In an interview with Charlotte magazine, the chef offered this on how his background in art plays out on the plate: "Thinking of the color wheel, contrasting colors. How can I make something that's red on the plate stand up a little more off of just a blank canvas? The plates are our canvas. Using a bright green versus a bright red. It's so obvious and simple, but unless you're trained in that way, and you've trained your eye in that way, there's these subtle nuances of the visual side of what we do that I don't think everybody understands or cares about."
The 32-year-old was one of a few Charlotte chefs competing at the event. Heirloom pastry chef Ann Marie Stefaney and mixologist Amanda Britton of 204 North Kitchen & Cocktails (and here, representing Belmont's Muddy River Distillery) also won awards in their categories. Other Charlotte competitors included RockSalt's Chef Jim Diecchio, Mimosa Grill's Chef Thomas Marlow, Chef Alyssa Wilen of Chef Alyssa's Kitchen, and Chef Phillip Platoni of Southminster Continued Care Retirement Community. (Also competing was Adam Reed, executive chef of Matthews spot Sante Restaurant.)