The B52: At Home with Brad Nortman
The record-setting punter shares some of his favorite things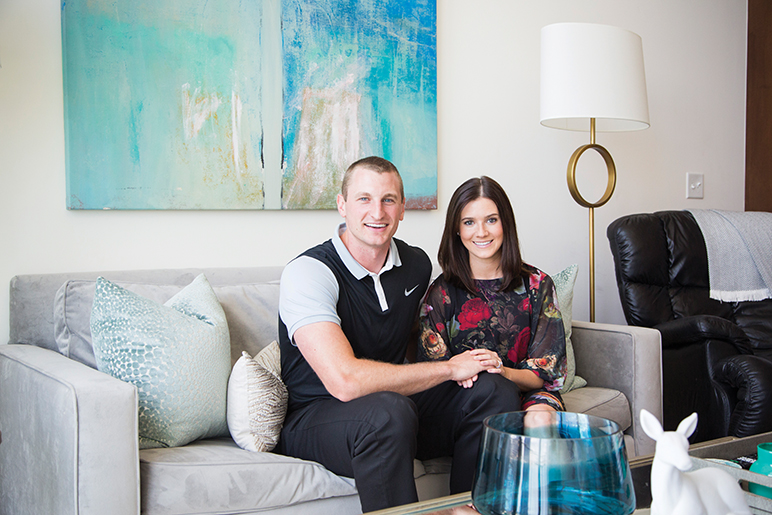 This story appeared in the October 2014 issue of Charlotte magazine.
Brad Nortman, the 25-year-old punting machine for the Panthers, is on break from training camp. He and his wife, Lexi, are enjoying the afternoon in their high-rise apartment at The Vue uptown. Fresh and modern, the space was designed by Erin Dougherty, owner of Isabella, a boutique in Myers Park. It's rich with texture and sparkle, from the cut velvet pillows to the custom-made, mirrored coffee table. Within walking distance of Bank of America Stadium, it's a great spot for the newlyweds, who tied the knot so close to training camp that they had to keep the honeymoon short. A makeup trip is scheduled for this winter, after the season ends.
For now, Brad is answering questions about punting. Teammate Graham Gano gave him the nickname "B52" because when Brad punts, Gano says, it looks like a plane is dropping bombs. Last year, he set the Charlotte franchise's record for average distance per punt in a season. That's not bad for a guy who didn't know he was a kicking phenom until he was nearly 18 and attended a summer camp for kickers, punters, and long snappers in Las Vegas. "I left being ranked number two in the country for high school punters," he says with a grin.
He has a way of stumbling into good fortune. The best example came when he lost his wallet in college at the University of Wisconsin. He glances at Lexi as he begins the story. There's that grin again.
"I couldn't find it—I retraced my steps. When I got home, there was a note under my door—'I'm Lexi in apartment 412.'"
They were neighbors but had never met; he called, and she came over.
"I opened the door, and there was this stunning beauty standing in front of me," he says. By the next weekend, the sophomores were dating. "We hit it off from day one."
TRAVEL // Brad and Lexi enjoy traveling, and a favorite nearby destination is Biltmore Estate in Asheville. Brad popped the question there in March of 2013, with a little blue box.
BOOKS // Brad studied accounting in college, passed the CPA exam, and is now pursuing a master's in finance, so his reading list is weighted toward finance, faith, and history. A favorite is The Millionaire Next Door. He says a lot of NFL players make money but fail to hold on to it, which is why the book's message is relevant. "It's not how much you make but how much you keep," he says.
FOOTBALL // Punters are picky about shoes—there's zero margin for error in their footwear. Brad likes a snug fit; these Nike cleats are "reliable, comfortable, and effective." He wore them in December, the month he was named NFC Special Teams Player of the Month.
MICROBREWS // Discovering Charlotte's breweries has been a fun way for the couple to learn about the city. Brad's current favorites include two beers from NoDa Brewing Company: Jam Session, a pale ale; and Hop, Drop 'n Roll, an IPA.
DECOR // This glass coffee table, made to Erin Dougherty's specifications, was built in South Carolina by Ken Marquis.