The Baby Makers: Why Surrogacy's in Demand
Surrogacy has become a booming industry, driven by rising infertility rates and other factors. Charlotte's parents, surrogates, and the professionals who work with them increasingly have to wade through its social, legal, and medical complexities.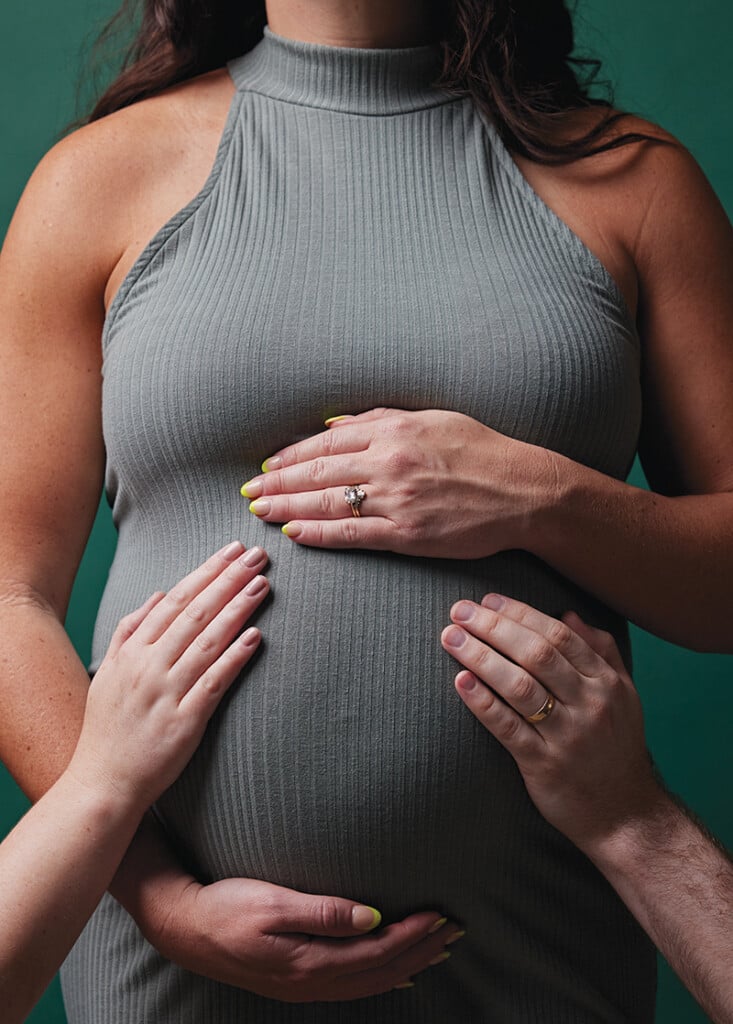 On March 4, 2021, as Brianna Buck prepared to give birth to a baby boy who wasn't hers, a nurse walked into the delivery room and called her "Mom."
"I'm not 'Mom,'" she replied.
Buck was a gestational carrier, or surrogate—"the oven," she'd explained to her own two young kids. The baby she carried was conceived in a lab via in vitro fertilization (IVF) from the egg and sperm of a New York couple, now at her bedside, who'd tried but failed to bring a child to term.
Nine months in, Buck was used to people calling her "Mom," especially in medical settings. It didn't bother her, and she understood the confusion. But she worried that the baby's mother would feel disregarded.
Pregnancy can dredge up powerful feelings for everyone involved: parents, their families, health care workers. A surrogate pregnancy adds another layer of complexity. Around the same time Buck was giving birth, Samantha Busch and her husband, famed NASCAR driver Kyle Busch, hired a surrogate after multiple failed rounds of IVF, including two miscarriages, as they tried to have a second child.
At their first prenatal appointment, medical staff repeatedly referred to the surrogate as "Mom" in front of Samantha. The surrogate corrected them each time, "but the way that they responded was just like, 'Oh, ha ha, it's not a big deal,'" Samantha says. For some people, it may not have been. But "it was a huge trigger" for Samantha.
She'd given birth to their son, Brexton, in 2015, after IVF treatments, but the failed pregnancies had taken a physical and emotional toll. Samantha was exhausted and discouraged. "It's hard," she says, "because you want so badly to carry your own child, and so much is already taken from you." The surrogate gave birth to a healthy, 6-pound, 1-ounce daughter, Lennix Key, on May 10, 2022.
Surrogacy has been around almost as long as humans—or, at least, the Bible. In Genesis, Abraham's son Ishmael was born of the enslaved Hagar because Abraham's wife, Sarai (later Sarah), "had borne him no children." Doctors performed the first successful artificial insemination in 1922, the first IVF in 1978. For its first seven years, IVF involved collecting an egg and sperm, creating an embryo in a lab, and implanting the embryo back into the woman who had provided the egg.
But in 1985, a New York couple who were having trouble conceiving paid a Detroit woman $10,000 to have their IVF embryo transferred to her uterus. The surrogate, Shannon Boff, referred to herself as "the world's first fetal baby-sitter." With no genetic connection to the child, she was the first known modern surrogate—the "oven," not the mother.
Gestational surrogacy is expensive, and has long been associated with celebrities. But in the past two decades, surrogacy has evolved into a growing international industry as cultural and environmental factors have boosted infertility rates: parents waiting later to have kids, single people seeking parenthood, LGBTQ couples, and environmental toxins that impair couples' ability to conceive.
In 1999, the year the Centers for Disease Control began tracking the number of IVF procedures performed, just 1%—727 of them—used a gestational carrier. By 2013, that number had risen to almost 3,500, or 2.5%. The market research company Global Market Insights predicts that the global surrogacy industry, valued at $14 billion in 2022, will swell to $129 billion by 2032.
Surrogacy agencies, organizations that match surrogates and intended parents and guide them through the complicated process, are opening around the country. There's no way to know how many—no regulatory agency specifically tracks surrogacy—but several agency directors interviewed for this story estimate there are about 150 in the United States.
Surrogacy "is definitely increasing, and increasing in the Southeast," says Dr. Michelle Matthews, a fertility specialist for 25 years, all but one in Charlotte. She's the medical director at Atrium Health Carolinas Medical Center Women's Institute. We're talking in her office on the fifth floor of the hospital complex.
"Ten years ago, our practice probably saw a couple (of cases) a year, and now we're doing a couple a month," Matthews says. "And that's consistent with nationwide trends."
Some surrogates want to help loved ones who can't conceive or carry children. Others enjoyed pregnancy, or at least had no complications, and just want to help people. "I see a lot of teachers and nurses," says Amy Wallas Fox, the Charlotte-based executive director of the agency Southern Surrogacy and an assisted-reproduction attorney.
Agencies match surrogates and intended parents based on shared beliefs, personal preferences, and other factors. The more potential surrogates learn that the practice is in demand, Matthews says, the more come forward for screening as candidates. Last year, for the first time, the Women's Institute assigned a nurse exclusively to surrogate pregnancies.
Buck first thought about becoming a surrogate in 2018. Her kids were 1 and 2, born after relatively textbook pregnancies. "I started to know more and more people struggling with infertility," she says. "And I thought, You know what? I could do another pregnancy, but I definitely am not trying to bring home any more babies."
She applied to be a surrogate in late 2019 through the New York City-based agency ConceiveAbilities, which initiated a deliberately long process designed to weed out applicants who aren't up to the physical and emotional challenge. Buck had to turn over her medical records and undergo numerous health screenings, a three-hour psychological examination, a background check, and a home visit.
She was matched with intended parents in January 2020. Since they were in New York, where surrogacy was illegal until February 2021, they met at a Boston fertility clinic, where Buck underwent another round of testing—which included a Pap smear, a uterine check, STD testing, and bloodwork. After all came back clear, Buck and the intended parents worked with reproduction attorneys to draft a 46-page contract that spells out each party's rights, roles, and responsibilities before, during, and after birth—including the possibility of reduction or termination of a pregnancy and reimbursement.
Except in cases of altruistic surrogacy—when the surrogate is usually a friend or family member, and there's no compensation beyond expenses—surrogates are paid well. The typical pay in North Carolina, not including medical and other reimbursed expenses, is between $35,000 and $50,000, Fox says. Buck received $52,000—higher because both she and her husband, Jeff, had to take time away from full-time jobs to attend appointments.
Once the contract was signed, the fertility clinic selected a date, based on Buck's menstrual cycle, to implant the embryo. Two months before, Buck was put on a regimen of prenatal vitamins, birth control pills, antibiotics, steroids, aspirin, and hormones like estrogen, leuprorelin, and progesterone. It usually takes several transfers for an embryo to begin to grow, but Buck's first transfer succeeded. She received the rest of her prenatal care in Charlotte, from the same practice that oversaw her previous pregnancies.
It was 2020, the year COVID hit, and Atrium typically barred unnecessary visitors from appointments. But the intended parents traveled from New York for ultrasounds, and the clinic allowed them to attend appointments with Buck. "I would kick off all appointments by explaining that I was a surrogate, and who the parents were," Buck says, "and then most people would be like, 'Oh, OK. Got it.'"
Since one of Buck's children had been delivered by cesarean section, and vaginal birth after cesarean can be risky, doctors at Atrium planned a C-section for this child, too, with the intended parents in the operating room. "For me, having the parents there was everything—the culmination of the entire journey," Buck says. "You know, people would ask me how I could give up the baby. First off, the baby was never mine. But while watching the parents in that moment, I realized that the relationship that I had built was with them."
The process wasn't quite so smooth for the Busches. They decided in 2019 to use a surrogate, and Samantha spent days updating the profile at the agency they chose. "I felt like it was going to be this great matching process," she says, "almost like Match.com. … But when we got down to the nitty-gritty, there wasn't even a surrogate available."
One emerged a couple of months later, but Samantha and Kyle declined; they had differences with her that Samantha didn't want to discuss. (Arrangements between surrogates and intended parents sometimes founder on disagreements over personal matters, like when to terminate a pregnancy.) Disheartened, Samantha began asking around and talking to friends in the doula and midwife community to see if they knew anyone interested in becoming a surrogate. After almost a year, a local woman reached out. She and Samantha talked repeatedly, and their families met. In 2020, the woman, who Samantha declined to identify, applied with their agency, which approved her. After two embryo transfers, the surrogate became pregnant with the Busches' daughter.
After the first prenatal appointment, where Samantha felt dismissed, the Busches and their surrogate moved their care to Natural Beginnings Birth Center in Statesville, where they worked with a team of midwives and doulas. "At that first appointment we went to, I felt like I didn't belong in the room," Samantha says, "but Natural Beginnings really made it so that our carrier had all of her needs and questions met, and so did I."
They planned for the surrogate to give birth at the center, too, but during labor, complications forced her to Davis Regional Medical Center. Their midwife went with them, though, and Samantha says things went smoothly at the hospital largely because of her. The hospital allowed Samantha to catch Lennix as she was born, gave the Busches their own private room to bond with their daughter, and allowed extra people—the Busches and the surrogate's husband—in the delivery room.
"There were a lot of things that we had to repeatedly explain, but for us, it ended up going very smoothly and very well," Samantha says. "But I do think that, as this becomes more common, being aware of different triggers, in terms of titles and whatnot, is extremely important."
Celebrity was a disadvantage to the Busches in one sense: It gave people ignorant of advances in surrogacy and female reproduction an opening to weigh in on the family's personal decisions. On May 6, four days before the Busches' daughter was born, a sports journalist tweeted, "Trevor Bayne is on standby for Kyle Busch this week and for Kansas in case the surrogate carrying the baby goes into labor." A man tweeted back, "So we are gonna miss out on points and potential wins because some woman is carrying the baby your wife can't have? … If it was actually your kid that your wife was having I can understand. But this is ridiculous."
Even surrogates outside the spotlight have to field unwelcome, and at times abusive, comments from random people who fail or refuse to understand. Buck recalls men telling her, "It's so great that your husband let you do that," and "I just don't think I'd be OK with my wife having relations with another man."
Despite advances in the procedure and increasing popularity, the fundamental economics of surrogacy haven't changed much and aren't likely to. It will remain costly. "You know, a woman is essentially giving a year of her life to carry a pregnancy," Matthews says, "so it's understandable that it's expensive. As the demand increases, especially when there aren't many surrogates around, like during COVID, people are going to ask for higher pay. It's just supply and demand."
Buck and the Busches' surrogate have limited contact with the children, as their contracts specify. But Samantha sends her surrogate photos and updates of Lennix, and Buck receives the same for the baby boy she carried. Samantha plans to tell her daughter, now 1, how she came into the world. Buck says she doesn't know what her intended parents will tell their son, now 2, but she's happy with whatever they decide.
Samantha's experience with infertility led her to found the Bundle of Joy Fund in 2015, which helps families pay for IVF. She says that in several cases, that's helped families save enough to afford a surrogate they otherwise couldn't have. In 2021, Buck left her commercial marketing job to work with a startup called Nodal, which connects prescreened surrogates and intended parents. She's decided she won't be a surrogate again herself because she wants to focus on her own kids. "As much as surrogacy is about the surrogate," she says, "it's also a commitment for the whole family."
But she adds that the experience was so positive, it's hard not to want to do it again. "It was, by far, the coolest experience of my life," she says. "You often see surrogates portrayed in this very victim-like role. But I would say it's the most empowered I've felt in my life. I was so proud of my body. I was so proud to be able to show my children that, yeah, this is what it can look like to do something for somebody else."
---
The Basics
In vitro fertilization (IVF) is a type of fertility treatment in which an egg and sperm are combined in a lab to create an embryo that is then transferred to a woman's uterus. The embryo is either transferred back to the mother's uterus or to the uterus of a surrogate.
Intended parent(s) are a couple or individual who cannot conceive or carry a child naturally, or do not want to, and who seek or use a surrogate.
A gestational carrier, or gestational surrogate, is a woman who is not genetically related to the baby she is carrying for another person or persons. Donor egg and sperm—often, one or both are from intended parents—are combined in a lab via IVF and transferred to her uterus. Since 1985, this has been the primary type of surrogacy. (Most of the time, when used alone, the term surrogate refers to a gestational carrier.)
A traditional surrogate is a woman who is genetically the mother of the baby she is carrying for another person or persons. Her own eggs are fertilized with donor sperm via artificial insemination or IVF. This type of surrogacy is rare today.
A commercial surrogate is paid for her services beyond medical and other expenses.
An altruistic surrogate is not paid for her services beyond medical and other expenses. Altruistic surrogates are often family members or friends of the intended parent(s).
Surrogacy remains illegal in three states: Nebraska, Louisiana, and Michigan. States have varying legal hurdles for surrogates, but North Carolina has no restrictions and is considered a "friendly" state for surrogates and parents.
TESS ALLEN is the associate editor.