The Battle of Lake Norman
In House District 98, two female candidates from opposite ends of the spectrum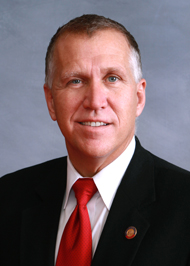 Of the bellwether 2014 legislative races starting to assume form, this one might be the most interesting: House District 98, the seat Thom Tillis has held since 2006.
You have two candidates so far: Cornelius Mayor Lynette Rinker, a Republican; and Democrat Natasha Marcus, who'll be formally announcing her candidacy today.
Here's why it's a race to watch:
Two women. Of the 120 members of the N.C. House, only 22 are women, and I can't recall the last time a woman represented that part of the county, if one ever has. The last two, at least, have been conservative white men, reflecting the voter base.
Contrast. Rinker, mayor only since January, has the stock conservative platform: job creation, low taxes, and "get[ting] the government out of our day-to-day lives," which makes you wonder how Cornelius has survived this long without garbage pickup or law enforcement. (Oh, wait — that kind of government in our day-to-day lives apparently secured a variance of some kind.)
She says "a number of community leaders" approached her about running because they were "concerned about losing such a strong leader in the House," which gives you an idea of how important this seat is to the GOP. Losing Tillis's seat to a Democrat would just be galling.
Especially a Democrat like Marcus, who's just so Davidsonian, so reflective of the liberal-academic mindset that characterizes the town, that you can hardly stand it. She's a consensus-builder in the Jennifer Roberts mold, an OFA organizer and attorney who uses words like "inclusive," a dead giveaway:
Natasha, a Democrat, graduated from Duke University School of Law with honors. She went on to practice law at Brooks, Pierce, McLendon, Humphrey & Leonard, LLP in Greensboro for more than six years. There she litigated business, employment and eminent domain cases. The mediation skills she mastered at Brooks, Pierce have given her the ability to help people negotiate mutually agreeable solutions.
In 2011, Natasha began to work more broadly within House District 98 when she became a Team Leader for Organizing for America. In that role, she led over 1,000 volunteers in Cornelius, Davidson and Huntersville during the 2012 Presidential election, including non-partisan voter registration drives that allowed over 1,100 area voters of all parties to register.
Natasha is known for her endless energy and commitment. She is passionate about inclusive representation that reflects the shared values of our community. "This is our chance to bring balance back to Raleigh," she says. "I want to make sure everyone's voice is heard and respected." She is keenly aware that the people in her District come from diverse backgrounds and different political parties, and that there are many unaffiliated voters. Marcus knows she will need to forge compromises to make real progress. In doing so, she says she "wants to advocate for policies that will build safe, healthy and inclusive communities …We need to respect our teachers and find the right resources to deliver an outstanding education to all our children and young adults. They are our investment in the future."
An eminent domain litigator, OFA team leader, community organizer, and conciliator who thinks we should pay teachers more. Oh, the folks who think Tillis was "a strong and effective leader who brought positive change to the district and state" are just going to love this lady.
The weather-vane factor. We've been hearing since the start of the legislative destructo-frat party in January that the backlash against the GOP's scorching of the earth is coming.
Well, this race will provide a pretty good indication. We'll see how much money gets spent; how many state political luminaries lend their energy to the candidates; how nasty it gets; who else runs; and which way the wind ends up blowing off Lake Norman.
Because if House 98 even ends up a close race, it's a good sign that the voters have had enough of the GOP's grip on the state's politics.