The Bernie Madoff of the Neighborhood
Ponzi schemes aren't just making national news, they're hitting home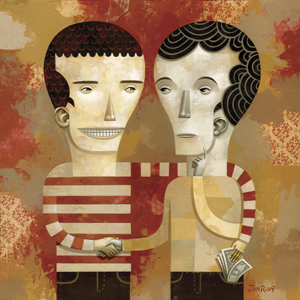 On a cul de sac in a Rock Hill suburb with massive houses and expensive cars, there's one house with a for-sale sign out front and a $450,000 price tag. A peek through a pane glass window reveals already-packed boxes and a family portrait from much happier times.
The home belongs to the man people call the Bernie Madoff of the neighborhood. Oren Sullivan is charged in a $2 million Ponzi scheme. In September Sullivan pleaded not guilty to stealing from thirty-five clients by telling them he was investing their money and instead putting it in his own account. South Carolina U.S. Attorney Kevin McDonald, whose office is prosecuting Sullivan, says his office is seeing more Ponzi schemes since the recession hit. When the bottom fell out, so did the skeletons. In October, Charles Harrison of Charlotte pleaded guilty to scheming 200 investors out of $11 million. Harrison preyed on the elderly, who thought they were helping pay for concerts at nonprofits and colleges. Instead, much of the money went into a day-trading account and to pay other investors.
Scott Cheney, Charlotte's FBI special agent in charge of white-collar crimes, says thanks to Madoff more victims are coming forward. "I think that the more these high-profile cases have been publicized it helps with people's willingness to come forward and admit that they've been duped."
Gary Sigmon lost his life savings when he invested with a family friend in nearby Catawba County, J. V. Huffman, who's been in jail since 2008 on charges of scheming hundreds of people across the country out of $27 million over almost twenty years. Huffman faces criminal and civil charges. "He had an answer for every question. He'd practiced this for years. I figured it was OK because my uncle had also invested with him and said he was a good Christian boy. It turned out not to be true."
"Many cases we see involve individuals who are related or who have indirect friendships with the victims," says McDonald. "It's pretty ironic. They're more willing to give money to someone they trust than someone with a license." (Prosecutors say Huffman duped his own cousin, for example.)
Vickie Drum, who prosecutors say was also scammed by Huffman, says when she heard about Bernie Madoff she felt for the victims. "I thought that's the same thing that's happened here. Madoff was in business for about the same number of years. And there's probably more around. We just don't know it."