The Best and Worst of Politics in Charlotte and North Carolina from the Past Four Years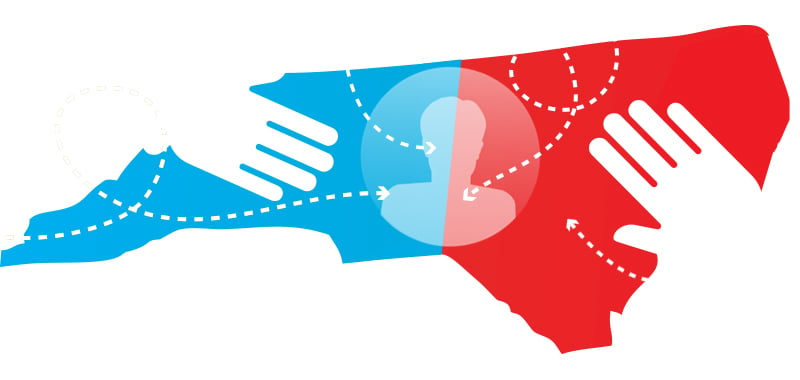 IN AN ESSAY posted on www.charlottemagazine.com today, associate editor and Charlotte native Adam Rhew tracked North Carolina's shift to becoming a key state in the 2016 presidential election. National publications have flooded the state recently to track what's happening here. It's been a wild year, for sure. But we've been preparing for this for some time. Since the 2012 presidential election, there's been plenty of good, bad, and very strange politics in our city. Ahead of this year's election day, I thought I'd compile a handy list of the best and worst of politics in Charlotte and North Carolina over the past four years. Most of the things below are from the recent Charlotte magazine and www.charlottemagazine.com archives. Others are from other outlets. We begin with Governor Pat McCrory's first State of the State address:
BEST PLACE TO START
The Great State of North Carolina™: Please like us on Facebook, rate us on Yelp and take a complimentary fridge magnet.
When Mayor McCrory became Governor McCrory, his first address State of the State address was more about North Carolina the #brand we all need to help sell than North Carolina, the 227-year-old state that's home from 10 million people from across the world.
---
AN IMPORTANT HOW-TO GUIDE
How to Commit Voter Fraud in North Carolina: A step-by-step guide for stealing elections the old-fashioned way.
---
THAT THING I HAVE TO KEEP UPDATING, EVEN THOUGH THIS WRITER LEFT YEARS AGO
The Pat McCrory Toe-Stepping Quote Generator (Last updated: September 2016): Our governor's most overused rhetorical crutch, and why it just won't die.
Several dozens of these. That's a lot of toes.
---
CHARLOTTE, LAND OF MANY MAYORS
Mayor for a Moment: Patsy Kinsey: She may be quiet. She may be in office only for a few months. But Kinsey knows that her name will be etched in Charlotte history as the mayor who followed Pat McCrory and Anthony Foxx. And she doesn't take that lightly.
Charlotte's had five mayors since 2012. It was notable enough that she was following McCrory and Foxx, but none of us knew how significant her successor, Patrick Cannon, would be. More on that below.
---
THE DEEP DIVE INTO MCCRORY, AS GOVERNOR
Pat McCrory Is the Right's Man for the Job: Former Charlotte mayor Pat McCrory finds himself with more power than any Republican in North Carolina history. So what's he going to do with it?
Writer Michael Cooper checked in with McCrory in the April 2013 edition, as the former mayor settled into his contentious tenure as governor of North Carolina. Of the many fascinating facts and quotes that Cooper dug up here, this tidbit: "[McCrory] dug ditches for Duke Power before climbing the corporate ladder."
Also, this quote, from North Carolina Supreme Court Justice Paul Newby: "My belief is if Pat is successful in North Carolina he will emerge on the national scene as someone many will look to for guidance and leadership."
---
WHY DID I HAVE TO REMEMBER THIS?
The Most Awkward Hug Ever, Looping For Your Pleasure: It's probably not fair to spread a context-free GIF of the McCrory/Foxx bro hug, BUT I CAN'T STOP WATCHING IT.
---
ANOTHER HELPFUL GUIDE
April 2014: A Patrick Cannon 'Flow' Chart: When former mayor Patrick Cannon was arrested in March 2014, the FBI affidavit quoted him saying, "I'm not one of those Chicago or Detroit type, uh, folk … That's now how I flow." So how, exactly, does he flow?
My favorite section here, specifically, is the one marked "D'Angelo," in which the ex-mayor, a Carolina Panther, and a character from The Wire are tethered.
And naturally, contributing editor Greg Lacour followed through with context:
June 2014: Charlotte's Patrick Cannon Scandal: Stupid, Paltry, Slimy: The pettiness of Charlotte's biggest political scandal
---
DAILY SHOW DOES NORTH CAROLINA
February 2015: Jon Stewart and North Carolina, Through the Years: Not sure whether it's a good thing or bad thing that The Daily Show kept returning to North Carolina, but hey it's entertaining. Here, North Carolina, are your moments of zen.
---
AND THEN, THE ARRIVAL OF HB2
HB2: Full Coverage of the N.C. Law: A roundup of our coverage of the controversial law.
What started as the bathroom issue became one of the defining storylines of this year's election. But sports fans, fret not: Even though we've lost the NBA All-Star Game, NCAA championship games, the ACC tournament, and several other events, conventions, concerts, and opportunities, we still have the 2018 World Equestrian Games.
---
CHECKING IN WITH THE MAYOR'S OFFICE AGAIN
The Education of Jennifer Roberts: A closer look at the mayor at the center of the nation's most fiercely fought civil rights battle.
The only thing I have to mention is a personal note: While trick-or-treating, my family stopped by the mayor's Elizabeth home and she liked our Harry Potter costumes. Thanks again, Mayor.
---
MCCRORY, TRUMP, AND THANKFULLY, NO HUGS
Opinion: 'Loyal to Trump From Day One': Pat McCrory, supplicant
Greg Lacour gets pretty, well, passionate about some topics. Here, he explores the relationship between McCrory and the Republican presidential candidate. It includes McCrory's comment over the weekend that Trump is "the best of America." For Lacour, this news bite renders the question of "What happened to Mayor Pat?" irrelevant.
---
THE VIEW FROM A PULITZER-WINNING CARTOONIST
Whenever The Charlotte Observer's renowned cartoonist Kevin Siers scratches out a new cartoon, you have to look. He's had plenty of material in the past four years. Check out some of his work, here, here, and here.
---
FOXX RETURNS
Opinion: Anthony Foxx's Stump Speech for Government That Works: The former Charlotte mayor's remarks had an extra layer.
And here we come full circle, as the man who was mayor four years ago comes back to talk about the economic progress of this city and the nation, while looking at which issues remain. Lacour says there's plenty more than that to unpack here.
---
#BLESSED
Life Lessons: Jeff Jackson: The unknown prosecutor who became the politician who went viral.
Here, the state senator talks about social media, the NBA's move, and the surprises he's found while in office. He also talks his career as a criminal prosecutor and how he was able to use the "Crying Jordan" meme without annoying everyone. Not mentioned: How him being so good at this stuff makes the rest of us feel. A notable quote: "The biggest surprise I've seen in office is how much both sides agree in private."
---
AND WE END WITH SOME NATIONAL CHATTER ON NORTH CAROLINA
FOX NEWS: In battleground North Carolina, 2016 races too close to call
CNN: Who are North Carolina's voters?
THE WASHINGTON POST: What one swing state can teach us about political polarization in America