The Big Love: Charlotte Musicians Gigi Dover and Eric Lovell
Duct tape, superglue, and music keep a couple's partnership strong for decades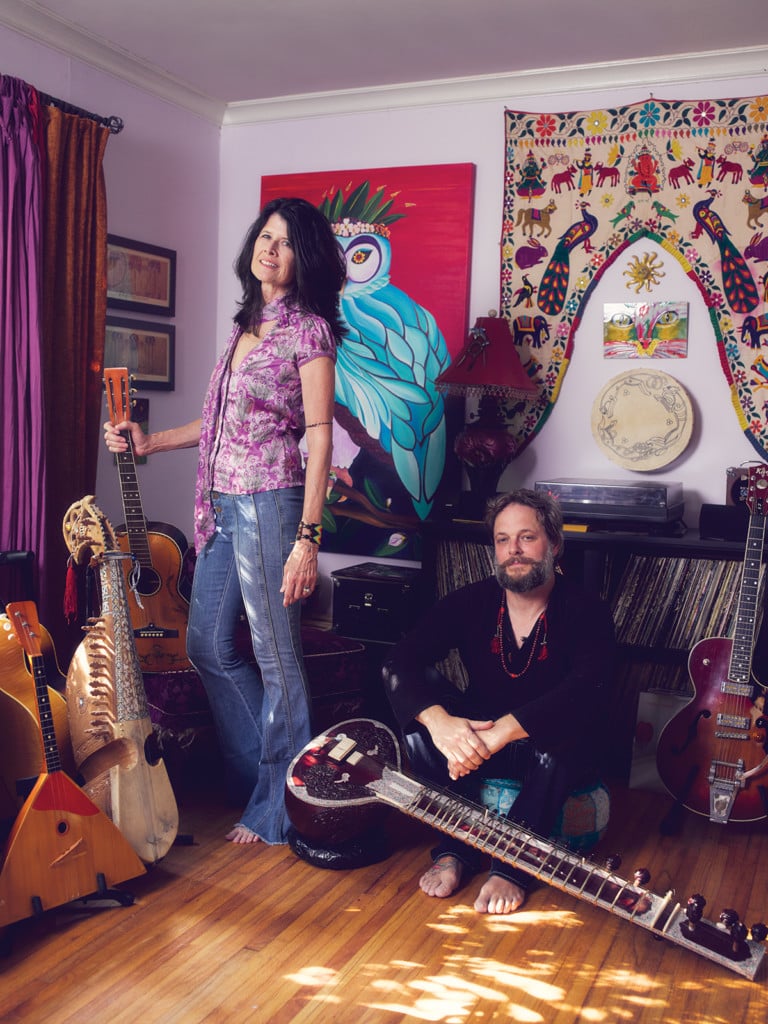 A PAIR OF PANTS—tight, pinstriped, black pants. When Eric Lovell talks about the early days, he starts there.
It was Christmastime 2002. Lovell and singer/songwriter Gigi Dover were performing together for Spindale public radio station WNCW's holiday party, she as the headliner and he on bass guitar. The two had known each other for years, both staples in the Charlotte music scene for more than a decade. Lovell played guitar during Dover's tour for her first solo album earlier that year, Unpicked Flowers.
At the time, Lovell had long, laid-back ringlets that landed at about his waist. Dover remembers watching his hair rock back and forth to the music as he played a rock version of "Away in a Manger" on bass that night. He only remembers her pants, though.
"She's a long-legged woman," he says with a wide grin, his mustache curled on the ends. "They just fit perfectly."
Before, their timing had never been right for anything more than friendship. They were both married to other people and busy building their own music careers.
Who made the first move is still up for debate. But eventually feelings evolved and their friendship intensified into attraction, and then grew into something much deeper. The two married in 2006 and have worked together on more than 15 albums, four as the band Gigi Dover & The Big Love. Collectively, they have performed hundreds of shows in Charlotte, at the Evening Muse, the Visulite Theatre, and at the now-closed Double Door Inn. Thanks, in part, to a pair of pants.
***
ROWS OF FRAMED ALBUMS hang in a small room, about the size of a large shed, in Dover and Lovell's backyard. Cords snake across the floor, connecting Dover at the mic to Lovell manning the soundboard.
When I visit the couple's set-up on a Wednesday evening in November, they're recording background harmonies for local singer/songwriter Kevin Loop's new album in their recording studio, Blϋ Bubble Studios.
"Give it a little more juice," Lovell says after the first take.
Dover inches toward the mic and gently sings the note progression, using her hands to represent the rise and fall of each note. "There you go," he says with a nod, as he turns around and gives Dover a fist bump.
Blϋ Bubble Studios opened in 2006 out of the couple's home in east Charlotte. They started it as a way to produce their own music, without the expenses associated with a traditional recording studio, and to help local musicians do the same. In a room next to their kitchen, the two recorded Gigi Dover & The Big Love's first album, Nouveau. Eventually, Blϋ Bubble moved to the backyard, in a structure they built themselves—still standing with the help of superglue and duct tape. They do everything in-house: The two write and record songs together, Lovell engineers the tracks, and Dover designs the album artwork.
"I tend to sing my answers," Dover says, half singing. She was raised in a musical family and announced before she hit her teens that she was going to be a singer. "I don't remember a time when I was not singing," she says.
She remembers listening to a lot of Motown with her brother, The Jackson Five being one of her favorites. Her mom loved big band music, crooners. Dover took it all in. As a teenager in the 1980s in Charlotte, she took guitar lessons from the Moody Brothers and began writing music. "For my 16th birthday, I remember I got Tom Petty's Damn the Torpedoes, and Stevie Nicks and Emmylou Harris, and it was on," she says.
Dover started "giggin'" around town with the Rank Outsiders, a local Americana band, in which she sang and played guitar. After nearly 10 years and four albums, she decided to go solo.
Lovell had different motivations for becoming a musician: girls. "Girls like guitar players," he remembers reasoning as a 15-year-old. He never put down the guitar; he only picked up more instruments along the way, from the sitar to the harmonica and mandolin, banjo, glockenspiel, ukulele, pedal steel, rebab, and dobro.
Lovell traveled all across the country, living in Los Angeles for a short stint, playing his guitar and banging his long hair for any paying gig. But eventually he came home to North Carolina, where he had an established network and where he grew up.
They started in different genres—Dover was more interested in the Americana scene and Lovell stuck to heavier rock—but they kept hearing about one another. During Dover's tour for her first album in 2002, she needed a bass player and thought of Lovell.
Fifteen years later, I met the two while Lovell was helping to produce a few songs for my friend, Andrew Breeden, who works at the Purple Onion in Saluda, a restaurant and music venue that Gigi Dover & The Big Love frequent. When I got directions to their place, Breeden told me, "Look for the tepee."
I did a double take when I saw it.
The tall structure casts a triangular shadow over their ranch-style house, and was a gift from Lovell for Dover's birthday in 2016. They built it themselves, slinging the wooden poles together and draping the large hide atop. The moon's phases adorn the top of the hide and a print of soaring birds wraps around the middle of the tepee.
It's one of the few places on their property they treat as a business-free zone, with room for about 10 at most. Music is allowed, but they don't exploit the space for any performance or recording. It's a space for meditation, for friendship, for community, for positivity.
One of the duo's main goals in music is to write uplifting songs. Their latest album, Travelin' Thru, released in 2016, was intended to encourage people facing loss. "Nobody is here forever; we're all just traveling through," Dover says, thinking back on the loss of four pets within 14 months. The album was healing for Lovell and for her.
"People want to have a good time at a show," she says. "If we have touched people, then we've done our job."
"There's enough bad in the world," Lovell adds.
***
I KEEP MY JACKET ZIPPED as I enter Petra's on a Friday night, watching my step as I weave my way to the bar to get my go-to drink: a gin and tonic, two limes. There are about 25 or so people on the Plaza Midwood bar's intimate dance floor, all huddled together. It's the first night of the season that the temperature has come even close to freezing, and everyone is still trying to warm up, jackets draped over shoulders like blankets, eyes locked on Gigi as she belts another line.
"Oh, the sunlight warms my face. Feels so fine, a welcome embrace. Love is my song, simple and strong. Love is my song," she sings as John Spurrier, the drummer, pounds away on the bongos.
Gigi Dover & The Big Love have a sound that's difficult to pinpoint. It's a mix of Americana, jazz, country, rock, and world. Gypsy folk, in their words.
This crowd didn't just stumble into Petra's tonight—these are fans. One woman passes a note to Lovell with a list of song requests, and mouths all the words as the band plays "Was It Just Yesterday," a song off The Avocado Sessions album.
At stage-left, two women sit at a table. Right around midnight, they get up to leave, but before they can slink out the door, Lovell says goodnight to them over the mic. It's his mom, Sue, and Nancy, his childhood art teacher. As he does so, the music stops for a minute, and the whole crowd shouts goodbye.
When the band starts up again, another fan whistles along with such aplomb, as if he's heard the song a thousand times before, which is likely.
"I like my new pants. The sun's coming out. A skip in my step. I like my new pants," Dover sings, her smile growing larger as she repeats each line of the upbeat song "Pants."
For Lovell, it started with a pair of pants, but it didn't take long to fall for everything else about Dover. The city of Charlotte fell for her too, for her energy onstage, her distinct voice, and her vibrant artwork. Maybe tight, pinstriped pants aren't your average symbol of lasting love, but who likes average?
While performing, Dover and Lovell have a habit of locking eyes with a side glance and a flirty smirk, as though they have a secret crush on one another. The secret may be out and their love in full form, but she still keeps the pants, a reminder of that first spark, that first harmonious note that started Gigi Dover & The Big Love.