The Big Short's Ending Has a Little Lie About Charlotte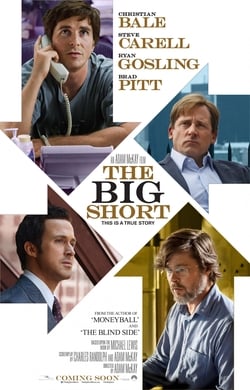 CRITICS AND AUDIENCES loved The Big Short, the Adam McKay film about the 2008 financial crisis. The movie nabbed five Academy Award nominations, and it garnered praise for taking a difficult subject and making it engrossing and entertaining. For Charlotteans, there was a tidbit at the end of the film that was particularly interesting. Here's the thing: The nugget was made up.
John Magaro portrays young investor Charlie Geller, a stand-in for the real-life Charlie Ledley. At the close of The Big Short, a slide says Geller moved to Charlotte after the events of the film. As reported by the Observer in January, that never actually happened. It was simply concocted for the narrative.
So where did Ledley actually go? He's now an analyst at Highfields Capital Management, a hedge fund based in Boston. He joined the group back in 2010, and a phone call to the firm confirmed that he is still there. Today, he also serves on the board of directors of The Tobin Project, the Cambridge-based nonprofit that focuses on research in social sciences.
In a movie where names are changed and situations embellished for effect, you can see how one city can be swapped for another. It's just fun to see the city mentioned in one of 2015's biggest films, even if it's just some Hollywood magic.