The Big Year: A Look Back on 12 Months of Blogging About the 2012 Democratic National Convention
A month-by-month analysis of what I said then compared to now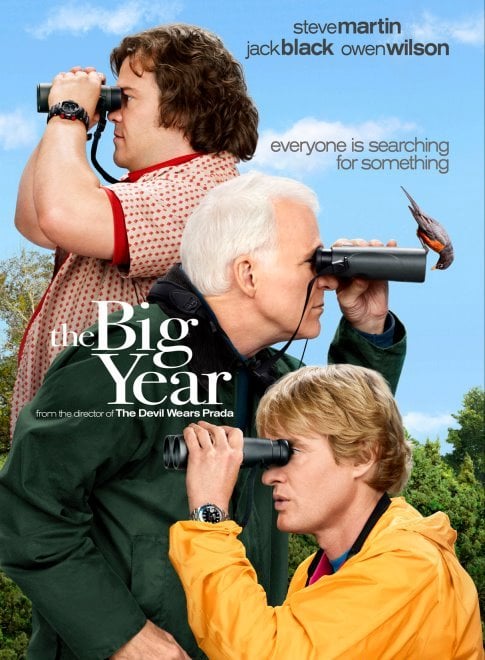 There's a movie titled The Big Year, which came out last fall, starring Steve Martin, Jack Black, and Owen Wilson. The movie flopped at the box office, and was largely panned by critics, but I sort of enjoyed it when I watched it about a month ago via On Demand.
The main characters in the movie—Martin, Black, and Wilson—embark on something known as "the big year," where they spend an entire year trying to spot as many birds as they can, particularly hard-to-find and rare species. Comical situations, shenanigans, and hurdles ensue during their journey.
I kind of feel like I just came off a big year in covering the Democratic National Convention on this blog, "The DNC In The CLT," from September 2011 to September 2012. There were certainly times last year when I was searching for hard-to-find species, I mean stories, when there wasn't much to report other than requests for proposals being announced by the DNC, and who was awarded what contracts.
And then, like in The Big Year, as the precipice of the DNC approached, we were flooded with birders, I mean national journalists.
In recognition of the completion of my big year, I recap the last 12 months of DNC blogging by pulling out two notable blog posts from each month (26 selected in all out of the nearly 100 I wrote—September to September), and reflecting on what happened since in "what I know now." (Beneath the date of each post is the original headline, which links you to that blog post.)
[September 19, 2011]
Welcome to The DNC In The CLT
What I said then
We'll let the politicians play politics while we share stories of the key people, the planning, the events, the successes, the failures, the rumors, and more leading up to the week of September 3, 2012 when an estimated 6,000 delegates and 10,000 journalists will descend upon the Queen City. And not to mention the tens of thousands of other political figures, business leaders, and everyday visitors and spectators who'll be learning firsthand that uptown is downtown and that center city is uptown and South End.
What I know now
The DNC blog launched and, in many ways, it doesn't feel like a year has actually gone by.
[September 27, 2011]
Charlotte in 2012 Announces Host and Steering Committee Members
What I said then
Charlotte in 2012, the local organizing-turned-host committee that's been in place since Charlotte bid for the 2012 Democratic National Convention, officially announced today its Host Committee and Steering Committee members. More than 100 people have been tapped to serve on the committees, representing a who's who of current and former elected officials from around Charlotte and the state, business executives, and community leaders.
What I know now
Other than Host Committee co-chairs Mayor Anthony Foxx and Duke Energy CEO Jim Rogers, most of the other committee members largely played roles behind the scenes. Rogers became a huge media fixture in July when controversy arose surrounding his utility company's merger.
[October 10, 2011]
The Week that Was: Bank of America's New Fee + Obama's Comments = Charlotte Headlines
What I said then
…last week was national headlines run amok, and all it took was for Bank of America to announce it would begin imposing a $5 monthly debit-card fee to customers. And for the president of the United States to comment during an interview that banks "don't have some inherent right just to, you know, get a certain amount of profit, if your customers are being mistreated." It didn't take long for journalists, bloggers, and critics to analyze and assess that President Obama was challenging the bank whose headquarters is in the city where he'll accept his party's nomination next year.
What I know now
BofA scrapped plans for the debit-card fee a few weeks later. And continue reading ahead for more on how the big bank and President Obama would intertwine.
[October 28, 2011]
What Dish Would You Serve the Obamas?
What I said then
Harvest Moon Grille was serving Uptown diners tasty lunches from its popular orange food cart before it opened the chic restaurant inside the Dunhill Hotel last year (and continues to operate the food cart). Well, the farm-to-table restaurant has kicked off a contest to determine the "Signature Dish of Charlotte," to help the city's culinary identity for the DNC. They want you to create a dish that expresses "the Queen City, who we are, what we are known for, and what Charlotte is all about. Put it all on the plate. All ingredients must be local."
What I know now
In June, Harvest Moon Grille began serving the dish created by the winner of the contest. I'm not sure, however, how well the Belly Bun, a pork belly sandwich on a corn cheddar biscuit, was received.
[November 23, 2011]
First Big Shindig Announced for Week of Democratic National Convention
What I said then
According to a recent press release, ONE, the global anti-poverty organization co-founded by U2 rock star Bono, and Politico, one of the country's top political news websites (and newspapers), are joining forces to co-host evening events at the Republican National Convention during the week of August 27, 2012 in Tampa, and at the Democratic National Convention in Charlotte the week of September 3. The events will be held the Wednesday night of each convention week—so that's September 5 here—and will "feature performances by well-known musicians, bringing together some of the conventions' most high-profile attendees."
What I know now
While many more high-profile, invitation-only parties were announced and took place during the DNC, the ONE party must've flew under my radar once the week arrived. But you can read here about a ONE panel discussion that was held in Charlotte last week with former U.S. Senate Majority Leader Tom Daschle, actress and DNC delegate Ashley Judd, Zimbabwean Prime Minister Morgan Tsvangirai, and former British Foreign Secretary David Miliband.
[November 29, 2011]
Harvey Gantt Has a Great Story (Even if It Is Attached to a Plea for Contributions)
What I said then
There are plenty of Charlotteans who will see their profiles raised when national media shines the spotlight on the city next year for the Democratic National Convention. One of those people, undoubtedly, is Harvey Gantt. He's well known in this region as Charlotte's first African-American mayor (in the 1980s) and in his current role as a partner at Gantt Huberman Architects. And not to mention there's an impressive building named after him in Charlotte: Harvey B. Gantt Center for African-American Arts + Culture. Gantt is a co-chair on the Charlotte in 2012's Steering Committee, and if you don't know his story, he shared it in an email this morning that asked us to "join the grassroots movement" by contributing money to the 2012 Democratic National Convention.
What I know now
Several more fundraising and get-involved emails would be sent out over the months from Charlotte in 2012 featuring high-profile Democrats, including David Axelrod, Michelle Obama, John Kerry, Harry Reid, and Donna Brazile. Also, Gantt received an early-evening speaking role at the DNC.
[December 14, 2011]
Twelve Days of DNChristmas
What I said then
… it isn't just those Christmas songs that have become enamored in pop culture that I adore. I appreciate standards like "Twelve Days of Christmas" as well. In fact, I've decided to remix that classic ditty, in recognition of the Democratic National Convention being held in Charlotte next year. So I offer you the "Twelve Days of DNChristmas," which are a dozen things that (I believe) would please the Democratic National Convention Committee (DNCC) and the Committee for Charlotte in 2012 (host committee) if they would occur.
What I know now
I don't think any of the 12 tongue-in-cheek items on my list actually happened. LOL.
[December 29, 2011]
Path to 270 Runs Through Charlotte…No Bull
What I said then
Obama for America, President Barack Obama's re-election campaign committee, released a video today in which Campaign Manager Jim Messina shares the different ways they can get the 270 electoral votes needed to win the presidential election in 2012. Messina says there are more than forty pathways to achieve 270, and in the video he outlines five of them: West Path, Florida Path, South Path, Midwest Path, and Expansion Path. "We put the Democratic National Convention in Charlotte, North Carolina, in part because we believe so deeply in this map," Messina says.
What I know now
As I'd pointed out then, in the video Messina responds to the speculation that this will be a billion-dollar campaign by saying, "That's bullsh*t." Well, as of July 31, the Obama campaign and the Democratic National Committee have spent $481 million (compared with $334 million for Romney and the RNC). And North Carolina is ranked fourth in the state-by-state breakdown of how much the two sides are spending on television and radio ads in this presidential campaign.
Click "Next" to continue reading.
[January 17, 2012]
President Obama Will Take the Stage in Bank of America Stadium…And You Were the First to Know
What I said then
The news world and social media are buzzing with the DNCC's announcement that the planned four-day convention program will be shortened to three days to allow the Monday of that week to "celebrate the Carolinas, Virginia and the South and kick off the convention at Charlotte Motor Speedway on Labor Day;" and that the convention will end that Thursday with President Barack Obama officially accepting his party's nomination at Bank of America Stadium instead of Time Warner Cable Arena (the other convention events will remain at the arena).
What I know now
The Labor Day festival, later dubbed CarolinaFest, went on but the decision was made in June to move it from the speedway to Uptown. And the president's acceptance speech would also be moved, but in a decision made less than 36 hours before it was to take place. Continue reading below.
[January 31, 2012]
Party Like It's 2012—with 15,000 Members of Media and 6,000 Delegates Coming
What I said then
The Charlotte in 2012 Convention Host Committee has announced a total of thirteen venues they've selected to host welcome events for the approximately 15,000 members of the media and 6,000 delegates who are expected to arrive in Charlotte the first week in September for the Democratic National Convention. With the welcome events beginning Saturday, September 1, this stretches convention-related activities and events to nearly a full week of economic impact in Charlotte. The Media Welcome Event will take place September 1 at NC Music Factory. The Delegate Welcome Event will be held Sunday, September 2 and be spread over twelve venues throughout Charlotte and surrounding areas.
What I know now
I attended the media event and it was a well-planned, well-run event that I enjoyed. The on-and-off-again rain couldn't dampen this event, which made great use of the Music Factory's many venues, featured a variety of delicious food and open bars inside each one, and entertainment of which the highlight for me was Anthony Hamilton performing at the amphitheater. But perhaps the coolest part of the night was how buses transported us from Charlotte Convention Center to the Music Factory, and said buses were led through traffic and stoplights by police escorts. It felt as if we were in the president's motorcade. The event, reportedly, cost $2 million to put on.
[February 2, 2012]
New Charlotte in 2012 Logo Tells 'Story'
What I said then
The new logo, which clearly showcases the Uptown skyline, also includes text within the outline of the buildings. It reads as follows: "Charlotte is a beautiful, clean city with a high quality of life where you'll find both the expected comforts of southern hospitality and exciting evidence of a forward-thinking, can-do Southern culture. The Charlotte region boasts the amenities and economic opportunities of a major urban center for both large corporations and aspiring entrepreneurs, but retains the friendly culture of a close-knit community where people, organizations and institutions work together to build its future. These public-private partnerships in Charlotte have moved this community toward new opportunities in truly unique and remarkable ways."
What I know now
It would be great to see the Charlotte in 2012 logo live on permanently somewhere visible in the city.
[February 15, 2012]
A Chair Is Still a Chair: Understanding Key Leadership Roles Within the DNC, with L.A. Mayor's Nomination
What I said then
Since the letters "DNC" get tossed around a lot in Charlotte, most commonly used to refer to the actual convention that's taking place here in September (but can also represent the national committee), I figured I'd offer a quick primer on who the key officials are behind the convention in light of a new position having been announced today.
What I know now
Los Angeles Mayor Antonio Villaraigosa's role as permanent chair of the 2012 Democratic National Convention was largely procedural, once the actual convention proceedings got underway at Time Warner Cable Arena. But one of the Democratic platform votes Villaraigosa presided over on the convention floor got lampooned on The Daily Show.
[March 11, 2012]
New York Times Tells Charlotte Story of 'Hopes for Rental Gold Rush During the Democratic Convention'
What I said then
There are several ways in which Charlotteans hope to make money off the Democratic National Convention. Many involve the pursuit of official DNC contracts leading up to the convention or the expectation of increased business when 35,000 or so visitors arrive the first week in September. And then there's one method many locals hope to cash in on personally: renting their homes. In today's edition of The New York Times, the newspaper tells the story of "In Charlotte, Hopes for Rental Gold Rush During the Democratic Convention."
What I know now
I'm not sure if total numbers will be released as to how many private homes were rented out during the week of the DNC, since a number of different methods were used by renters. I do know, however, that many homeowners were still scrambling to try to rent their homes the week before the convention was set to begin.
[March 27, 2012]
NFL Kickoff Game Announced, College Classes Delayed, Convention Cookies Served, and More in this DNC News Recap
What I said then
We'd previously told you that the 2012 NFL season would begin on Wednesday, September 5 to avoid President Obama's speech at the Democratic National Convention. And the NFL announced on Tuesday that the defending Super Bowl champion Giants will play the Cowboys to kick off the season.
What I know now
Former President Bill Clinton would eventually be announced as the Wednesday night DNC headlining speaker. So who won the TV ratings war? It was a virtual tie. Approximately 20.5 million viewers tuned in to watch the Giants and Cowboys game on NBC, while 20.6 million watched Clinton's 45-minute-long speech across the multiple broadcast and cable TV networks.
[April 11, 2012]
GO CLT Launches Thursday for Young Professionals
What I said then
The Charlotte in 2012 Convention Host Committee is rolling out a new initiative to get young professionals involved. GO CLT launches this Thursday, April 12, with a kickoff celebration at Fitzgerald's Irish Pub (formerly Buckhead Saloon).
What I know now
GO CLT continued hosting events through the week of the DNC. No word yet if the organization will continue its civic engagement in Charlotte now that the convention is over, though it was formed to help build on the convention's legacies, so it's possible we'll see it around.
[April 27, 2012]
Guess Who's Coming to [White House Correspondents'] Dinner
What I said then
You hear often of the many benefits in Charlotte resulting from the Democratic National Convention taking place here later this year. Wanna hear another one? The editor of our city's largest newspaper and our mayor are having dinner this weekend. In Washington, D.C. Surrounded by celebrities. The Charlotte Observer's Rick Thames and Mayor Anthony Foxx are attending the 98th Annual White House Correspondents' Association Dinner on Saturday.
What I know now
Look for Mayor Foxx to continue to rise as a major figure in the Democratic Party, which means this won't be the last high-profile dinner he attends.
Click "Next" to continue reading.
[May 16, 2012]
Charlotte vs. Tampa in a 'City Smackdown', and a Return of News Coverage Boosters Love
What I said then
Charlotte started buzzing Monday with CNN iReport's Convention City Smackdown, pitting Charlotte, home of the 2012 Democratic National Convention, against Tampa, home of the 2012 Republican National Convention. In this iReport contest, until May 21: "If you love Charlotte, here's your chance to stand up for your city! Tell us the very best thing about it, or the one or two reasons you like it better than any other. Make sure to include your most stunning Charlotte photos to back up your claim. Show us why you can take on Tampa any day!," says the iReport verbiage, which, conversely, states the same thing for Tampa in this contest.
What I know now
Charlotte whipped up on Tampa handedly in this CNN contest. However, a few days after the DNC had ended (this past weekend), the Tampa Bay Buccaneers beat the Carolina Panthers in the two teams' NFL season opener. Call it a draw?
[May 29, 2012]
DNCC Marks 100 Days Until President Obama Accepts Re-nomination, Launches 'I'm There' Campaign
What I said then
Today, the DNCC has also launched the "I'm There" campaign, where it's asking people to declare their participation by sharing a photo of themselves with the convention logo and a caption that says "I'm There" by going to demconvention.com.
What I know now
Actors Don Cheadle (pictured left) and Ashley Judd were among the hundreds of people from around the country to participate in the "I'm There" campaign in the months leading up to the start of the DNC. Click here to see photos.
[June 6, 2012]
President Obama Will Stand on a 'T' at BofA, Gabrielle Giffords Expected to Attend Convention
What I said then
Not much newsworthy happens either way, because the event is for planning purposes, but DNC officials did reveal the location of the stage where President Obama will stand when he accepts the nomination at Bank of America Stadium. The stage will be along the 50-yard line, in the shape of a capital T, with the podium at the bottom of the T. … As the press office gave the wrap call, and Wasserman Schultz began to step away, Jim Morrill, political reporter for The Charlotte Observer, asked: "Madam Chairman, is your friend Gabby Giffords going to have a role at the convention?" To which she replied: "I expect that she will. In fact I'm going to see her in D.C. this afternoon. And I'm sure we'll probably talk about that. We've already talked about it. I think she'd like very much to go."
What I know now
President Obama ended up not actually speaking at BofA stadium (continue reading below), but Gabby Giffords did speak at the convention, leading the Pledge of Allegiance on Thursday night.
[June 27, 2012]
'Bust A Move,' 'The Show Goes On' for DNC
What I said then
Convention officials, including the Democratic National Convention Committee (DNCC) and the Charlotte in 2012 Convention Host Committee, have taken a beating in the press and blogosphere after Monday night's surprising announcement that they would be moving CarolinaFest 2012, the planned Labor Day festival, from Charlotte Motor Speedway to Uptown. Bloomberg hit them hardest, citing two anonymous sources who say the Host Committee is $27 million short of its $36.6 million fundraising goal, the amount it estimates it will need to put on the September convention.
What I know now
CarolinaFest was a success, with an estimated 30,000 people turning out, so holding it in Uptown probably proved to be a wise decision. But as for the convention's fundraising totals, we can expect them to be released in coming weeks or months as part of their Federal Election Commission filings.
[July 5, 2012]
Christians and Stoners to Converge on Democratic National Convention
What I said then
Charlotte714 is hosting a day of prayer, worship, and unity on Sunday, September 2, Labor Day weekend, at Verizon Wireless Amphitheatre. The event will be free and open to the public, with gates opening at 2 p.m. VWA has a capacity of 19,000, so this could be one of the largest events of DNC week if they fill the outdoor venue. … The Cannabis Information Network has selected Charlotte as one of more than 20 cities it's bringing the Weed Not Greed Tour. This "marijuana legalization tour will be promoting awareness of marijuana use and advocating for the repeal of marijuana prohibition," when it stops here on Thursday, September 6.
What I know now
Charlotte714 drew an estimated 9,000 people to its event. Watch a recap video here. Meanwhile, it appears that the weed heads received a permit to protest in Uptown during the DNC, but I didn't actually witness their proceedings and haven't been able to find any firsthand accounts.
[July 31, 2012]
U.S. President vs. America's Team: DNC Speakers Announced
What I said then
The Democratic National Convention Committee and the Obama for America Campaign have been jointly rolling out announcements over the last couple of days about which prominent party members will speak at the Democratic National Convention.
What I know now
It's a near-consensus that First Lady Michelle Obama gave the most-acclaimed speech during the entire convention.
[August 15, 2012]
Signs of the Times: The Convention Is Near
What I said then
You've likely noticed many things being added, touched up, and spruced up around Uptown to impress our impending guests. Some are additions that were already planned by the City of Charlotte or private businesses, but only were fast-tracked to be completed by the time 35,000 visitors arrive the first week in September. Others are likely things that didn't even have a blueprint until after Charlotte won the bid last year to host the DNC. I walked around the Uptown streets today and took photos of some of the notable changes.
What I know now
The Uptown pocket park and Charlotte B-cycle bike share program are two things, in particular, that Charlotte residents and visitors will be able to enjoy for months and years to come.
[August 31, 2012]
Chatting Up Steve Kerrigan: One Year Later, a Few Days Before
What I said then
On Wednesday, we sat down in his office at the DNCC headquarters in the 400 South Tryon building to chat about what this long convention planning period has been like, what he's feeling now, and what he expects next week to be like when nearly 6,000 delegates, 15,000 journalists, scores of Democratic Party leaders, campaign supporters, and the president of the United States arrive.
What I know now
Coincidentally, I ran into Steve Kerrigan Friday night at the EpiCentre. He seemed rather relax for someone who'd just overseen the largest event in Charlotte's history and one of the most important events in his career as well as in the history of the Democratic Party. But when final numbers are released in coming weeks and months, that will tell just how impactful it was for Charlotte to have hosted the DNC.
Below are two of the many blog posts I wrote last week during the DNC (among dozens more you'll find from other Charlotte magazine contributors during the first week in September). No need for me to add any updates here, but feel free to visit the links below if you haven't read them.
[September 6, 2012]
It's Hard to Take DNC Protesters Seriously
I don't think the protesters who are in Charlotte this week for the Democratic National Convention are happy. Well, protesters usually aren't happy about something, which is why they protest, but what I mean is I don't think they're happy about the impact they've had so far.
[September 7, 2012]
The (Non)Experience of 65,000
All of the credentials for Thursday—hard-plastic, green badges—had references to Bank of America Stadium, which had been the planned site of Thursday's DNC proceedings until officials made the decision Wednesday morning to move it to TWC arena due to the forecasts of thunderstorms for Thursday. Many of those bowl special guests, probably a few hundred of them, never got in last night. But that pales in comparison to the 65,000 people who were told Wednesday that, unfortunately, the "community credentials" they'd received to see President Obama on Thursday inside Bank of America Stadium were no longer valid. Because the move to TWC arena for Thursday's proceedings cut the event capacity from about 80,000 possible at the stadium to around 20,000 at the arena
Relive Charlotte magazine's Democratic National Convention coverage at www.charlottemagazine.com/dnc. Follow me on Twitter @HollidayInk; email me at jarvish@grownpeopletalking.com.