The Bike Messenger
Bill Fehr is Charlotte's ultimate biker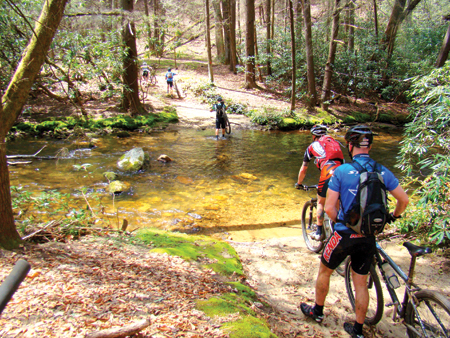 For 15 years, Bill Fehr has earned his living pedaling the streets of Charlotte, ferrying files from courthouses to law firms, stopping to dig through records at the Register of Deeds, occasionally delivering Dean & DeLuca to a client on the 38th floor. At 44, he's built more like a biker dude than a cycle dude: veins on his arms popping out, calves borrowed from a Rodin statue. When he's telling stories of his adventures, the words tumble out so fast that you can almost hear the wind and rain propelling them.
He once saw the broken body of a young woman who leapt to her death near the old Reid's uptown. During the Democratic National Convention last year, he watched an elderly WWII veteran preach from the fenced-in free-speech zone to an audience of two. A tourist who was biking from L.A. to D.C. taught Fehr that the Japanese word for bike translates to "self-pedaling car."
"I don't feel trapped in my living," Fehr says. "I feel creative in my living."
An avid photographer and blogger (whereonearthisbill.blogspot.com), he brings his camera along for the ride a few days a week. Here's a glimpse of Bill Fehr's city.
Watch a short film about Bill Fehr by Charlotte Video Project:
ALSO: Check out Spin City, a guide to urban biking in Charlotte