The Brass Tap celebrates grand opening, Good Bottle serves up another "Good Morning" breakfast, and more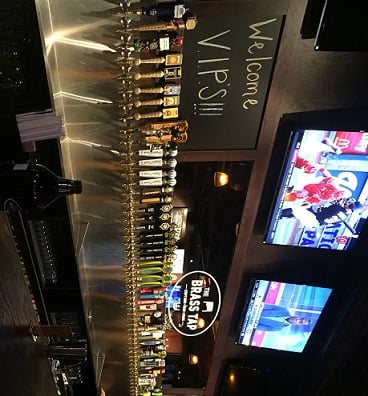 Hornets draft pick Frank Kaminsky said Charlotte was boring, but that couldn't be further from the truth. All one has to do is look at the city's craft beer scene, which always has a number of events going on. There are some great ones this weekend starting with the NC Brewers Celebration at BB&T Ballpark, which I wrote about earlier in the week. Here's a look at what else is taking place:
–The Brass Tap is Charlotte's newest craft beer bar. Located in SouthEnd at 1440 S. Tryon St., this is a Tampa-based franchise chain (similar to World of Beer) that features 70 taps. The Brass Tap has quietly opened over the last week, and will have an official grand opening Saturday. As part of the celebration, 50 of the 70 taps will be devoted to local breweries, including 5 beers each from Ass Clown, Birdsong, D9, Lenny Boy, Olde Mecklenburg, NoDa, Sugar Creek, Sycamore, Triple C and Unknown. Each brewery is scheduled to have a rare beer on tap, such as Birdsong's Bourbon Barrel-aged St. Tuber; Bockquinox, an IPL collaboration between Lenny Boy and NoDa, Unknown's grapefruit-infused IPA and Sycamore's Boondock Saint, a Tripel brewed with honey.
The grand opening starts at 10 a.m., with The Brass Tap serving a brunch menu featuring Beermosas made with Victory Golden Monkey, as well as Bloody Marys (always a brunch staple). Also on the menu for Saturday are Guinness bacon waffles and banana and peanut butter ale waffles. For more information on The Brass Tap and Saturday's event, head over to their Facebook page.
–For those who like to get an even earlier start on their Saturday, Good Bottle Co. is having another one of its famed "Good Morning" breakfasts. All 12 taps will be flowing, and this breakfast will also feature Beermosas made with Sycamore's Golden Peach Ale. Roots Farm Food will have biscuits, and there will also be donuts from Your Mom's Donuts, along with coffee pourovers from Feel Good Coffee. Saturday's Good Morning breakfast will start at 9 a.m.
–Olde Mecklenburg recently completed the full installation of its new 24-tap draft system, which is double the size of the original (always good to be growing!). On OMB's Facebook page, it mentions the tanks that hold the beer for the new draft system have the volume of 200 kegs – so you'll never have to worry about taps running dry for sure. Olde Mecklenburg's newest beer for its new draft system is also being released today (Friday), and that's the brewery's Dunkelweizen.
Originally brewed a couple years ago as part of OMB's "Brauhaus Reserve" series, Dunkelweizen has been a popular summer beer at the brewery. The name (and beer) stems from a marriage of Dunkel and Hefeweizen. In short, it's a darker-colored Hefe. You'll get a sweet (think banana, clove, etc.) flavor and smell from this beer, which makes it a perfect choice in this heat.