The Bridal Necessities
Writing the thank-you note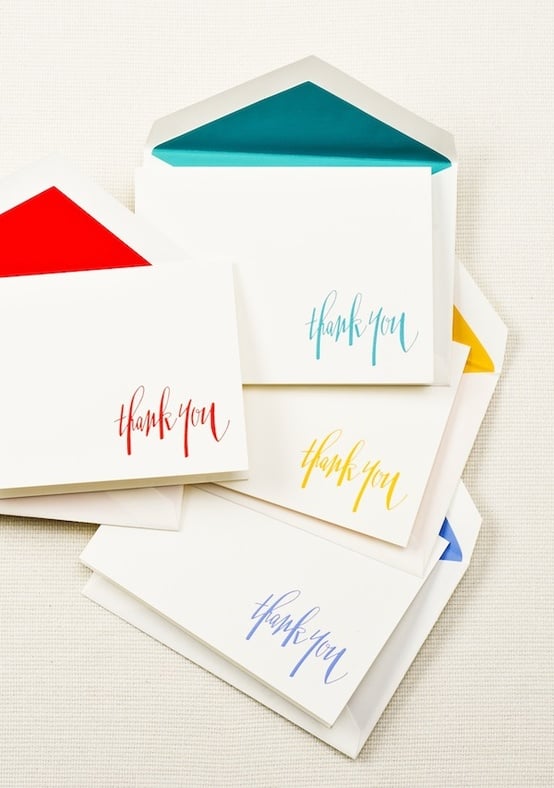 After the endless array of shower, party and wedding gifts cease delivery to the newlyweds' abode, it is the bride's duty to send out her thanks. So set down that computer and break out the stationery. A handwritten note is much more meaningful–not to mention a perfect excuse to use (or buy) newly monogrammed cards. Though the task can be overwhelming and, at best, daunting, the satisfaction afterward is unbeatable. And for those lacking the writer gene, don't fret. The rules of note writing are quite simple. We've laid them out for you here to make the process as breezy as possible.
Simple is Best
When choosing a stationery, choose a simple pattern. An embossed gold border or a script monogram front is elegant and timeless. Let it reflect this new step forward in your life. For the playful bride, choose a set with print or bold colored envelope lining. If you've received a set as a gift, absolutely use it. The person who gave it to you will be pleased and you can purchase a new set when you've run out.
Record Keeper
Be sure you have a list of precisely what was given by whom for consultation. This is the perfect duty for your MOH during showers and parties. For wedding presents, you and your husband can keep track as you open. Referring directly to the gift in your note is an essential for giving thanks. Stay organized and this step will be a cinch.
Write It Out
Though tedious, it's helpful to write out your note on scrap paper or type it into a word document before beginning on stationery. A pen is a must, and no one wants a note full of scribbles or riddled with errors. Gather your thoughts and slash out sentences to your heart's content. Then put the edited version on your stationery.
The Individualist
Just as you would never send out the same cover letter to multiple businesses, you must never use the same text for separate thank-you notes. Be specific to each person. After all, they took the time to seek out a gift specific to you. Be candid and sincere. This will come from a concerted effort to take each person into mind when writing each note.
Details, Details
Make mention of current events in each person's life. Did your cousin recently give birth? Wish her well in motherhood. These little mentions show the reader that you're not only thankful but also thoughtful. They will be more appreciated than you know.
True Colors
If your everyday diction doesn't include a formal command of the English language, don't feel obligated to break out the thesaurus or dictionary. Be true to yourself and to your style. People appreciate an open heart more than a display of extensive vocabulary.