The Brunch Bunch: Millennials
This group is No. 2 on our list of 50 Most Powerful People in Charlotte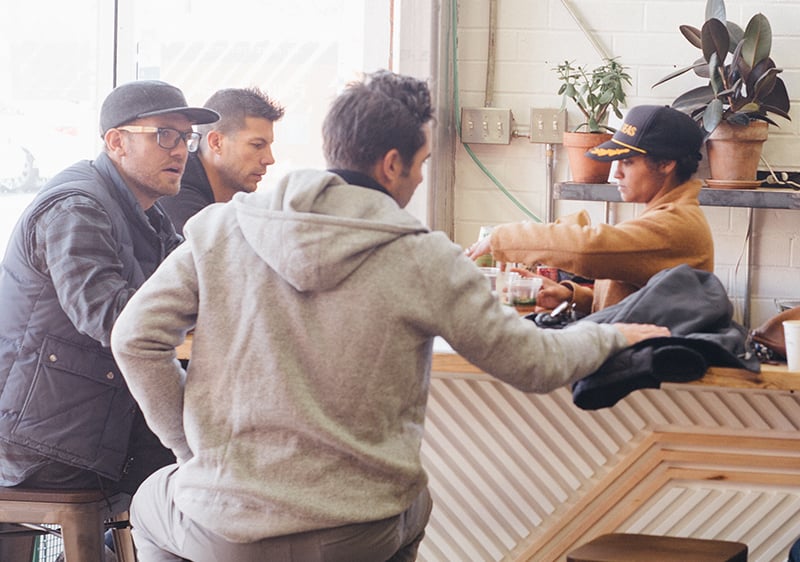 > Read the entire list of Charlotte's 50 Most Powerful People.
JUST BEFORE 6 P.M. on Election Day—happy hour, as the kids say—Brittney Bogues ordered a drink with her friend, Andrew Fede, at the Ritz-Carlton in uptown. Fede is a 32-year-old businessman with a JD/MBA from Washington University in St. Louis. His job as a vice president for Citibank moved him from New York to Charlotte last year, and he recently founded an organization called Charlotte Against Hate, which is pressing the city to develop a hotline for victims of hate crimes.
Bogues, who turns 30 this month, is the community outreach coordinator for Safe Alliance. She maintains a small marketing and public relations company on the side; her main client is her father, Hornets legend Muggsy Bogues.
For about 90 minutes, as the first election results started showing on televisions in the room, Fede and Bogues sat in the low-lit bar and talked about issues ranging from police shootings to human trafficking to stop-and-frisk to health care. The last one is especially important to Fede; his mother died of cancer three years ago.
They are in many ways the archetype of their generation: active and fit and friendly and outgoing, all the while maintaining a spirit of elusiveness toward the businesses and organizations around Charlotte racing for their dollars with flat campaigns and ordinary colors. They are similar, but vastly different. Bogues constantly smiles and uses exclamation marks as often as periods in emails; Fede is straight-faced and serious, with a deep voice that draws people closer. They share a good bit of information about themselves, but never too much. Even on that Tuesday night in November, even given the fact that Fede founded an organization called Millennials for Hillary when he lived in New York, they seemed reticent about both presidential candidates. Fede is more convinced that Bogues should run for public office one day. Part of his goal as an organizer is to get young, sharp people involved in politics.
"I don't know," Bogues said, shifting in her seat as Fede heaped praise upon her. "Really?"
They are part of Charlotte's most influential population, millennials, a group of people that doesn't like to be called millennials and doesn't like to be classified but, because of tastes and attitudes and social media, is often easy to name and classify. From 2010 to 2015, Charlotte added 23,000 people between the ages of 20 and 34, according to Charlotte Chamber of Commerce statistics. That's an 11 percent increase. In Mecklenburg County, which has a population of about a million people, more than 240,000 are between 20 and 34.
The average age of a person who moves into Mecklenburg County from another place in North Carolina is 25, a telling stat about the job market in rural areas of the state in the age of shuttered textile mills and farms that are owned by large companies. About 47 percent of the people who move to Mecklenburg County have a bachelor's degree, compared to 33.6 percent in the overall population.
With all that brainpower and buying power, they are the city's future, and it's no surprise that companies pursue them, often carrying free craft beer or wine to help make the introduction. You only have to spend one Saturday afternoon walking through the businesses and shops and restaurants in South End to see which bait they bite.
Fede, a black man, was among the first people to call for mayor Jennifer Roberts to resign in the wake of the Charlotte protests in September. He said the mayor told him she'd tried to reach him and people like him in various ways. But Fede said she and other politicians aren't going to the right places.
"It was the same old stuff. (Roberts) was like, 'I talked to the NAACP, and I talked to this group and that group. I talked to churches,'" Fede said, taking a sip of his whiskey on the rocks. "We're not going to churches on Sundays. We're at brunch. Brunch is the new church." —Michael Graff