The Brunch Club
Charlotte's favorite chefs take a break for brunch at home -- and dish on their favorite family recipes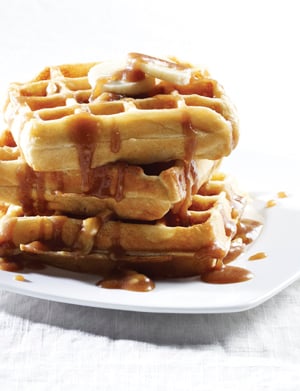 Banana-Topped Waffles
by Chef Bruce Moffett
Little-known fact about chef Bruce Moffett, owner of Barrington's Restaurant and Good Food on Montford: he invented brunch. At least that's what his young son told his class during show and tell. "I had to tell him I didn't invent brunch, but he looked so disappointed, I backpedaled. I did invent some things people eat at brunch," Moffett says. Among his best inventions: this lush banana waffle topping.
The Recipe
Serves 6

Banana Topping
2 extra ripe bananas, peeled
1 teaspoon vanilla extract
1⁄2 cup dark brown sugar
1⁄4 cup unsalted butter
2 teaspoons water 1 pinch kosher salt
Combine ingredients in a microwave-safe bowl. Microwave for 1 minute. Mash any remaining banana chunks.
Waffles
2 cups all-purpose flour
2 teaspoons baking powder
1 teaspoon baking soda
1 teaspoon kosher salt
2 cups milk
3 large eggs
1⁄4 cup canola oil
2 tablespoons white vinegar
Combine dry ingredients. In a separate bowl, whisk together milk, eggs, and canola oil. Add vinegar and whisk. Add the wet ingredients to the dry and stir until just combined.
Pour 1⁄4 cup batter onto your waffle iron for each waffle and cook until golden and crisp. Top with banana topping.
"I love my Belgian-style- waffle maker. I cook my waffles for an extra minute after the buzzer rings. Perfect." (Waring Pro Professional Belgian waffle maker, $79.99 at Target)
Smoked Ham and Cheddar Scones
by Chef Meredith Roche
Vivace sous chef Meredith Roche fell in love with this savory scone while snacking between classes at the Culinary Institute of America, but her pastry chef classmates wouldn't part with their recipe. "I experimented and experimented until I got it right," she says. "This scone and a glass of OJ: it's the perfect breakfast."
The Recipe
Makes 8 to 10 large scones
41⁄4 cups all-purpose flour
1⁄4 cup granulated sugar
2 teaspoons baking soda
1⁄4 teaspoon baking powder
1⁄2 teaspoon kosher salt
1 cup cold, unsalted butter, cubed;
3 tablespoons unsalted butter, melted
2 cups heavy cream
1⁄2 cup shredded sharp cheddar cheese
1⁄2 cup diced smoked ham
1⁄4 cup finely sliced green onion
Heat oven to 350 degrees Fahrenheit. Combine flour, sugar, baking powder, baking soda, and salt. Work butter into dry ingredients using a fork or a pastry blender, until butter is incorporated but mixture is crumbly. Fold in heavy cream and add cheese, ham, and onion. Knead lightly, then roll out to 1-inch thickness. Cut with a 3-inch ring mold and brush with melted butter. Bake until golden brown, 15 to 20 minutes.
"Fresh squeezed orange juice is the key to brunch. My juicer is a vintage piece, but I really like the electric 'press' kind, too."
(DeLonghi electric citrus juicer, $29.95 at Sur La Table)
Hashbrown Casserole
by Chef Jon Dressler
When Jon Dressler of Dressler's Restaurant in Huntersville and Midtown and Max's Ally in Concord hosts brunch at home, this no-fuss family recipe is, the chef says, a "complete staple." With its corn-flake-crunchy exterior and creamy inte- rior, Dressler's hash brown casserole is "so simple, but so good." A side of bacon makes this dish complete.
The Recipe
Serves 12
1 30-ounce bag hash brown potatoes
1 10-ounce can cream of mushroom soup
1 medium yellow onion, chopped
1 cup sour cream
2 cups shredded cheddar cheese
6 tablespoons salted butter, melted
2 cups corn flakes
Heat oven to 350 degrees Fahrenheit and grease a 9-by-13-inch baking pan. Combine potatoes, soup, onion, sour cream, and cheese. Spread mixture into pan. Combine butter and corn flakes, crunching the corn flakes. Top potato mixture with corn flakes and bake until crisp and browned, about 1 hour.
"In my house, we can eat two pounds of Oscar Mayer thick-cut bacon between the four of us." (Oscar Mayer Bacon, Thick Cut)