The Business of Bigfoot
A small town at the edge of the South Mountains has created fortune from its fifteen minutes of fame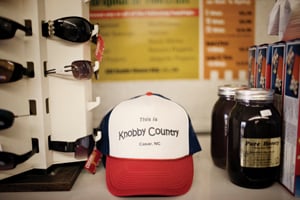 About forty miles west of Charlotte, a short trip down I-85 south and then onto Highway 74 west, you'll find Shelby, the county seat of Cleveland County. On your way into town you'll pass Bridges Barbecue, a family-owned joint, open since 1949, and what the town of 30,000 is known best for. Or, if you turn onto Business 74, you'll see the county fairgrounds, where each fall Shelby's population more than triples for a week as people from surrounding towns venture in to watch pig races, ride the Ferris wheel, and eat some of that famous 'cue.
Keep on driving through Shelby on 74 until you come to Polkville Road. Take a right and you'll follow it past crumbling mills with overgrown parking lots, remnants of the county's glory days as a hub for textile production. Drive along Polkville Road and pass cow farms and gas stations selling neon yellow Sundrop slushies. Eventually you'll reach Polkville, home of a tanning salon, a rodeo, and two gas stations, including one that houses Watts Grill, where you'll find some of the county's best fried okra.
But keep going.
Just past Polkville, when the road splits, veer onto Casar Road. Before you get to Casar you'll pass Delight, North Carolina, a town only identified by a lone green sign. Come over the hill too fast and it's gone before you even know it's there. Rolling hills dotted with cattle-crossing signs slowly reveal the South Mountains in the distance and then, finally, you crest one of the hills and you're in Casar.
According to the 2000 Census, Casar has a population of 308. More than ninety-nine percent of those people are white and the median household income is $26,875. The per capita income is $16,486, and 22.1 percent of the people live below the poverty line. One in five is older than sixty-five. The town's center is a half-mile stretch of Casar Road, where you'll find Casar Elementary, the volunteer fire department, a post office, a gas station, Mountain View Grocery, and White's General Store. Most drivers pass through Casar in less than thirty seconds.
However, for a week in early June, national media attention focused on this tiny town and one of its inhabitants. At 3 a.m. on June 5, Tim Peeler, who lives five miles outside the more populated stretch of Casar Road, called 911 to report that a ten-foot-tall ape with a man's face was attacking his dogs. He called the creature Bigfoot. After the call and subsequent interviews with the colorful Peeler telling his story, people couldn't get enough of the town—and of Peeler. CNN and MSNBC ran the story. Jimmy Fallon joked about it on his late-night talk show. And thousands of people viewed The Shelby Star newspaper's YouTube video of a self-proclaimed mountain man shaking his stick and demonstrating how he'd scared the creature away.
News trucks pulled into town, with reporters pausing for a soda at the Mountain View Grocery on their way through Casar up to Peeler's property. Visitors stopped in to ask for directions to Peeler's home and where to see Bigfoot. Locals started talking again about the creature they refer to as Knobby. He'd been given his name in the 1970s when people reported that they'd spotted him on the other side of the county, near Carpenter's Knob, north of Kings Mountain. Many longtime Casar residents can recall the attention it drew to the county then. They speak fondly of Knobby and never refer to him as Bigfoot. On the town's Web site, visitors are instructed not to poke him with a stick and to be nice to him. California's Willow Creek can keep its Bigfoot and Canada can have its Sasquatch. Casar has Knobby.
As it turns out, naming the creature and thereby creating Casar's own version of Bigfoot was a stroke of marketing genius. At the Mountain View Grocery, where a sign next to the road reads "Honk if you love Knobby," stacks of $10 T-shirts with Knobby's hairy face sketched on them are strewn across a large table. Other shirts say "Knobby Don't Believe In You Either" in large letters. The store has sold more than 700 of the shirts—some to people as far away as Hawaii.
Outside the store, a handwritten sign reads "Git Your Knobby Shirts Here." This is a play on Peeler's pronunciation of "get"—in his now-famous news video, he said he told the creature to "git." Want a Knobby sandwich? For $3.99 you can have the sandwich with fries—it's fried lunchmeat and it's hot and waiting for hungry customers. Just up the street at White's General, where you'll also find $10 Knobby T-shirts with the store's logo on them (one weekend in July, it sold more than a hundred of them), you can buy Knobby Git Sticks, which resemble what Peeler claims he chased Bigfoot away with that night. The original stick is signed and hanging on the wall next to the local tea party's coiled-snake Don't Tread on Me flag. Knobby enthusiasts can also buy 99-cent Knobby buttons and Sasquatch Beef Jerky. "Got Knobby?" stickers are complimentary at the checkout counter. For seemingly everyone other than the man who says he saw him, Bigfoot has become big business.
For a town where more than one in five people earn less than $9,000 annually, the thousands of dollars made on those shirts is more than impressive, it's life changing. Which may explain why people in Casar talk about Knobby like he's an old friend. It could also explain the way they carefully weigh their words when asked if they believe in him. "I'm not saying I don't and I'm not saying I do," says Lori Cooke, the clerk at Mountain View Grocery. Tammie Fowler at White's General Store has obviously considered her answer as well. "I'm not going to say I do and I'm not going to say I don't."
No one wants to be the next Tim Peeler, mocked on national television and turned into a caricature of a backwoods, country bumpkin. But if believing means the sales will keep coming and the hype will continue and people will keep paying attention—and the bills—in this little town, then sure, they believe.
On a Saturday in July, about a mile up Casar Road from the Mountain View Grocery, daughter and mother Amy and Mary Parker sit under an umbrella next to their pickup truck. Watermelons spill from its bed. The dark green melons are scattered on the ground and in the back of the truck. The smallest ones go for a dollar and the largest are $5. The Parkers grew them in their garden just across the road, and on the record-breaking hot Saturday, they're sweet and juicy and perfect for enjoying in the shade.
Mary Parker has lived in Casar for forty-eight years and in Cleveland County her entire life. She remembers the first Knobby of the 1970s and recalls watching the short films R. C. Nanney made about him. She shudders at the memory of the movies, saying they scared her. The women don't want to talk about Bigfoot. They want to sell watermelons. But they're polite and Southern and eventually they speak about Knobby. "If I ever see him, I'd never tell nobody," says Mary, laughing. "I think it's somebody dressed up, but I hope I don't meet him."
Tim Peeler, though, will swear he met him—or at least that he saw him. Although Peeler lives five miles outside Casar, it's not hard to find his home. At Mountain View Grocery they can't count how many times they've been asked how to get there, and the directions come easily as Lori Cooke simultaneously recites them and checks out a customer. "After the curve in the road, take a left onto Wards Gap Road. Then Beechnut Creek Road is the second or third left. Just go on up that road and you'll see the signs. There's a big bus up there too that a guy has written Knobby Tour Bus on the side. You can take tours of where he saw him."
Beechnut Creek Road backs into the South Mountains. It's a dead-end road with a few houses nestled among pastures, woods, and cornfields. Just after one of those cornfields is a junkyard, full of rusting cars resting in the grass. At the edge of the junkyard is a small sign that was placed there in June for the tours that went up and down the road. It's painted hot pink with white lettering and reads "Knobby Spotted," with an arrow pointing past the trailer home facing the road and into the woods. The road that leads into the woods and up the hill is washed out in places, requiring four-wheel drive. Nailed to trees along it are signs reading "Private Property" interspersed with other signs reading "Keep Praying" and "Jesus Is Lord."
At the top of the hill is Tim Peeler's house. It's one story and made of wood and nailed-together sheets of metal. Spray-painted in large black letters across one side of the house are the words "Jesus Is Lord." They're underlined, and beneath them the words "Keep Out" are sprayed in equally large letters. A huge bag of peanuts hangs from his porch ceiling, and his Lab-size mutts—the ones he claims Knobby was attacking that night—greet visitors with barks from the yard.
Peeler is a large man, and on the hot Saturday in July he sweats through his sleeveless shirt as he stands on his porch, which is crowded with various household items including old paint cans, rusty pipes, and stuffed trash bags. He's covered his dark hair with the same gray fedora he wore in his news interviews, and his pants are rolled up to reveal pale legs spotted with open sores and dirt-covered bare feet. Peeler, who is fifty-four, was born in Cleveland County. He's lived in this home for the past twenty-eight years. He doesn't want to talk about Knobby. Neither do his wife and adult son, who both live with him. They've just finished lunch and they're not interested in speaking about Bigfoot today. Peeler's talked about Knobby a lot lately—with radio stations, news channels, and newspaper reporters. It seems everyone wants to talk to him about Knobby.
"I don't feel good about it at all," Peeler says of the media attention, a few days later on the phone. His voice is deep, with a Southern drawl, and he speaks slowly. He's willing to talk about his experience and says he's given what feels like hundreds of interviews. But he's tired of talking and even more tired of being mocked for what he's said.
"I do not deserve coverage like that. It was just a thing that happened to me. I was in fear for my life. And my dog's life." Peeler doesn't have a computer, but he's heard about the comments online—the ones calling him a "dumb North Carolina hillbilly." He doesn't know who Jimmy Fallon is, but he knows the media loves hearing him talk about how he told Bigfoot to "git" with his walking stick.
His sound bites are just as practiced as his neighbors. Except he says things like, "I rough talked him," and, "I poked him with my stick and said, 'Git! Git out of here!' " He says these two now-famous lines, playing up his accent and speaking slightly louder, then pauses. "So do you have what you need now?" He may not have a computer or know who Jimmy Fallon is, but Peeler's media savvy is hitting Hollywood-celebrity levels.
That doesn't mean this venture has been profitable for him, though. "Everybody else has made money off of this, but I haven't," says Peeler, who's aware of the shirts and sticks for sale just down the road. "I just wanted for the police to see it. But no one saw it. And I haven't seen it since."
No one else has seen Knobby since either—at least, no one is admitting to it. In other towns, the fifteen minutes of fame brought by Peeler's alleged sighting probably would have been long since over. But not in Casar, where not much else has happened since that early morning in June.
And so Mountain View Grocery just ordered a new shipment of T-shirts and White's General Store is having more buttons made to replace the ones that sold out. At a charity golf tournament a few miles away, there's going to be a special appearance by Knobby (or a man dressed as him), and the Knobby sandwiches keep selling every afternoon.
"Kids love thinking about it and adults love talking about it," says Tammie Fowler at White's General Store. "Whether he's real or not, we're glad he showed up again."
Sarah Crosland is associate editor of this magazine.