The Buzz is THIS CLOSE to Being Back
The Hornets name could return to Charlotte. For real this time.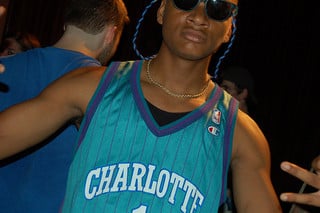 I get a lot of text messages from John Morgan.
John's the long-haired schoolteacher who wears a white tuxedo and a teal t-shirt to Charlotte Bobcats games. He grew up watching the Hornets at the old coliseum. Now he's become one of the de facto leaders of an effort called We Beelieve. He and the guys from Bring Back The Buzz have been advocating for the return of the Hornets nickname to Charlotte, which I wrote about in July.
How deep does his passion go? John was actually a contestant on Jeopardy! recently, and tried to wear his trademark tux, teal tie and purple shirt on the show (which airs January 21st). The producers made him change, but they said his Hugo lapel pin could stay.
He did, however, wear the tux in this video:
In short, if you meet John Morgan, he will probably be wearing a white tuxedo and will definitely talk to you about the Charlotte Hornets. Which explains the text messages.
November 1: John messaged me after Bobcats owner Michael Jordan told the Charlotte Observer that he would be open to bringing the Hornets name back, if it became available. John's text: Mark it down, sir!!!

November 28: Gayle Benson, wife of New Orleans Hornets owner Tom Benson, said she'd like to change the team colors to red, gold and navy. John's message: No name yet, but that doesn't matter to us. We're halfway there!!!
And now, John's head is about to explode.
A Yahoo! Sports report says Tom Benson will re-name his team the New Orleans Pelicans, meaning the Hornets name will be available, which means the Charlotte Bobcats could grab it. Jordan is open to it. The NBA already owns the rights to the name, which would speed up the process. Which means, OHMYGAWD IT'S REALLY HAPPENING.
I mean, for real this time. It's not official. But still.
The Hornets left Charlotte in 2002, but in some ways, they never left. If you're out and about long enough in this town, you'll see someone wearing a Charlotte Hornets hat or jacket (Cam Newton even wore a Hornets snapback to Bobcats game once. He sat courtside. Next to MJ). People still slip up. During the Democratic National Convention, NBC Nightly News anchor Brian Williams mentioned that he was broadcasting from the home of the Charlotte Hornets (He corrected himself with a smile a few minutes later). One of my favorite greasy spoons, Pressley Park Restaurant, has a whole wall full of Hornets posters up. A waitress had them in her attic. She used to go to every game before George Shinn got, uh, ornery.
Is it a good marketing move? Of course. Will it make people excited? Probably. Will it help the team win more games? No. Will it save NBA basketball in Charlotte? Maybe.
But hell, why not. The Hornets became wildly unpopular in Charlotte before they moved. The Bobcats became wildly unpopular not long after they arrived. If time heals all wounds, the Hornets wound is healing up a lot better at this point. Plus, the name already comes with a history. Larry Johnson. Dell Curry. Zo. Muggsy. I mean, Muggsy and Larry Johnson were in Space Jam! SPACE JAM! Not to mention, their jerseys are the preferred couture of discerning hipsters everywhere. Nick Van Exel? Bryant "Big Country" Reeves? Naw. Give me Muggsy, or give me death, hoopster.
It's true. It's just a nickname. If the Bobcats had been called the Hornets from the start, you might have already gotten sick of the damn Hornets by now. It doesn't deal with the rest of a franchise that just bottomed out with a seven-win season. And yes, you're just trading one-seven letter word for another. But names are important. Santa's just a name. But say Santa to a kid, and see how the kid reacts.
This, then, is like Christmas Eve for John Morgan. I didn't wait for him to strike. I texted him. He'd already seen the news. His message: Well, here we go!
The buzz may be back. For John, it never left.