The Camellia
With beautiful blooms throughout the fall and winter, these shrubs have become a Southern symbol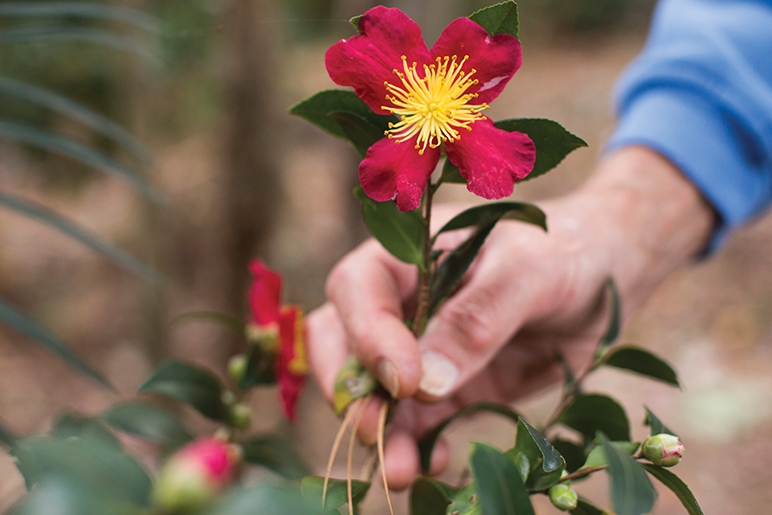 ABOUT 20 YEARS AGO, Frank Rubbo moved from New York to Tega Cay, South Carolina. When January came, he noticed two plants blooming on his back deck. They were camellias.
Rubbo remembers his parents growing flowers and vegetables in New York City. As an adult, he maintained a garden up North. Dahlias were his favorites, but the short growing season and harsh winters limited the plants he could grow. So when he and his wife, Marie, retired and moved south, Rubbo couldn't wait to experiment with Southern plants.
"I fell in love with camellias," he says. "I joined the Camellia Society organization, and from then on, I was hooked."
Rubbo is one of about 50 members of the Charlotte Camellia Society, a local branch of the American Camellia Society (americancamellias.com). Every spring, the club holds a show where area camellia growers bring their blooms to compete for best in show. This past March marked the 32nd year of the Charlotte show.
The camellia—which has become an icon of Southern culture, a common addition to bouquets and centerpieces, and a mainstay in yards across the region—is native to eastern Asia.
Camellia sinensis grew to economic importance because its leaves are used for tea, but the most common camellias in the Charlotte area are ornamentals: Camellia japonica and Camellia sasanqua.
Camellia sasanqua begins to bloom in November. Its blooms carry through December or January, when Camellia japonica takes over and generally continues to bloom until March. Camellias don't have to compete for attention since they bloom when most of the local landscape is brown and bare. The American Camellia Society's "Camellia Encyclopedia" lists hundreds of varieties, from squatty ones that measure a couple of feet to tall ones that tower over fences. Colors range from pure white to all shades of pink, red, and lavender, to variegated petals with stripes of color.
Spring is one of the best times to plant camellias, giving the shrubs the full growing season to establish new roots. One common mistake people make with camellias is planting them too deep, Rubbo says. Camellias like acidic, well-drained soil. Rubbo also recommends a layer of pine bark around the base to protect the shallow roots.
Watering is crucial for the first three to four months and during any extended periods of drought. But once a camellia is established, it doesn't require much maintenance. Camellias like partial shade and prefer morning sun rather than the harsher heat of the afternoon.
A camellia's hardiness depends on its variety, but Camellia sasanqua is typically a little more tolerant of colder temperatures. Newer varieties of camellias, such as the "winter" series, have been developed to tolerate even colder weather, extending their planting range outside of the South. Camellia sasanqua has smaller blooms. It grows rapidly, and people often use it as a barrier either in its natural shape or by training it as an espalier. Camellia japonica is shaped more like a bush and is known for its larger, showy blooms.
Rubbo and other society members have plants for sale at the spring show. Several local plant suppliers, such as Rountree Plantation and Blackhawk Hardware's Garden Center, also keep a good selection. "Once they have [camellias] in their home and yard," Rubbo says, "people get hooked."
---
GROW YOUR OWN
Once a camellia is established, it requires little maintenance. "It's the easiest [plant] to grow in the garden," Frank Rubbo says. He fertilizes his plants twice a year, in early spring and late fall. He also propagates plants to sell at the camellia show. Check out a few varieties in his yard.
White Doves
This Camellia sasanqua has a white, semidouble bloom with a bright yellow center. It works well as a hedge or espalier.
Yuletide
Also a Camellia sasanqua, the 'yuletide' lives up to its name with a red bloom, yellow stamens, and glossy green foliage.
Mathotiana
This Camellia japonica is known for its large, double blooms. The blooms are often crimson, but they can also have a purple color.
Marie Bracey
A Camellia japonica, this variety has large, pink blooms with yellows and orange mixed in.
Kumagai-Nagoya
Rubbo and other members in the society refer to this Camellia japonica as the "weirdo." It has a single, red bloom with white petaloids in the center.
The Charlotte Camellia Society meets about five times a year and offers information on varieties to plant, camellia care, and propagation. Want to join? Call (704) 366-0207.