The Case for Food Criticism in Charlotte
A look at the need for informed, ethical restaurant criticism in an era of pay-to-play 'influencers'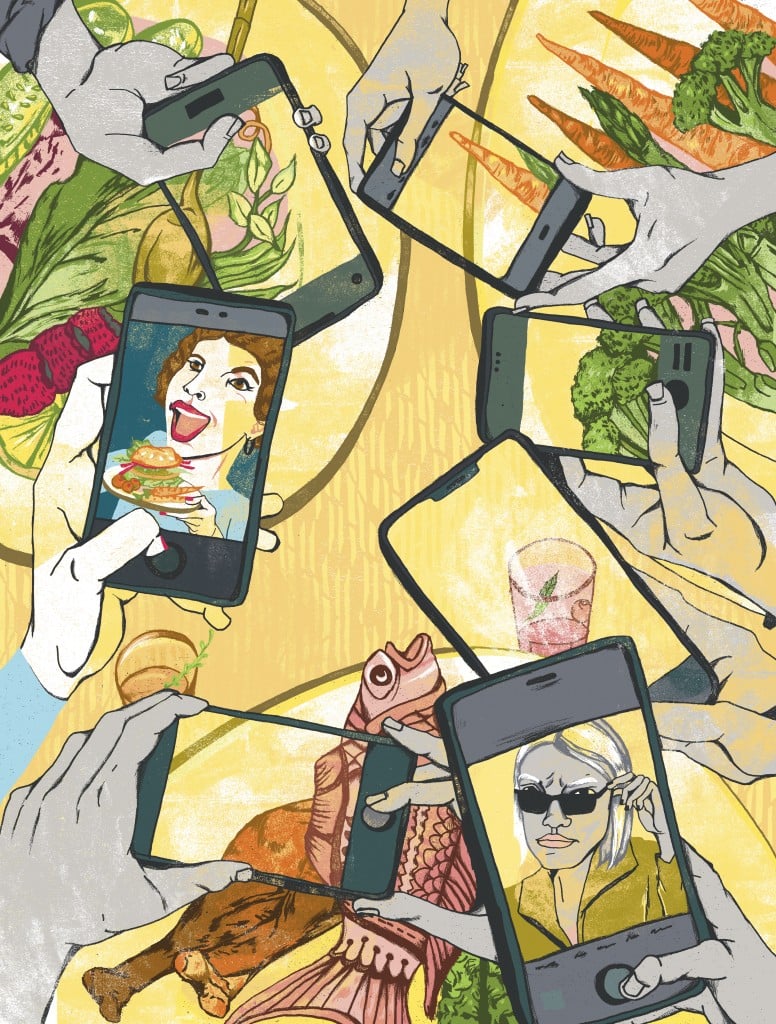 IT'S A TUESDAY NIGHT in October when I walk up to the brick building in South End, perched streetside with the words "Lincoln Street Kitchen & Cocktails" painted on its façade, for a media event at the restaurant. I'm in a familiar neighborhood but find myself disoriented. South End has developed so much in recent years, it takes a second for my brain to recalibrate. Weeknights in Charlotte, I think, look and feel different from a few years ago.  So do the restaurant media events.
Lincoln Street is the latest venture from Dan and Alyson Davis, owners of Craft Growler Shop and Tasting Room, and one of 19 restaurant and bar openings in Charlotte this month. This one will open in three days, and tonight is a typical, invite-only preview for media. This is as it's been for years: Restaurant owners host these events for local publications' designated food writers and freelancers (like me) in the expectation that they'll bring exposure—but also some degree of knowledge and objectivity to what they write for the public. In the past, we've been allowed flexibility to move about, try dishes on our own, ask questions.
Tonight at Lincoln Street, PR staffers greet me without enthusiasm and direct me to the hewn wood bar, framed by a backdrop of floating shelves and whitewashed brick. Colorful cocktails line the bar, each with a name card set directly in front of it. In the dining room, a table is set with prepared dishes and more name cards. About 25 people crowd the room, which is unusually quiet. I soon see why: All but three of the 25 are food and fashion "influencers" (read: Instagrammers) or bloggers, many of whom are accustomed to compensation for their photos and promotion-heavy blog posts with social clout, access to more events, or money. Most are confined to their phones, either shooting video or focused on getting the right still shot. That's why it's so quiet. No one's asking anyone anything. I'm the only one in the room with a notepad and pen.
I've written about food in this city for nearly a decade, and tonight's preview feels like an alternate universe in which the restaurant's brand message isn't just expressed but thrust on everyone who attends. To me, at least, Lincoln Street's expectation is obvious: The restaurant serves its marketing message, and the influencers pass it on, unfiltered, to their followers. There's always been an element of promotion in these events; I'm not naïve. But the pre-influencer era achieved a rough balance between restaurateurs' desire to spread the word about their establishments and journalists' duty to inform readers rather than please their sources in exchange for money, food, followers, and access. Now, what passes for "information" in Charlotte's dining scene consists of carefully choreographed photos and videos for social media feeds—and little else.
At Lincoln Street in October, the stream of social media content starts flowing within minutes: money shots of stylized food, FOMO-inducing selfies, and outright cheerleading. The restaurant and its school of influencers ride a 24-hour promotion cycle, then disappear. What's missing is any sense of thoughtful criticism that consumers—weighing the options of eating at home, getting takeout via Grubhub, or spending the time and money to dine out—can use to make an informed choice. Did the restaurant do what it said it would? Were the ingredients fresh? Was the medium-rare steak cooked medium-rare? Was the service good? What does "amazing" taste like, anyway?
In recent years, several chefs and restaurateurs in Charlotte have expanded the city's once-basic culinary culture, many of them preparing excellent, original dishes. Others continue to serve corner-cutting mediocrities and charge too much for them. Influencers who care only about clicks, and the opportunity for more, cover them all with the same vapid, indiscriminate praise.
***
THE TERM "RESTAURANT CRITIC" can put people off. But it doesn't mean someone who automatically runs restaurants down. It just means someone who uses a mix of knowledge, thoughtfulness, and ethics to fairly assess them. Charlotte used to have one.
In 2000, Bruce Moffett gambled and opened a restaurant, Barrington's, in the Foxcroft East Shopping Center off Fairview Road in SouthPark. He'd originally walked into the space looking for a job but ended up buying the place. The shopping center contained a Pizza Hut, a dry cleaner, and plenty of unoccupied spaces. Early on, Moffett captured maybe 100 covers "on a good week." His front-of-house manager, Peggy Gibouin, routinely set a barstool in the entry and tried to use her "psychic powers" to summon guests. Months went by, and the chef began to doubt his restaurant would make it. 
Then Helen Schwab dropped in. Schwab was The Charlotte Observer's restaurant reviewer since 1988 and a household name. In February 2001, she introduced Observer readers to a promising newcomer in Charlotte's small pool of chef-driven establishments. Moffett began clearing 100 covers on Saturday nights. He now owns four restaurants in town, plus a food stall in Optimist Hall. Barrington's still tops lists as one of the best restaurants in the city. "She saved me from having to move back to Boston," Moffett says.
At the time, years before social media, restaurant owners couldn't curate food and drink "experiences" and count on platoons of Instagrammers to relay them directly to their followers. The daily newspaper was one of the few routes to exposure, and restaurant owners couldn't set the terms of the interaction. The Observer, with a designated restaurant critic and a budget—"thousands of dollars," Schwab tells me—didn't need to heap unqualified praise on restaurants to gain access, make money, and remain in business. Both parties had something to give and take.
When we meet at Not Just Coffee in South End, Schwab tells me she was free to choose whom, when, and how she would review restaurants, and that she operated under a strict ethical code: She paid for all her meals, usually under an assumed name (her dog, Charlee, was one of her aliases), and visited a restaurant at least twice and with at least one other person before she wrote about it. She would never review a restaurant that hadn't been open for at least three months. If chefs sent free food to her table, she would ask them to stop and add the dishes to her bill.
"It all made sense to me. It was the only way to do it, the honorable way to do it," Schwab says. "What is happening now is restaurants are getting out their message."
Schwab was the Observer's restaurant reviewer for 29 years, into 2017, and she eventually took early retirement last year. Chefs I know who have worked in Charlotte for a decade or more tell me it was a big deal when she reviewed their restaurants. Her words carried weight.
Now? "I feel like it's turned into a Wild West," Moffett says. "Without a critical person whose job it is to do that, that's kind of lost. It's really frustrating to be hammered online or coerced by bloggers and Yelpers."
But money left behind the daily papers and other legacy media that used advertising dollars to pay for the restaurant reviewers and achieve the balance that's not there anymore. The void can do damage to a city's efforts to make a regional or national case for its restaurant community. That's the case even in cities with much older culinary scenes. The Boston Globe food critic Devra First lamented the lack of national awards for the city's restaurants in a column last year: "This is where local media can play a role, boosting the signal of places they feel passionate about. And local media are shrinking."
When that happens, and when influencers become primary sources of restaurant information, diners grow confused and distrustful, and restaurateurs are deprived of an incentive to improve—and that can cripple a new dining scene in a city, like Charlotte, that's straining to establish itself as a place worth dining in. Charlotte's food scene has boomed along with nearly everything else in the city. Local chefs have garnered James Beard nominations, the Piedmont Culinary Guild has added structure and organization, and initiatives like Soul Food Sessions, the movement to celebrate chefs of color in Charlotte, received national food coverage. The city's main tourism agency, the Charlotte Regional Visitors Authority, spent a portion of its $5 million media budget in 2018 to send Charlotte chefs to the James Beard House in New York and, last year, participated in the prestigious Charleston Wine + Food Festival.
So it's an inopportune time for information about Charlotte dining to decline just as the quality and depth of Charlotte dining improves. Taste can be subjective. But general excellence is something that skilled, honest restaurant critics can gauge, and diners tend to trust the judgment of someone who can help them figure out who has it.
Pay-to-play, Schwab says, poisons the well. "You can't need to be liked in this job," she tells me. "What is social influencing but the need to be liked?"
***
ALLIE PAPAJOHN MOVED to Charlotte from Columbia in 2014 and, because she ate out often at first, began posting about food on the Instagram account @eatdrinkclt. It quickly became one of the city's most popular. As of December, it had more than 53,000 followers and a feed that can feel like an all-you-can-eat buffet.
Papajohn, who has a full-time job as Bojangles' social media manager, tells me she sometimes posts about a business or promotes an event in exchange for money, and also posts about places she personally likes. The Federal Trade Commission lays out specific guidelines for influencer marketing, but nothing requires Papajohn to disclose her paid partnerships on her Instagram feed. For the last two years or so, she has identified which businesses are paying her by adding "[sponsored]" or something similar to the end of her photo captions, and she says she does business only with restaurants she'd vouch for regardless. But as you scroll through her posts, it's difficult to tell which are paid posts or her personal preferences.
I ask Papajohn if she accepts any ethical responsibility to disclose her motivations, considering the size of her following. "I don't worry about it as much as maybe I should because I trust myself," she replies. "I hate saying I get paid to post, but I guess that's what it is. But I'm getting paid to post about things that I actually like." Still, she admits, "I guess it's murky when people don't understand that. Maybe I need to find a better way to say I was compensated for this post."
The Wild West has few fences. Social media have created influencers with an impossibly wide range of skills, knowledge, ethics, and motives, and the open landscape levels the field for consumers who can't distinguish one from the next. Corri Smith, who works with hospitality and restaurant brands as founder of Black Wednesday, a boutique marketing and PR company, says social media in Charlotte shifted two or three years ago, and she repeats the adjective Papajohn uses: "It's a real murky pond to be playing in at this point," she says. "You can buy followers and the next day be an influencer. You don't know any more who is authentic and who is not."
Charlotte Agenda, a web publication that launched in 2015, has carved out a financially successful new media niche through a content model that prioritizes quick, digestible information that targets a young readership. It's become one of the city's primary sources about restaurant openings, but its coverage consists mainly of pleasant pictures with short captions. Its co-founder, Ted Williams, recently invested in new staffers to strengthen Agenda's news and features coverage but says he doesn't plan to add a food or restaurant critic. "Nobody on our team had any restaurant criticism background," he says.
I've been writing about food in Charlotte since 2011, as a columnist and contributor to local, regional, and national publications, print and digital. In 2015, I wrote an article for the popular website Food Republic that posed the question, "Can Charlotte, North Carolina Become a Great Food City?" I've become a baker, small food business owner, and local food advocate. When I first moved to Charlotte in 2010, I followed a small, reliable group that covered and critiqued Charlotte's culinary scene. It included Schwab; her Observer colleague Kathleen Purvis, who wrote about food trends and culture (and still does as a freelancer); and Tricia Childress, food critic at Creative Loafing.
The magazine Edible Charlotte added depth with agriculture angles to food stories but lasted only from 2012-16. This magazine began to invest in longform stories and robust coverage of dining and the social and economic issues around it, especially after the hiring of Kristen Wile, an energetic and knowledgeable food writer, in 2014. A year later, Chrissie Nelson Rotko helped reorganize the group Charlotte Food Bloggers.
As the decade progressed, some of the established voices remained, but their outlets changed form or withered. Schwab and Purvis left the Observer in 2019; CharlotteFive offers the Observer's only food coverage but hasn't demonstrated reach outside the city. Creative Loafing, known for its eclectic, niche coverage, was sold and effectively folded in 2018. Wile left this magazine the same year to start her own food website, Unpretentious Palate, and the magazine has since relied on a variety of writers for food and dining coverage.
Unpretentious Palate is a subscription-based site where Wile covers food news and follows a mostly traditional pathway for reviewing: She waits three months after a restaurant opening before she writes a full review, eats there three times on her own dime, and rates food, service, and ambience on a five-star system. Wile posts two stories a day, publishes a twice-weekly newsletter, and hosts subscriber events that, along with money from the subscriptions, help save her from depending on clicks for cash.
But even with good intentions, UP can't avoid an ethical blemish. Subscriptions alone can't keep the business alive. So Wile and her husband, Jon, also handle marketing and events, at times in partnership with the same chefs in the same restaurants she covers. Two decades ago, the Observer and its budget could shield Helen Schwab from conflicts of interest. Wile's business—a startup she and Jon run from their home in Plaza Midwood—has no such luxury. Events, she says, can help UP grow enough to hire someone to handle marketing. Until then, they have to do everything.
"I don't really think that it's a conflict, honestly," Wile says. "We have a niche audience, and we want to create alternate experiences for them, and we want to create community. But you can't create the community without the restaurants."
***
THE LIST of the Charlotte area's dining options keeps growing, and the options keep improving. Black chefs are finally getting their due; Greg and Subrina Collier closed their breakfast spot The Yolk in Rock Hill, S.C., but opened last year in the 7th Street Market in uptown Charlotte, drawing crowds and new chefs through their Soul Food Sessions nonprofit. Mike Noll has added a new level of sophistication with his restaurant, Bardo, and his second concept, Vana, shows promise. Bruce Moffett and Jim Noble, having succeeded already with their original concepts, each opened highly publicized new ones in Charlotte in 2019.
Joe and Katy Kindred continue to lead with their renowned Kindred restaurant in Davidson and Hello, Sailor in Cornelius. The Kindreds understand the value of the critic to the restaurateur. "In any industry, you have to have those checks and balances," Katy tells me. "I think right now, in our restaurant scene, we are lacking in that."
It's hard to see how the old system of checks and balances can reassert itself when the market privileges influencer culture. From a chef's or restaurateur's perspective, who wouldn't want a team of marketers to promote your business for next to nothing? But for people who did or try to do it for a living, it means more than a seat at someone's table or extra double-clicks on your photo or video on Instagram.
The best of us seek genuine relationships with readers. A good critic of anything offers a singular voice, an established and consistent point of view (whether consumers love or hate it), and a mutual, long-lasting connection with an audience. It's possible to build that kind of audience on social media, including YouTube, but it takes the kind of earned trust that's possible only through a commitment to disclose real or potential conflicts of interest. Most food influencers in Charlotte are as transparent in their motives and funding as the ocean at night, and sifting through the army of voices can feel like picking your way through the dollar bin at a thrift store: There may be some gems in the box, but good luck finding them.
Adopting higher standards may come at a short-term price. But if it means short-changing the city and scene you depend on, settling for less can prove even less palatable.
Keia Mastrianni is a writer, cookbook author, and baker based in western North Carolina.