The Cathartic Experience of a Taylor Swift Concert
Or, Why Taylor Swift and I Are Soulmates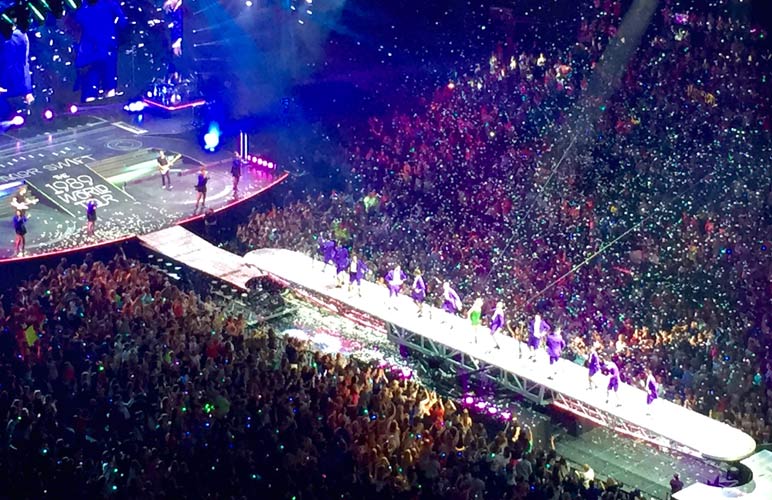 Standing inside the arena Monday night, waiting for the show to start, I remembered how I used to think Taylor Swift and I would be best friends, if we ever met.
This all started several years ago, after I saw the music video for "Love Story," off of the album Fearless. I love the book Pride and Prejudice. If I ever had the chance to make a music video, I would be Elizabeth Bennet, and I would dance with my Mr. Darcy. That's pretty much what Swift did with "Love Story." She turned that book into a four-minute pop-country music video. When I saw her living out my daydreams, I knew Taylor Swift and I were soulmates.
I played out fantasies of meeting her when I learned months ago that she'd be making a tour stop in Charlotte. Maybe I could write a feature for the magazine, I thought; and maybe she would see me on Twitter and realize our similarities and think, "Hey, I'll invite this journalist to one of my secret backstage gatherings!" Even though she's young and writes mostly about young love, I still believed there was a lot Taylor could teach me. About being a friend, a good person. Just look at her Instagram: There's something to be said for the strength of her friendships, famous or not.
Then she came out on stage last night to "Welcome to New York" in all glitter with a skyline behind her, her bangs perfectly crossed over her forehead, her long legs unhindered by the heels she was wearing. I knew at that moment we would never be friends. She looked every bit a superstar: sparkling eyes, big smile, and what appeared to be a genuine appreciation for the thousands of fans screaming at the sight of her. I just screamed along with them.
This was my first Taylor Swift concert. I know people can't stand her; I know people love her. I'm one of the latter, and I'm frequently asked why. I admit it: I like her lyrics, and I like how she tells stories of experiences that mirror mine. My life has been blessed. I grew up with two parents who love each other and showed me what love looks like. Their example actually made it more difficult for me to find someone, I believe. I wasn't going to settle. They showed me what love's capable of, what it should be. But not everyone has the same idea.
Swift's songs say it plainly, some may say too plainly: But love is hard. And when you're young, when you haven't compiled a lifetime of difficult experiences, the fact that love is hard can seem like the biggest problem in the world. I guess that's why teenagers are so dramatic, or why I was as a teenager. My high-school breakups and warring friendships seemed, at the time, like the worst things that could happen. I'm embarrassed about that now, but I don't think I'll forget the emotions I felt when they were happening.
I'm 26 now, and still I had a moment of sadness when I realized my thoughts of becoming Taylor Swift's best friend were crazy. But after a night of singing with several generations of Tay lovers, I think I gained a new perspective on the heartbreaks of my youth. We all go through those things, but somehow we wind up here, in a big arena alongside a mostly female audience (but also, it should be noted, Panthers players Ryan Kalil and Greg Olsen), taking those heartbreaks in stride, stronger and better and happier because of them.
I'd say I had my first serious boyfriend during my senior year of high school. I thought I'd found the love of my life in someone a year younger than me. Funny thing to think about now. We tried to make it work when I went to college. I remember coming home to see him play in a hockey game, and afterward, he left the rink without saying a word to me. I left with my friends to go to McDonald's, and he pulled in the parking lot. I thought I'd say hello. As I walked to his car, he saw me and drove away. My heart sunk, my eyes welled up.
No apologies. He'll never see you cry, Pretends he doesn't know that he's the reason why.
You'd think that'd be the end of that story, but it dragged on for months. I'm not sure what I was hoping for. Maybe a grand gesture, like the ones in the '80s movies Taylor Swift told us she loved last night—The Breakfast Club, Sixteen Candles—and the ones she sings about in "I Wish You Would." I should say that I love these movies, too. See? Soulmates.
I remember I'd wake up in my dorm room to talk to this boy at about 6 a.m., and I'd whisper so that my roommate didn't wake up, too. On the other end of the line, that rain-soaked, dramatic renewal of our love that Taylor asks for, too, never came through. The conversations only became more frustrating, and with the help of some friends, I learned to stop answering the phone when he called. Taylor sings about that, too.
The guy I dated in college was totally different from the high school boyfriend. He was thoughtful, concerned about my well-being, wanted to better the world. We were focused on school and finding our careers. I was busy with the school newspaper and a job at The Washington Post.
When we graduated, he went to graduate school several states away, while I kept working in Washington at The Post. We started slipping in each other's priorities, and time spent apart felt more natural than time spent together. He backed out of plans to move to Washington for the summer, and even though we knew things would fall apart after that, we tried to stay together because we didn't know much else. Ending that relationship was the toughest separation I've been through. I didn't think I could hurt him, but I did, and can't think back to the days after I told him, "I think we've grown up, and our relationship hasn't," without cringing at the memory.
The drought was the very worst // When the flowers that we'd grown together died of thirst
Rain came pouring down // when I was drowning
That's when I could finally breathe
They tell you never to date someone you work with, but I started dating Jon anyway. He was the lead news designer at The Post. He was confident; he seemed to know where he was going in his career, the way I wanted to be. He could work the room, and all of the top editors knew him. We would grab lunch together on slow Saturdays. The problem was, I didn't want anyone to know. I lied to my boss about where I was going on vacation, and did so in embarrassing fashion—I confused Florida geography and said I was flying to Miami to travel to St. Augustine. I was paranoid that if everyone knew, they'd no longer see me as anything other than his girlfriend.
Something happens when everybody finds out // See the vultures circling dark clouds // Love's a fragile little flame, it could burn out
When he moved to Charlotte in 2012 to take a new job, we thought we could make the long distance romance work. We came close to calling it quits once, came within a few words of saying I'd keep my old life in D.C. and he'd continue his new one here. I recall this talk vividly: We were at Jack Beagles' eating mac and cheese that I'd read wonderful Yelp reviews about. I don't recall anything about the mac and cheese, but I remember trying to hide tears from our waitress.
I ended up moving here instead, but I still can't eat mac and cheese at Jack Beagles'. Somehow, in the years between teenager and adult, I'd learned that a relationship is work. And the benefit of that work is the love I'd seen as a kid, and still see today, from my parents. Jon and I got married this past winter on New Year's Eve. I woke up on the last morning of 2014 with my parents' last name. I woke up on the first morning of 2015 with Jon's.
You kiss on sidewalks // You fight and you talk
One night he wakes // Strange look on his face
Pauses, then says // You're my best friend
Taylor played all of these songs at her show last night, and through each one, it felt like we shared some sort of past. Our battle wounds, though nothing compared to what other people in this world go through, seemed to look the same to me. And that's why I love Taylor Swift. She's given me words to describe feelings I couldn't quite articulate before. Through her songs, we've had conversations about breakups and boys and life, just like close friends.
Heart break is the national anthem // We sing it proudly
She closed the concert with her massive hit "Shake It Off," wearing a sparkly green dress surrounded by male dancers wearing purple. I sang along and danced with my friend Lindsay and moms with daughters around us. It was a fun ending to an evening of emotional flashbacks, a celebration of everyone in that audience being who we are—a message Taylor gave throughout the show. When it was over, we filed out of the arena into a street freshly covered with rain. The superstar singer went on to her next show in Raleigh, and I went straight home to my best friend, Jon. I guess I don't need Taylor Swift anywhere other than my headphones.