The Cellar at Duckworth's ascends to great heights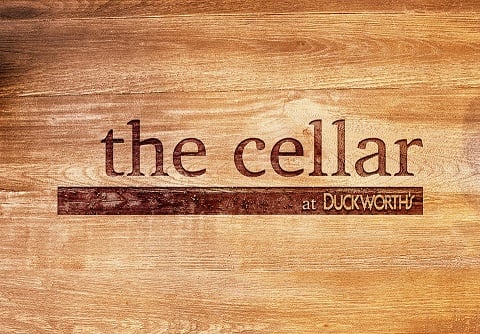 Walk through the doors of the uptown Duckworth's, bypass the hundreds of TVs at the ground level bar, head down two flights of stairs and you find a tuxedo-clad hostess, ready to slide open a wooden door and transport you to a place like none other in Charlotte.
There's a simple wooden sign on the way down – The Cellar at Duckworth's – however, Charlotte's newest craft beer destination is anything but.
You'd expect good beer from anything Rob Duckworth puts his name on – and trust me, The Cellar has plenty. But this establishment is so much more, from the carefully crafted cocktails to an outstanding menu to the overall ambiance that reminds you of a speakeasy from the Roaring Twenties.
This idea was something Duckworth had been thinking about over the last couple of years as his brand of craft beer taprooms and restaurants (there are now five in the Charlotte area) evolved.
"The Duckworth's beer crowd has grown over the years, and I've always wanted to have a beer bar with an obscure, smaller taplist where we can serve a beer at the right temperature in the right glass," Rob said. "I didn't know where it was going to be but I wanted something just for our beer-centric, loyal fans."
The Cellar at Duckworth's features 20 rare beers on tap, along with craft cocktails.
Everything came together once he purchased the three-level North Tryon Street location that formerly was the home of Fox & Hound and before that, Atlantic Beer & Ice. It was there where longtime Charlotteans can remember going down to watch a Pearl Jam cover band while drinking cheap beer out of plastic cups.
The 77-seat Cellar, mind you, is the absolute opposite. Twenty taps are behind the bar, all of them featuring rare options (during the soft opening beers such as Birdsong's Mexicali Stout aged in red wine barrels, 2015 Founders KBS and a Flanders red from Allagash were on tap). There's also a large walk-in cooler containing a number of rare bottles (more on that in a minute).
When Duckworth first sketched out the concept, it simply was going to be a beer bar. Then, looking at the space, he figured they could serve charcuterie and a few other items. That soon turned into an entirely new kitchen from upstairs, along with a different executive chef.
Small plates ranging from truffle mac & cheese to caramelized brussels are offered, with several salads and main courses such as scallops, steak (filet mignon, ribeye and a bone-in tomahawk) and saffron fettuccine featuring charred octopus also highlighting the menu (for whatever this beer writer's opinion is worth, the truffle mac & cheese and tuna tartare are absolute must-trys).
The truffle mac & cheese is one of many small plates offered at The Cellar at Duckworth's.
And Duckworth had one last idea that would tie everything together – craft cocktails.
"It's a whole new experience for us," he said.
About three months ago, Duckworth and a team of seven people went to New York for four nights with a mission to bring back some of the best and newest cocktails.
"We went to literally every hotspot; those folks up there are pioneers," he said. "We came back with a lot of great ideas and then worked with those drinks for three months."
A host of cocktails are offered, and The Cellar has its own mixologist (my wife thoroughly enjoyed her smoky peach margarita, which she described as "hot and awesome").
The Cellar also features 160 bottles of wine, and all of the drinks offered are cleanly displayed at each table on an iPad menu, as has been the custom for the newer Duckworth's locations.
It all adds up to a unique experience that can cater to a diverse crowd.
"Personally my palate has developed in the last 10 years, whether it's beer, wine, food or the craft cocktails," Duckworth said. "And I think the same can be said for people in general. How many cooking shows are there now? That's education. So I think that people that may not even know they want to be here will eventually want to with that in mind – to try and elevate their palate."
The final piece to The Cellar will be the aforementioned walk-in cooler, which is currently receiving its finishing touches. Duckworth said he and his staff have been stocking away inventory, and they currently have around 150 labels. You'll be able to purchase these bottles for on-premise consumption, and there also will be 10 lockers you can rent to store your beer in case you want to buy them upfront and come back to drink at another time.
The Cellar at Duckworth's will have its grand opening next Monday, July 20. It will be open (walk-ins only, no reservations) from 5 p.m. to 2 a.m. every day, serving a full menu until 11 p.m., at which time a limited menu (flatbreads, charcuterie and cheese boards) will be offered.
"I'm excited about all of it, and I hope Charlotte will be too," Duckworth says.