The Cemetery That Wasn't There in Biddleville
Lost between city and county loopholes, one woman set out to make sure this west side resting place wasn't forgotten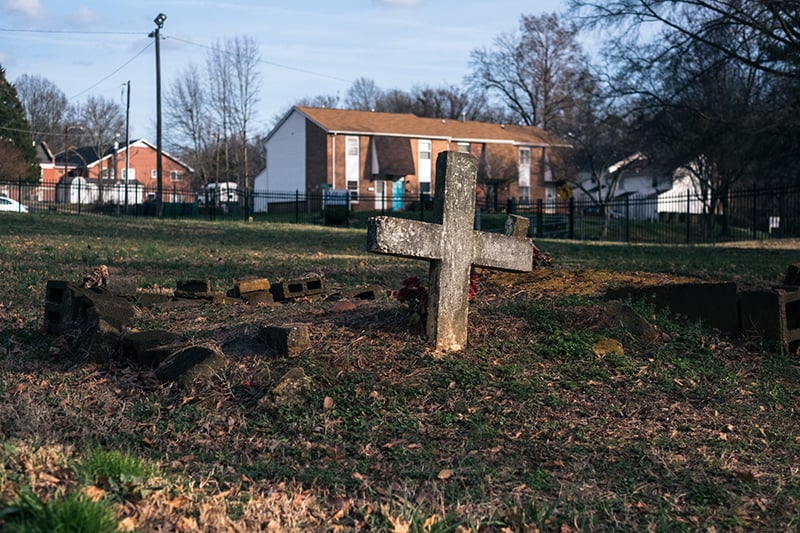 IN THE GRAVEYARD behind her house, Nolie Steele bends down and peels back a vine from the weathered tombstone of a person she doesn't know and whose name she can't make out.
This place, Steele will have you know, has a name: Biddleville Cemetery. Though you'd be forgiven for not knowing that.
Next to the swings and slide at Five Points Park at the corner of French and Cemetery streets on the city's west side, Biddleville Cemetery is a 145-year-old burial plot where black veterans of both world wars and the Spanish-American War rest. It's also a cemetery without a single sign or marker and, until last year, even a fence.
"It makes me sad," Steele says as she kneels by one of the indecipherable headstones, "that this is the way we end up on earth."
Steele has lived in the same two-bedroom house on Mattoon Street, with a backyard adjacent to the graveyard, for 57 years. She moved there as a six-year-old, and she was taught to revere this place.
"My mother taught us kids to jump those graves," Steele says, recalling family walks to a nearby convenience store. "She always said, 'Those souls are still there.'"
But after decades of living in the neighborhood, Steele says she noticed an uptick in crime and a general neglect of the cemetery. There was a big problem with prostitutes in the park, Steele says, and kids kept riding their dirt bikes across the graveyard, jumping what few headstones remained. In 2013, when weeds and trees—she couldn't tell which was which— started to creep over her fence and into her backyard, she finally called 311 to complain about the cemetery's neglect.
The operator told her there was no such thing as Biddleville Cemetery.
"I'm standing in this cemetery, and I'm saying, 'What do you mean there's no cemetery?'" Steele says.
The operator read her a list of all recorded cemeteries in Charlotte. Sure enough, Biddleville Cemetery wasn't on it.
***
BIDDLEVILLE CEMETERY was founded as a private cemetery for free blacks in 1873. Although there are several churches nearby, Biddleville Cemetery has never been tied to any one specific church. The oldest burial dates back to 1886, and the most recent to June 1982.
The list of dead buried here on this single acre of land stretches eight pages of a 2016 report on the cemetery, from "Infant Male Adams" to William Young, and includes 26 unnamed babies, five Clarks, four Davidsons, and seven Griers. Thirteen people buried here died of tuberculosis, 30 from pneumonia, three from niacin deficiency. Veterans of World War I, World War II, and the Spanish-American War are buried here. "It's jam-packed with people," says Susan Mayer, the historian hired by Mecklenburg County to write the report. "It's a weird way to say it, but it's jam-packed."
Though Mayer's official number of the cemetery's dead stands at 304, she stressed that her research spanned only burials from about 1908 to the 1980s. "There's no telling how many people were buried from the cemetery's creation in 1873 to 1908," she says.
Part of that lack of clarity, Mayer says, is that, historically, black cemeteries and white cemeteries were different, aside from who was buried there.
"African-American cemeteries are not landscaped as Euro-American cemeteries are. They have depressions or mounds and no attempt is made to make grass grow over the graves nor to create special vegetation. Trees are native, not specially planted, and are neither encouraged nor discouraged," Mayer wrote in her report. "Rather than the park-like setting with formal landscaping often found in Euro-American cemeteries, the African-American cemetery does not attempt to romanticize death nor create an artificial landscape."
Perhaps because of this, only 19 readable tombstones remain in Biddleville Cemetery. Most markers are broken in half, too weathered to read, or removed entirely. Most of the dead lie underneath nothing more than a rectangle of cinder blocks, weeds, and the occasional empty bottle or piece of trash. Some headstones, though, like that of Grady Harrison Jr., a World War II veteran who died in 1966, still have faded pink and white flowers below them.
How, Steele wondered, could someone tell her in good faith there was no cemetery there?
It would take her three years of wading through bureaucratic specificities, monthly calls to 311, and help from her county commissioner, Vilma Leake, to finally find answers.
"I know I was fighting for someone," Steele says, "but I didn't know who I was fighting for."
After the Civil War and during Reconstruction, many emancipated slaves across the South established tight-knit communities and, out of necessity in the shadow of Jim Crow, created institutions of higher learning for newly free black people. Biddleville was one of those enclaves, and Johnson C. Smith University (originally named Biddle Institute) was one of those schools. Biddleville Cemetery was where many people who lived in the area buried their dead.
Since its founding in the late 1800s, the cemetery had been a privately owned piece of land. A now long-defunct black civic organization, the Society of the Minute Men, owned the property. Then, the organization ceased to exist, leaving the burial ground something of an "orphan cemetery" with no one to look after it, says Peter Cook, the division director for park operations at Mecklenburg County Parks and Recreation. The last official city record of a caretaker for the property is in 1922.
Additionally, with no one from the Society of the Minute Men around to contact, Cook says the property took on a status as a "special parcel," in county and city limbo.
"It's not the city's; it's not the county's," Cook says. "It's the owners' of the property, which was a society that no longer existed. The city kind of maintained it because it was next to a park (Five Points Park) that it maintained."
So, who's responsible for its care: the City of Charlotte or Mecklenburg County?
When asked about the cemetery, Bill Bibby, the city of Charlotte's cemetery supervisor, says simply, "The City of Charlotte does not maintain Biddleville Cemetery."
It's difficult to pin down the official ownership and care records for this particularly fraught site, especially when city and county officials give differing accounts, the organization which owned the property hasn't existed for decades, and the last record of a caretaker presiding over the space was nearly a century ago. A Mecklenburg County spokesman says Biddleville Cemetery has been under its care since 2009.
But Cook says Mecklenburg County's involvement and history with the 145-year-old cemetery goes back only two years. "We only really got involved in the cemetery in 2015, early 2016," he says. "We knew there was a cemetery there because there was a park there, so it's not that it was unknown."
It was a cemetery that, it would seem, neither the county nor the city wanted to claim as its own. "When it came down to it, the city said, 'Look, it's not really our parcel. It says in the state statute that the county would have responsibility over any abandoned cemeteries,'" Cook recalls.
So when Steele first called in 2013, the 311 operator was right: With the Society of the Minute Men still listed as owner of the land, the City of Charlotte had no official ownership of any place called Biddleville Cemetery.
***
AFTER A YEAR of calling 311 to little avail, Steele says she began attending neighborhood meetings of the Smallwood-Biddleville Community Association. Here, she made more noise about the cemetery.
"I was not giving up on that cemetery and all those people," she says.
Soon, she contacted County Commissioner Vilma Leake, who gathered community support from area churches and enlisted the Charlotte-Mecklenburg Historic Landmarks Commission to take a closer look at the property.
"I've known about the Biddleville Cemetery for many, many years, but we basically became involved because of the initiatives of the residents of the community to earn protection for it," says Dan Morrill, the landmarks commission's director.
It was this community outcry, Morrill and Leake agree, that ended the question of ownership and finally led to historic protection for the cemetery, which it officially earned in late November 2016 after a Charlotte City Council vote.
"Quiet situations don't bring any light," Leake says, "unless someone brings some light to it."
Still, even though Biddleville Cemetery is now recognized and protected as an official historic Mecklenburg County landmark, there remains no sign or marker telling passersby or families at Five Points Park about the history of the burial ground mere steps away. There is no expression of gratitude for the veterans buried there and no printed history of the families who remain there. The only sign in the cemetery, in fact, is toward the back of the graveyard. It says, "NO TRESSPASSING PROPERTY OF BEASLEY MEDIA GROUP, INC.," and warns mourners or those riding dirt bikes over the graves against getting any closer to the broadcaster's massive radio tower in the field down below.
The tower, it would appear, earns more respect than the dead buried here.
It was just last year Mecklenburg County installed fencing around the cemetery. "I wish that name would be on the fence somewhere," Steele says. "I want them to finish. I want some kind of display where you could read people's names."
Steele pauses, smiles a bit, and thinks aloud of what could be.
"That'd be nice."