The Challenge of Charlotte's West Side
The prospect of new life for 'the bad part of town'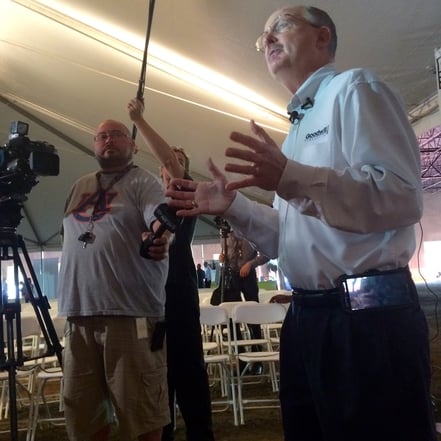 Johnson C. Smith University played host last night to a mayoral forum to which five candidates—four Democrats and one Republican—showed up. The university lies in the heart of Biddleville, the oldest black neighborhood in Charlotte, named after a Union Civil War officer who also lends his name to the auditorium, Biddle Hall, where the forum was held. Biddle Hall sits at the center of a campus that for more than a century has served as the hub for the northern part of Charlotte's west side, an area made up mostly of African-Americans, many of them poor.
So the forum, "Mayors Matter & Corridors Count," was designed to compel the mayoral candidates to speak openly about how they'd work on a civic problem that's bedeviled Charlotte city leaders for decades: How do we bring new life and fresh money to west Charlotte?
Ron Stodghill—a writer, JCSU professor, and the back-page columnist for this magazine—put it more pointedly in one of the last questions of the night. When corporate CEOs and business leaders visit Charlotte, they're taken Uptown and to Ballantyne and SouthPark, Stodghill asked. What does the city have to do to make sure the west side isn't overlooked on those tours?
Candidate Michael Barnes, the mayor pro tem and a City Councilman for 10 years, pointed out that other parts of town get overlooked as well.
Yes, Stodghill interrupted. "But we look overlooked."
It's been that way for decades. In the 1950s and '60s, the area just northwest of uptown was "the catchment area for people displaced by urban renewal," Harvey Gantt, Charlotte's first black mayor, said during an informative introduction to the forum.
The construction of the Brookshire Freeway through McCrorey Heights, the historically black neighborhood just north of Biddleville and JSCU, divided the area and cut neighbors off from each other, Gantt said. Even as some parts of Charlotte have grown and prospered over the last 20 years, the "northwest corridor" still looks mostly unchanged.
Now, as the city tries to expand development from the Center City to some of those overlooked areas through tools like the contentious Gold Line streetcar project, Gantt said, "we're at a point in history where it is going to be impossible to ignore this section of town."
It's an indication of how far west Charlotte needs to go that the candidates' answers to the main question spanned every civic action you can think of: infrastructure improvements; collaboration among community nonprofits; economic incentives for businesses to start and relocate on the west side; and plain old publicity. "'What have we got that nobody else has?' said Mayor Dan Clodfelter. "That's the recipe."
(Even though the one-minute-per-answer format hamstrung the responses, it's worth noting that the Democratic candidates—Clodfelter, Barnes, Councilman David Howard, and former Mecklenburg County Commissioner Jennifer Roberts—were the only ones who had any tangible suggestions. The lone Republican, former Councilman Edwin Peacock, spoke vaguely about "leadership" and "bringing back opportunities" without addressing anything specific.)
Howard won the night, running away with all three of the online polls from the forum. He spoke primarily about "making the west side part of the economic development conversation" by continuing work on the Gold Line and, interestingly, advancing JCSU as a research and development hub or high-tech workers. "We've seen that in places like Austin and Minneapolis," he said. "We can do it here."
Howard has raised far more money from African-American voters in North Carolina than any other mayoral candidate. If he ends up Charlotte's next mayor, his support among residents on the west side will be a leading reason why. Without using the words, his campaign seems to be harnessing energy from another source—the insistence that black lives, and futures, matter.
Earlier Thursday, Goodwill Industries of the Southern Piedmont made its own statement on that subject, in the concrete shell of a building meant to extend a hand to the west side.
When it opens in the spring, it'll be called the Leon Levine Opportunity Center, named after the Charlotte philanthropist, a 160,000-square-foot compound on Wilkinson Boulevard near the airport. Goodwill held a press event Thursday morning to announce its partnership with four institutions that can help the poor lift themselves out of poverty: Charlotte Community Health Clinic; Commonwealth Charlotte, a lending and financial education nonprofit for low-wage workers; Charlotte Metro Credit Union; and The Center for Community Transitions, a group that helps people with criminal records learn job and life skills.
The location is critical because it's on a bus line and close to many of the people Goodwill serves, said Michael Elder, the local Goodwill president and CEO. "We're under no illusion that we can serve everyone in Charlotte, but this is an area where we have some of the highest need," he said. "In some respects, this is a laboratory for services to help move people out of poverty and keep them out of poverty."
If any part of town needs that laboratory, it's the west side. LaWana Mayfield, the District 3 councilwoman, said the average household income in her district is $10,000 less than the county average of about $53,000. Only 26 percent of district residents have bachelor's degrees, compared to 41 percent throughout the county, she said. (Council District 3 encompasses a massive chunk of the west side; the northwest corridor and JCSU are in District 2, which Al Austin represents.)
To have a realistic chance at overcoming poverty, many people need health care, job training, and financial services without having to waste time traveling, as Rahmal Garner used to. The Raleigh native moved to Charlotte five years ago to escape a violent adolescence. "I just liked to fight," he said. He lived near Monroe Rd. in southeast Charlotte, which meant he needed to reserve nearly two hours each way to make it to a job training program at the Goodwill office on Freedom Drive.
Now, at 24, he's graduated and works in the contact center at Charlotte Metro Credit Union. He lives in Rock Hill, S.C., now, but he understands better than most why the center and its services are such necessities for people who live near it.
"When I first came here, a lot of people would talk bad about the west side, like, 'Oh, you don't want to live on the west side,'" Garner said with a chuckle. "But for Goodwill to take this step … it lets the west side of Charlotte know, 'We're here to help, and we're willing to change the perception.'"