The Charlotte Housing Market in 2016: A Cheat Sheet
Should you rent or buy? Where? And what about all this talk of a downturn? Two experts weigh in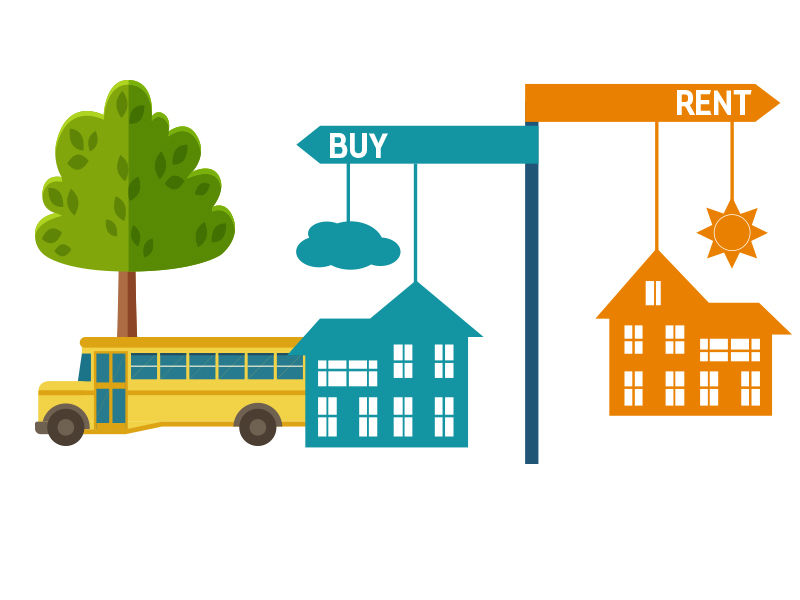 "ALL THE data we look at indicates Charlotte is in the midst of a housing boom that is strong, but not too strong, which means it is sustainable and will continue through 2016, at least," says Daren Blomquist, vice president at the real estate analytics firm RealtyTrac. While there is talk of a downturn in the national market, Charlotte is not at risk for the kind of crash that puts homeowners underwater, or causes them to lose money or their investments, Blomquist says. However, the rate at which home prices are increasing could slow down.
Allen Tate Co. President and CEO Pat Riley has a similar view, and expects to see more homes listed for sale this year. "I'm confident that in 2016, we'll continue on a positive path and see steady, sustainable growth—the kind of price appreciation and sales that keep a real estate market healthy for the long term," he says. "While we're seeing some fluctuations in the world and energy markets, we have momentum in housing. Home buyers now understand home values, and those who have been steadily rebuilding equity are at a point where they can finally sell."
Here's what you need to know about buying a home this year.
---
Where to buy
While the characteristics of the "right" neighborhood vary by individual, many buyers covet two traits: a clean, safe environment and good schools.
RealtyTrac studied the risk of environmental hazards—things such as air quality, heavily polluted sites, and even locations of former meth labs—for the Charlotte metro area. The analytics firm found the following five zip codes had the lowest risk.
28023: China Grove, near Kannapolis
28212: Around W.T. Harris Boulevard and Idlewild and Albermarle roads in Charlotte
28215: East Charlotte between Eastway and I-485, including Hickory Grove and the Plaza Road extension
28207: Myers Park and Eastover
28209: The area between Dilworth, Myers Park, and South Boulevard
The firm also studied elementary school test scores by zip code and compared that with zip codes where housing is considered to be affordable for the average wage earner. The top five affordable zip codes in the Charlotte area with the best-performing schools are:
28277: Ballantyne
28202: Uptown/all wards in center city
28270: South Charlotte inside 485
28078: Huntersville
28105: Matthews
---
Zombie foreclosures are disappearing in Charlotte
Less than four percent of the Charlotte-area's 3,253 foreclosures were so-called "zombie foreclosures" in the third quarter of 2015, meaning the homes had been abandoned by homeowners before the bank repossessed the properties. By contrast, in the first quarter of 2015, nearly 25 percent of Charlotte-area foreclosures were zombie foreclosures.
Zombie foreclosures can hurt neighborhood values and are especially problematic for other sellers living nearby. Abandoned properties can become unsightly, with overgrown yards and other maintenance problems.
---
Are median home prices still increasing?
Yes. December 2015 was the 46th consecutive month in which median home prices increased annually, both nationally and in Charlotte. Charlotte is seeing consistent, single-digit increases—a good sign that this is a sustainable trend that will continue, barring shocks to the housing market or economy, Blomquist says.
But there is a challenge to the market that complicates things, Riley adds. Some baby boomers are passing the traditional retirement age and not downsizing as quickly as others have in the past. "This is clogging up the pipeline somewhat, by disrupting supply and demand–which is keeping prices inflated," he says.
---
Is there a downturn coming in the housing market?
Some housing market analysts are talking about an impending downturn. To predict which cities might suffer most, experts examine how affordable the homes are in a given area, compared to the average wages. Markets in which affordability levels are close to exceeding or already exceeding their historical norms face trouble, according to RealtyTrac.
An analysis of 582 counties across the country in October showed three percent had homes that were less affordable than historic norms, given current conditions. None were in the Charlotte area. But if interest rates rise to five percent this year, one North Carolina county will join the list of potential trouble spots: Union County.
This doesn't mean you should worry about plummeting prices in Charlotte, though, Blomquist says. "All of this data leads us to believe that Charlotte is not overpriced, let alone in any sort of bubble," he explains. "The primary risk in Charlotte is the potential chilling impact if the big institutional investors slow down their purchasing. But in other markets that have gone through that, we have not seen disastrous impacts. The typical pattern is that, as the big investors pull back on purchasing, price appreciation slows down but does not go negative."
---
Where to invest
The most popular Charlotte-area zip codes for institutional investors (those buying 10 or more properties in a calendar year) last year were:
28278: West and south of Charlotte Douglas International Airport, including Steele Creek and Lake Wylie
28214: North of the airport, bounded by the Catawba River to the west and Rozzelles Ferry Road to the north
28273: South of the airport, the area roughly bounded by Arrowood Road, Steele Creek Road, and the state line
28215: East Charlotte between Eastway and I-485, including Hickory Grove and the Plaza Road extension
28269: North of uptown, the area bounded by I-77, Mallard Creek Road, and Eastfield Road, including Highland Creek
---
Buy or rent?
Despite the sticker shock you might experience looking for an apartment in South End, Mecklenburg County is considered to be among the most affordable places to rent for millennials, according to RealtyTrac. Renting is also slightly cheaper than buying. For the average worker in Mecklenburg County, it will cost 26.7 percent of her income to rent, versus 27.6 percent to buy a median-priced home. Both are deals compared to other markets popular with millennials. In San Francisco County, for example, it takes 91 percent of the average local wage to buy a median-priced home, and that goes up to more than 100 percent of the average local wage needed to buy a median-priced place in Manhattan.