The Charlotte Painter Who Brings Pets to (Human) Life
Robert Wildermuth crafts watercolor portraits of pets in clothes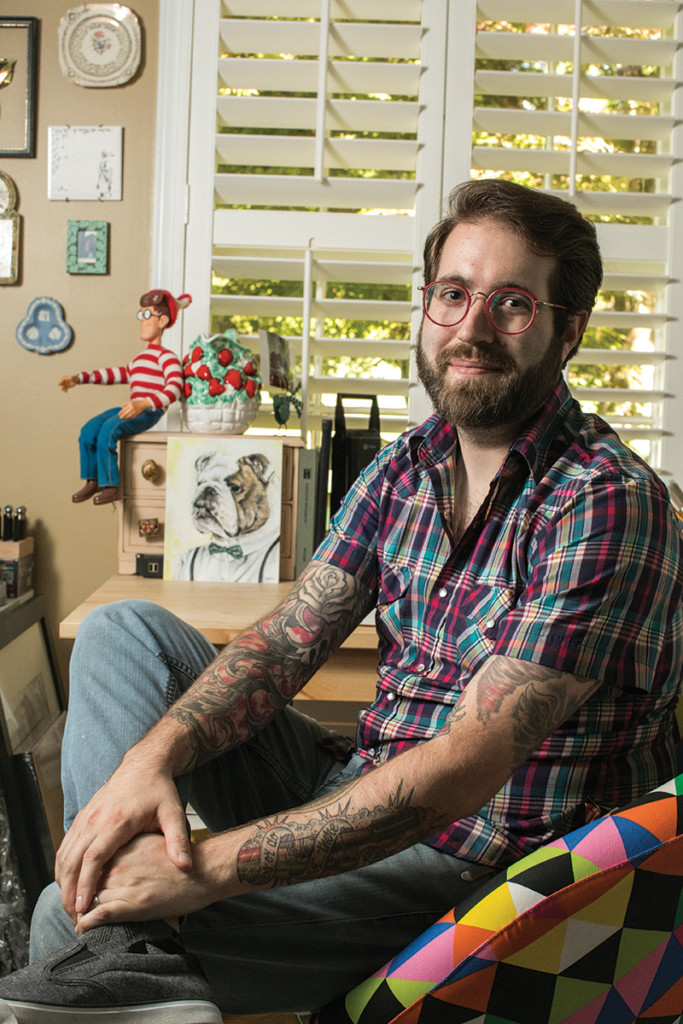 IT WAS a routine "crafternoon" in Plaza Midwood—a living room get-together filled with artists painting, drawing, weaving, and drinking—hosted by Robert Wildermuth's now-wife, Jackie. Jackie's roommate mentioned to Wildermuth that her grandmother loved cardinals, and maybe, she thought, he could paint one for her.
"I was just going to paint a cardinal, like a straight-up bird, and I switched it up and said, 'You know, I'm just gonna dress him up because he looks like a stuffy old businessman,' and so that was the beginning of the pet portrait thing," says Wildermuth, an artist and graphic designer.
After the cardinal, Wildermuth started experimenting with other animals—first a flamingo, then a walrus, and, later, a barn owl. Now, his collection includes almost every animal in the kingdom—from a squirrel dressed as a member of a barbershop quartet to a lumberjack bear. A few weeks after finishing his first pieces, he started getting custom requests for pet portraits. Now, his Instagram (@robertbobbyart) is filled with images of commissioned work—a golden retriever in an American flag suit, a domestic cat in a fisherman's outfit.
"It's not anything super original by any means," he says. "Like the cartoons from the '30s and '40s, people have been dressing up animals even before that. But for me, it was something whimsical and fun. I really like the surreal stuff."
Though it may not be a completely original concept, the way in which Wildermuth captures pets' expressions so realistically, coupled with personification, is fascinating. Of course, behind the final products are hours of creativity and painstaking detail.
Wildermuth says a typical pet portrait can take up to 10 hours and sometimes longer if the animal has long hair or dark fur. "The people who contact me have this crazy idea of what their pet would look like dressed up," he says.
First, he starts with charcoal and paint, shading everything in black and gray. When that's dry, he adds watercolor and, later, a Micron pen to get fine details that make the portraits pop. The final step is a white charcoal pencil, which is how he achieves the "little shine in the eyes."
"When I deliver it, that's the moment for me that's amazing," says Wildermuth. "Giving them the final product and seeing the reaction—whether they cry or laugh or sometimes both, for me, that's better than payment."