The Closest Thing to Cheers We'll Ever Get: Brawley's at 20
Two decades of craft beer, inclusion, no TV—and get that Miller Lite out of here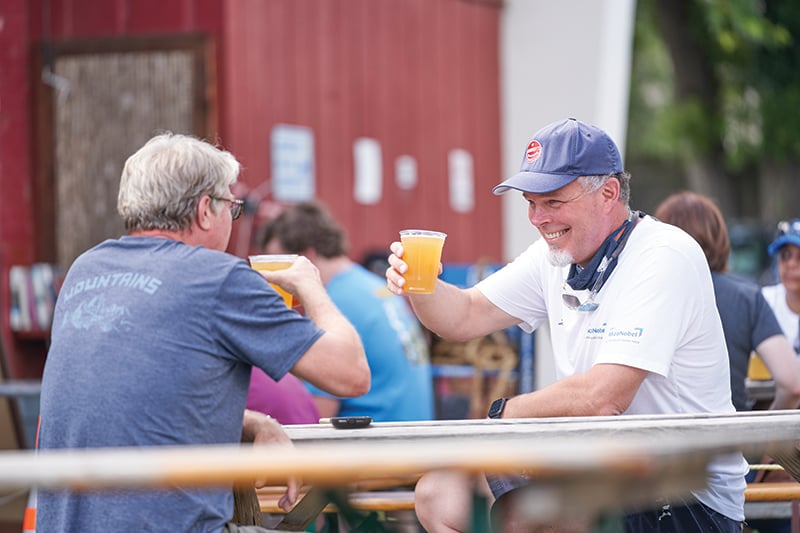 When I think about Brawley's Beverage, I'm reminded of James Earl Jones' famous speech near the end of Field of Dreams, when his character Terrance Mann speaks about baseball as the one constant through America's ups and downs through the years.
That's how I view Brawley's, which celebrates its 20th anniversary this weekend. In two decades, Charlotte has gone through economic challenges, a population boom, and massive infrastructure growth, not to mention a flourishing beer scene. Amid all that has sat a small neighborhood bar and bottle shop at 4620 Park Road in Madison Park.
A few things have changed over the years. Michael Brawley opened a beer and wine store in 2003, in the same building where his father ran Mike's Discount Beverage. Michael anticipated the popularity of local craft beer, and when state laws allowed higher alcohol volume sales in 2005, the shift was made to primarily a craft beer store (a small wine selection remains). In 2014, the bar underwent a design overhaul, with a 20-tap system and a gorgeous tasting room whose floor-to-ceiling windows beckon you to come inside as you drive along Park Road.
But the important things have remained—and the inviting nature of the establishment, its owner and bartenders make up the closest thing to Cheers we'll ever get.
If you're looking for Bud Light, Coors or Miller Lite, you won't find them here. But anyone working behind the bar will be quick to find out your tastes and preferences and suggest something way better on tap. "No Big Beer" hangs above the bar, and if a craft brewery sells to one of the large conglomerates, those beers are quickly marked for discount and deliveries halted.
Speaking of signs, the one at the entrance of Brawley's is large and direct: No Bigots, Racists, Misogynists. Brawley's has always been an inclusive environment for a beer scene that has long struggled with diversity. In the earlier years, you'd see "Mama Jean" behind the bar while longtime patrons have watched Michael's daughter, Piper, grow from a toddler to a middle-schooler. Everyone is respected. Any loudmouth who violates that rule will have their tab covered by the house and asked to leave.
On an extremely rare occasion, like a Panthers Super Bowl or UNC national championship game, a screen will drop down from above the taps for everyone to watch through a projector. But Brawley's has no TVs. This is a place to grab beers with friends and have long conversations around the firepit, among the numerous picnic tables or at the bar, which holds countless signatures and random musings from patrons.
Brawley's is also host to the best craft beer festival in the city and arguably the region. Black & Blue has taken place at the Visulite Theatre (where Michael was a bartender in the early 2000s) every year since 2012, and tickets sell out quickly. Black & Blue is an intimate festival that highlights rare beer (curated by longtime Brawley's employee Shane Icenhour) from local and regional breweries set to the backdrop of live bluegrass artists. Brawley's sells only about 300 per year. Michael and Shane could easily triple that in a larger venue, but the idea has always been to talk to the brewer about the beer you're drinking in a relaxed setting.
As part of the anniversary celebration, the shop will undoubtedly have a few surprises on tap—like when it opens for a few hours on Thanksgiving or Christmas to help those who may need a little getaway from the in-laws or holiday craziness. Raise a glass to Charlotte's constant—here's to 20 years and many more.