The Coalition: Jesse Cureton, Gene Woods, & Brett Carter
The cochairs behind OneCharlotte are No. 24 on our list of 50 Most Powerful People in Charlotte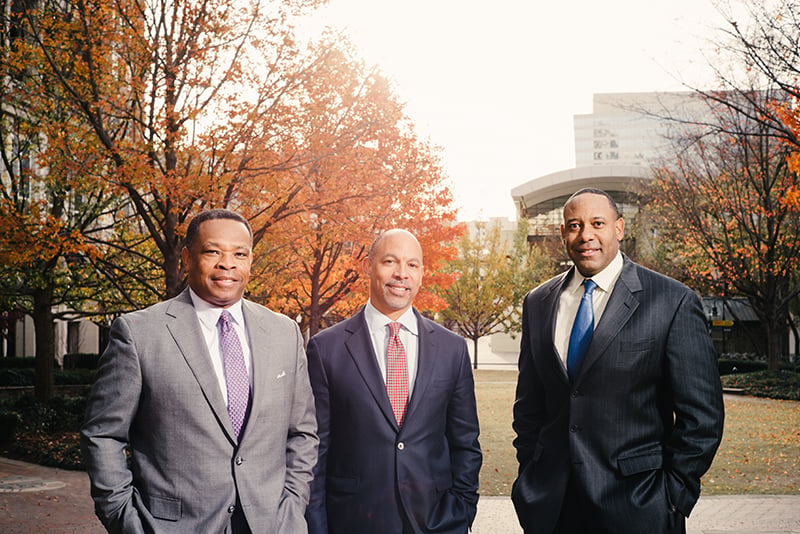 > Read the entire list of Charlotte's 50 Most Powerful People.
ONE FALL AFTERNOON in Romare Bearden Park, hundreds of people watched a gospel choir sing, a mariachi band play, and two women perform traditional Puerto Rican dances to drums. They listened to a rabbi and a Muslim leader and cheered when a Hispanic pastor broke into Spanish. Beneath the skyscrapers, a resident of a distressed neighborhood stood next to a corporate CEO and the mayor. After the presentations, the group marched through the streets, calling for unity and action. It was November 6, 2016, 47 days after a Charlotte-Mecklenburg Police officer shot and killed Keith Lamont Scott.
Three executives from three of Charlotte's largest employers looked out at the crowd, elated. This, they thought, was exactly what their dream looked like.
"I don't know if I've ever been in an environment in Charlotte where there was such a vast amount of diversity," says Brett Carter, Bank of America's chief operating officer for technology and operations. "It was just a snapshot. But it was beautiful."
The rally was the kickoff for ONECharlotte, a new initiative begun by Carter, Carolinas HealthCare System CEO Gene Woods, and Novant Health Executive Vice President and Chief Consumer Officer Jesse Cureton, following Scott's death and the protests it sparked. The three men believe ONECharlotte is the city's best chance for sustainable progress against social injustice and barriers to education, employment, and health care. Through "healthy disruption," as they call it, they want to create a new model for tackling Charlotte's most pressing issues.
In some ways, though, ONECharlotte resembles what we've come to expect: top executives raising a bunch of money (they aren't revealing an exact number yet, but sources put the amount in the millions), with support from corporate partners. This is what has jaded Charlotteans, says Woods: someone showing up with a big check and making some effort, then letting the energy fade and the initiative peter out.
Cureton, Carter, and Woods know they have to battle that skepticism, especially as well-connected leaders from the city's biggest corporations. They want to hear ideas from community leaders, clergy, and nonprofits to find programs to support that are already in place.
"Charlotte has been a city where corporate America has made decisions," Cureton says. "If we throw dollars at a solution, but we're not changing the causation, then—again—this is all for naught, and it feels more like our previous traditional narrative." Another difference: All three men are black, part of a corporate and civic leadership with more female and nonwhite members than Charlotte has ever had.
"Thirty-five years ago, it was a much more of a homogeneous look and feel, and so it was a lot easier to get that, I'll just say, agreement around how to move things forward," Carter says. Although ONECharlotte's variety of voices may make it harder to reach consensus, he adds, it will also mean that the best solutions prevail.
What will those solutions look like? The men agree there is "low-hanging fruit" to grab. Cureton holds up as an example the recent partnership between Novant Health, his employer, and Woods's Carolinas HealthCare System. The rival health care giants are working together to improve health in six zip codes in which disease rates are high and residents lack access to fresh food and health care. They haven't picked the exact locations, but expect the neighborhoods to fall within the less affluent crescent that stretches from west to east across the city's urban core. In addition, he says, the group is talking with corporate partners about whether private companies can lead an effort to increase the minimum wage at their firms.
Woods says the community must set bold and specific goals, bearing in mind that "some is not a number; soon is not a time."
"We've got to declare: If we're going to create jobs as a business community to help lift people up, how many are we creating and by when?" he says. "If we're going to have pre-K access, how many and by when?" The initiative will next move from hearing ideas to solving issues in specific neighborhoods, they say. Carter says the ultimate goal is having a city in which people wake up concerned about those with the fewest resources.
"We're not one Charlotte today, because I guarantee you, when you wake up in the morning, you're not worrying about what's happening in Grier Heights," he says.
While many nonprofits, residential groups, legal organizations, and community leaders are working with the initiative, skepticism remains about its intentions and potential for real change. Charlotte Uprising, a voluble activist coalition formed after the Scott shooting, did not endorse the group, saying ONECharlotte has not been accountable or responsive to the groups and individuals working on the ground. Carter says change always confronts resistance, because it spurs more change. He likens it to the first time he went bungee jumping. "I jumped and I was like, 'OK, I'm comfortable with this,'" he says. "But when the rope pulled me back up and I started falling again. … That was scarier than the first jump, because I created a change, but the reverb from the change was like, 'Whoa!'"