The Cosby Conundrum
Where is the line between intellectual greatness and moral failure?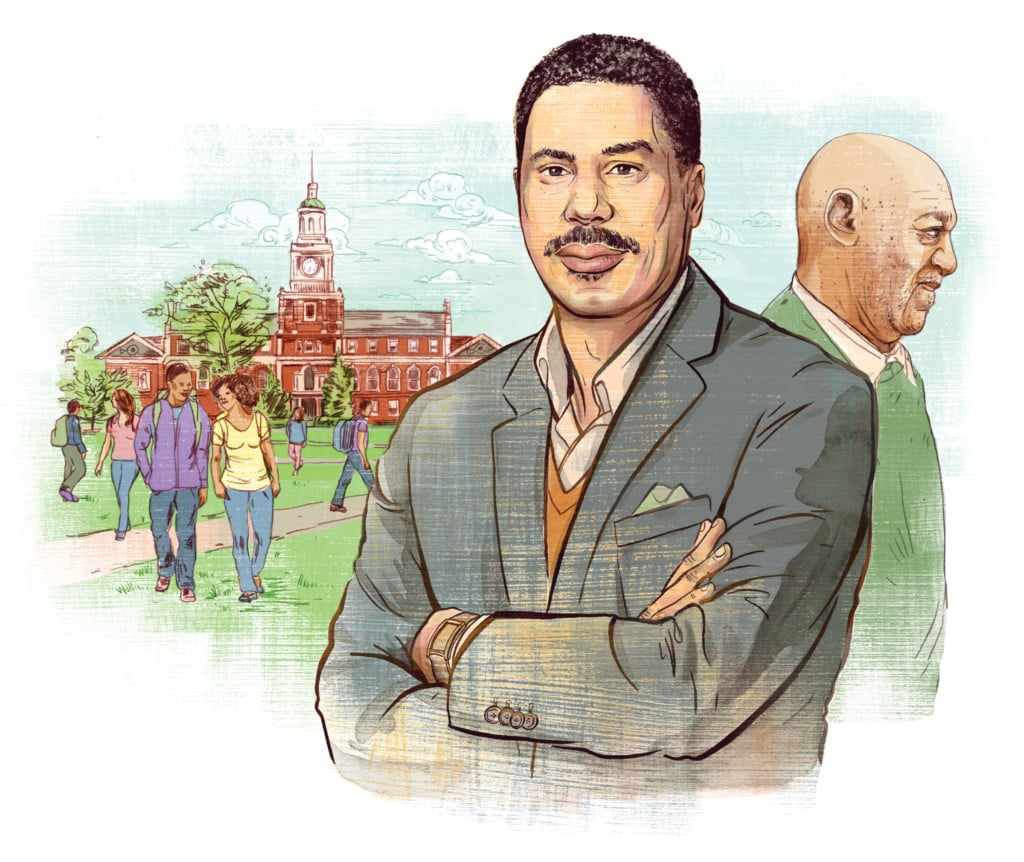 A COUPLE of years ago, during my lunch break at Johnson C. Smith University, I got a surprise phone call from Bill Cosby. This was before news of Cosby's secrets—more than 40 women have come forward publicly to accuse him of rape or sexual assault— began making headlines. At the time, even though he'd been first accused of rape a decade ago, Cosby still reigned as America's favorite dad, the lovable old sage whose views on anything from Jell-O pudding to literacy seemed pretty much gospel. His cultural authority also happened to extend to one of my passions: the survival of historically black colleges and universities, or HBCUs. Cosby's interest in the topic was more than casual; in the late 1980s, he and his wife, Camille, donated $20 million to Spelman College, the all-female liberal arts school in Atlanta, Georgia.
I was in the middle of researching a book on these century-old institutions, from their founding after the Civil War to educate newly freed slaves, to their heyday educating such luminaries as civil rights leader Martin Luther King, Jr. (Morehouse University), novelist Toni Morrison (Howard University), and Oprah Winfrey (Tennessee State University), to their recent struggles to survive a perfect storm of rising competition, declining student enrollment, and waning federal support.
It was my work on the topic that, incidentally, led Cosby to find me in my small, nondescript office at Charlotte's 148-year-old HBCU. "The reason I called you," Cosby began, "is because there is a deep problem at these schools—and it's duplicitous what's happening to them …" The moment was surreal, as if Cliff Huxtable had teleported himself from 1980s Brooklyn onto modern Beatties Ford Road. As he recounted a bit of Johnson C. Smith history—then known as Biddle University, JCSU played the first black college football game in 1892 against Livingstone College in Salisbury—I put him on speaker and began taping our conversation. A couple of co-workers gathered around, their disbelief turning to delight as the icon waxed on for nearly an hour about the crisis facing our nation's 104 historically black colleges. In his view, the problem mostly came down to what he described as today's misguided and often corrupt administrators—opportunists who lack a sense of noble mission.
Cosby must have sensed my wincing at his broad indictment. "Let's get this straight, man," he said. "You're either going to tell the truth or you're not going to have a book that's worth anything. You've got to go into what happened."
There is, in hindsight, a tragic irony in Cosby's moralizing, in his condemnation of the leaders of institutions he once championed. As allegations against Cosby exploded, his hypocrisy would lead to my own crisis. Should I rush to pull him from the book? I found myself weighing the risk of including him in a narrative history in which he had played an important role. Where does one's greatness end and foulness begin?
I posted my dilemma on Facebook, and I was deluged with opinions. Most encouraged me to include Cosby and all his contributions in my work; to do less, they said, would be intellectually dishonest and cowardly. While I tended to agree, I was moved by the words of another longtime friend, who wrote to me privately: "Ron, I was raped as an undergraduate in college. This was two years before you knew me. I did not file a police report out of fear. He was a bigwig on campus—I was a nobody. My daughter was raped during her senior year of high school by a guy who promised her a record deal. Please take a stand for what is right and just. Women should not be raped. Your character will be tarnished by your association with Cosby."
Sadly, the Cosby dilemma reaches far beyond me. Countless people and businesses have had to decide how close they should stand to Cosby. Most have opted to back away altogether. Earlier this summer, for instance, Spelman College returned the Cosbys' $20 million gift. Even cable channel TV Land pulled its The Cosby Show reruns. I totally understand that decision.
Nonetheless, my book, Where Everybody Looks Like Me, which was set to be published September 22, includes, along with chronicling the struggles of numerous HBCUs, an entire chapter on Bill Cosby and his contributions to America's black colleges. It also fully addresses the rape and assault allegations. I struggled with the decision to include him, but came away believing that sanitizing, revising, or omitting history represents its own kind of transgression that might one day leave me regretful. I expect there will be backlash for giving voice to a man who was a monster to so many. Those critics will be right. And, regrettably, so will I.
---
This article appears in the October 2015 issue of Charlotte Magazine
Did you like what you read here? Subscribe to Charlotte Magazine »
---