The Cost of Expensive Dirt in Charlotte
Land prices, especially near uptown, are forcing even some affluent homeowners to flee for 'the sticks'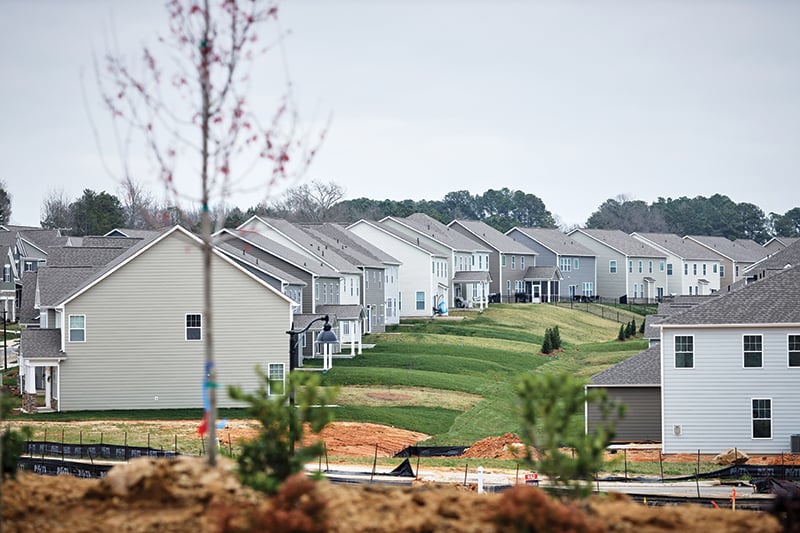 From the editor: We sent our April Real Estate issue to the printer two weeks before the first COVID-19 cases were reported in Mecklenburg County, so none of the stories in it specifically mentions the pandemic that's altered our lives so profoundly. It's impossible for any of us to know what the illness' spread and the resulting shutdown will mean for the economy in general or the real estate market in particular. But people will still need places to live and money to be able to live in them, and we encourage our readers to read our Real Estate package with that in mind.
---
EVERY MORNING since November, my wife and I have woken to the beeps of bulldozers in reverse and the cracks of clearing brush. Across the street from our condominium complex, built in 1965, crews are leveling four lots to make way for a new development. The general process has repeated itself over the past few years along this block, tucked behind Park Road Shopping Center, four miles south of uptown. This time, it's four houses built in the 1950s, to be replaced by 16 townhomes. Starting price for each: about $600,000.
It's a common scene in Charlotte's "close-in" neighborhoods, those that adjoin or are within a few miles of uptown. Investors snap up ranch-style and other houses from yesteryear's suburbs and in their place build custom homes twice their size or, where zoning allows, townhomes and apartments that seem to fill out every inch of once-expansive lawns.
From the perspective of this block, it's a happy story. The young couple bought that three-bedroom for $237,000 in 2014 and sold it to the developer for $465,000 last fall. They're certainly not complaining. "Don't mess this up for us," the woman told a neighbor who approached her with a petition in 2018, when word spread about The Drakeford Company's plan to ask the city to rezone the property. The neighbor feared tree loss and traffic increases. But opposition fizzled when developers noted the zoning in place allowed them to build the same number of units.
The developer sees enough upside in the acre to invest about $2 million in the land alone. Even the petition-wielders are quiet, having accepted the inevitability of the development, and soothed by the increased value of "comps" in the neighborhood should they decide to sell. The family of renters in one of the old houses on this block, where some older duplex units still rent for $950 per month in a city where the average rent tops $1,200, was likely less enthusiastic. But they're gone now.
***
IN A CITY with an acute affordable housing crisis, where 1,000 people wait in line at one new complex to apply for 129 subsidized apartments, where officials say there's a shortage of as many as 34,000 affordable housing units, the loss of a few average-cost rentals on an affluent block might not register as a serious issue.
What's happening here, though, reflects broader trends that ripple throughout the Charlotte region, reshaping where we live, how we get to work, and who our neighbors are. Continued population growth, disappearing developable land in Mecklenburg County, and tighter credit requirements have combined to restrict supply, leading many people with jobs in the city to stretch their budgets and commutes.
"The post-war ranch is getting extinct, especially anything on a half-acre lot," says realtor Jonathan Osman of Tryon Realty Partners. "A lot of those people are packing up and moving to the 'burbs."
With land prices in town rising, lots are often worth more than the homes that sit on them. The average price per acre in the Charlotte metropolitan area grew from around $195,000 in 2014 to more than $325,000 in 2018, according to a UNC Charlotte study published last year. To recoup the cost of expensive dirt, developers are going high-end. "You see spec builders who were selling at $600,000 three years ago at $800,000 now," Osman says. "It's the same product, just $200,000 more expensive. You can't develop anything in town for less than $800,000 today."
Stricter lending requirements for consumers and tougher investment standards from companies that finance development drive prices even higher, which erodes the stock of homes in neighborhoods like mine. "By not supplying homes in that $200,000-to-$400,000 range," says John Curry, who co-founded Spire Residential, "we're not providing opportunities for people to build equity."
The real estate finance company specializes in debt and equity financing for homebuilders to supply housing in the range he cites—market-rate but still affordable for median-income earners. A buyer who earns $55,300 per year—the median income for a single person in Charlotte, according to city housing data—with no other debt and good credit would qualify for, at most, about a $230,000 mortgage. Median home prices surpassed $270,000 in Mecklenburg County in December 2019, up 7 percent since 2018. That year, the UNCC study found that a family that earns $50,000 per year or less could afford less than 15 percent of the homes for sale in the Charlotte region.
***
IT'S NO WONDER, then, that towns and communities with abundant and relatively inexpensive land—like Indian Land and Fort Mill, Indian Trail and the city of Belmont—teem with new subdivisions. In 2011, as the economy was just beginning to recover from the recession, 68 percent of the region's population growth occurred in Mecklenburg County. By 2018, that trend had reversed: Only 36 percent of the region's population growth occurred in its core urban county, according to U.S. Census Bureau estimates. The fastest growth has come in York and Lancaster counties in South Carolina.
"My biggest surprise is that it's taken as long as it has for the exurbs to gain traction," Osman says. "You drive out to Gastonia, for the same costs, you pretty much own the town. In Rock Hill, every unit we're putting on the market, we're setting neighborhood records with it."
For once-rural towns like Lake Wylie, where home sales increased by 20 percent last year, growth pressure has hit a breaking point. Resistance to rapid growth swept new members onto the York County Council, which passed a moratorium on new rezoning petitions, townhomes, condos, and apartments through March 2021. Fort Mill and the Indian Land section of Lancaster County, which borders Ballantyne, have experimented with building moratoriums and impact fees in recent years.
Even with the attempts to restrain it, suburban growth is not likely to stop. But it adds one more impediment to new units in a region, and nation, where supply is already constrained. It would take only about seven weeks to sell all available homes in the Charlotte region, according to Canopy (formerly Charlotte Regional) Realtor Association data. Ultimately, economists say, adding density by building apartments and townhomes in place of single-family homes should help reduce housing costs throughout the region. Homeowners hesitate to sell in such a tight market because they're unlikely to find comparable homes in similar in-town neighborhoods, which leads experts to predict more sales of high-density townhomes—like the ones that will replace the ranch houses on my block.
"If you're selling at $400,000, even if you walk away with $300,000 cash, you're probably moving into a townhome in the city, or you're going over to one of the new neighborhoods like Lockwood" in quickly gentrifying North End, Osman says. Not long ago, buyers preferred detached houses to townhomes, which usually come with expensive homeowners association fees.
"It was almost like buying something $40,000 more expensive. There was always an equivalent single-family (home)," he says. "That's not true anymore."
Chuck McShane is a writer in Charlotte. Reach him at chuckmcshane@gmail.com or on Twitter: @chuckmcshane.