The Cost of News
DavidsonNews.net's valiant but failed struggle to survive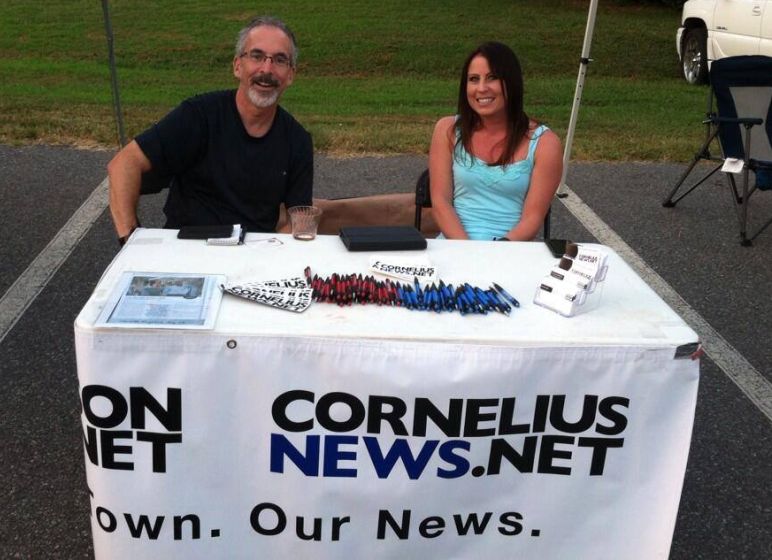 Since 2006, David Boraks, a 56-year-old career journalist, has run DavidsonNews.net, an online publication that covers community news in the Lake Norman area, out of his home office on South Street in Davidson. Over the years, he and any staff he's been able to assemble have written about land use issues in the rapidly growing area, the continuing controversy over toll roads on Interstate 77, town board meetings, crime news, rescued owls, high school valedictorians—what you'd expect and maybe even treasure from a small community newspaper, but designed to click and share rather than clip and mail.
Boraks announced through a column today that the site's run had ended. "Alas, we haven't turned it into a sustainable business," he wrote. "We're in debt, we're exhausted, and it's time to go." I and a lot of other journalists know the feeling. It's been more than five years now since the first huge bloodletting in the newspaper industry, and in the panicky days that followed, many of us considered the possibility of exactly what Boraks and his crew made work for nearly a decade—an online news source that focused either on top-notch community, or "hyperlocal," news, or devoted time and energy to in-depth and investigative reporting.
The theory, we thought, was sound enough. People still craved news. The trick would be to operate lean and provide readers with enough unique, high-quality product to attract sponsors and contributions. Look at public radio, we thought, and you see a workable model for all of journalism. (We tend to be avid NPR listeners.)
A hardy few have pulled it off. The rest have gone gut-up. That DavidsonNews.net (and its later companion site, CorneliusNews.net) survived as long as they did is a testament to Boraks' tenacity. But he leaves it with some hard-won lessons about the business of news and the meaning, in a market that increasingly lives online more than on the street, of community. You can cover the news with vigor, accuracy, and quality, but all the shares, page views and "buzz" in the world mean nothing unless you can translate them into cash in your pocket.
"People love it, but they love it in the way they love candy or chocolate," Boraks told me this morning. "When it comes time to pay for it, usually they choose something else."
Competing for the ad dollar
What ultimately sunk him, he said, was an inability to attract enough long-term advertisers in a surprisingly competitive market, with two weekly newspapers, two magazines, and a host of online platforms competing for the same ad dollars. Lake Norman continues to boom, so he thought initially that he had some rich veins to mine. He did, to a point, securing ad contracts with the Town of Davidson and businesses such as Brushy Mountain Outdoors, MSC Industrial Supply, and Flatiron Kitchen and Taphouse.
But Boraks never broke through to the coveted market of hospitals, car dealerships, and large retailers, the deep-pocketed community mainstays that newspapers have traditionally relied on as the spine of their ad portfolios. His ad revenue, which rose steadily for his first few years of operation, plateaued around 2012 and remained stuck there—a killer for a publication that relies on ad sales for 85 to 90 percent of its revenue. He had limited success even with small business owners, whom he thought might be eager to advertise in an expressly local publication.
"It's hard to persuade advertisers that there's value there. Small business owners are pressed for time and money, and if they can't get their brains around it, a lot of times it's easier to just go with what they think they know," he told me. "Google and Facebook are everywhere … It's been a hard thing to swallow, to go out to a local business and hear from them that they've never heard of us."
The shrinking niche
Part of the problem might be out of Boraks' or anyone else's control. Community news organizations tend to function best in places with strong senses of community built over generations, and Lake Norman is awash in newcomers from the Northeast who occupy subdivisions built last Tuesday. Of all the Lake Norman towns, Davidson has the strongest ties to place and history, but it's also a town of only 11,000. (DavidsonNews.net earns more readers per month from Cornelius, Charlotte, Huntersville, and Mooresville.)
Boraks tried a voluntary subscription service, in advance of what he imagined would be a paywall or other system of charging for content. But his subscription rate never rose above two percent of his readers. He didn't want to risk losing them by charging for stories—a conundrum familiar to anyone who's worked in newspapers at any level in the last decade.
Even with all of that, Boraks told me he's not sure he'd have done anything differently. Maybe he'd have hired a full-time ad salesperson earlier than 2013, but that would have been another expense. And given the continued rise of free online portals for ads and local news —such as Nextdoor, which amounts to an online community message board—he senses that the already tiny niche for publications like his is shrinking even more.
For now, Boraks will take a vacation with his family to Europe, the first long trip he's taken since he founded his site. He still works as a weekend announcer at WFAE in Charlotte, a job he plans to keep, and he's thinking about writing about food and wine, or both, and trying to capitalize on that. There's still the option of leaving journalism—there always is—but something in Boraks won't let him. "I'm still a journalist," he said, "and I can't seem to shake it."