The Court Report
An inside look at all the teams participating in the 2011 CIAA Tournament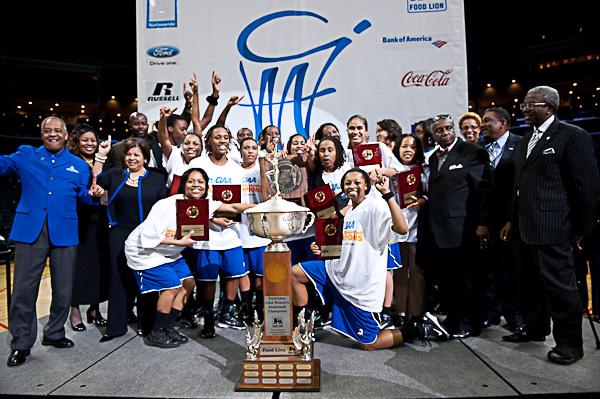 Alumni of these schools already know whom to root for. But if you're a casual fan or just want to size up the competition, here's a quick guide to the CIAA's men's and women's basketball teams and their key players.
Bowie State University Bulldogs
This Maryland school's name is pronounced "Boo-e State," but alumni expect only cheers. The men's team is strong this season, led by the stellar backcourt of Darren Clark and Eric Vann. The women's team is in the middle of the pack this season, but was the runner-up in last year's championship, so it has solid tournament experience. Plus, it's fun to watch six-foot-five-inch center Chanita Jordan block shots with ease.
bsubulldogs.com
Chowan University Hawks
Chowan has a history that dates back more than 160 years, but it's fairly new to the CIAA, joining the conference in 2009. The men's team is at the bottom of the conference, and the solid scoring and rebounding of forward Quinton McDuffie is one of the only bright spots this season. The women's team is faring a little better, but will need guard Ransheda Jennings to help it turn it up come tournament time.
gocuhawks.com
Elizabeth City State University Vikings
Touted for their high student-athlete graduation rate, these Vikings know their way around the court as well. The men were the runner-ups in the CIAA Tournament Championship last year, and forward Rondy Tucker converts rebounds into points. Senior forward Kenyatta Gill is the leading scorer on the women's team, which is a strong contender this season.
ecsuvikings.com
Fayetteville State University Broncos
Hailing from a military town, this school knows about combat. The men's team has been flirting with a .500 record all season, and has an evenly spread offense with four players averaging double figures. The women's team is the defending CIAA Tournament champion, but is struggling this season. Senior center Tiffany Haywood, who averages a double-double, could rally the troops come March.
fsubroncos.com
Johnson C. Smith University Golden Bulls
With its campus located five minutes from Time Warner Cable Arena, where the CIAA Tournament is held, JCSU certainly has home-court advantage. Sophomore guard Trevin Parks is one of the CIAA's leading scorers, and his team has been playing well this season. On the women's side, the team has had the best record in the conference most of the season, led by junior guard LaQwesha Gamble's double-double average in points and rebounds.
goldenbullsports.com
Lincoln University Lions
This Pennsylvania school, the CIAA's northernmost campus, touts prestigious alumni such as Langston Hughes and Thurgood Marshall. On the court, the men's team garnered national attention a few years ago when it scored 201 points in a single game. This season, its record has the team at the bottom of the CIAA, but junior guard Denzel Mooney is one of the conference's leading scorers. The women's team is having an equally poor season, but has three players averaging double figures.
lulions.com
Livingstone College Blue Bears
W.E.B. DuBois once referred to this school as the "Harvard of the South," which is an awesome reference in academics (athletics, not so much). The men's team has put together a pretty good campaign this season, led by the scoring of forwards Nasir Austin and Darius Cox. The women's team is doing well also, with guards Rashida Elbourne and Brittany Wright making a nice combination.
bluebearathletics.com
Saint Augustine's College
With an athletics program that's known for producing exceptional track and field teams, this Raleigh school has fast times on the court as well. The men's team won the CIAA Tournament last year, but this season hasn't been anything to write home about. Guard Joel Kindred is excelling as a freshman. Meanwhile, the women's team is strong this season, led by Le'Kiesha White and Allison Sikes, seniors who have a knack for finding the hoop.  
saintaugfalcons.com
Saint Paul's College Tigers
This Virginia school is the smallest in the CIAA, so some of the other schools in the conference seem huge in comparison. But where they lack size they make up with heart (Virginia is for lovers). The men's and women's teams are having a tough go at it this year, but we welcome them to Charlotte all the same.
saintpauls.edu
Shaw University Bears
As the larger of Raleigh's two CIAA schools, Shaw has racked up several championships across multiple sports. The men's basketball team is strong this year, and leading scorer Raheem Smith is trying to get a ring in his final season. The women's team won five tournament championships in the past decade, and could be a contender in this year's tourney, led by the scoring and rebounding of junior forward Kyria Buford.
shawbears.com
Virginia State University Trojans
With numerous notable alumni that include professional athletes and musicians, as well as Reginald F. Lewis (the first African-American to build a billion-dollar business), there's a lot of Trojan pride to be found. The men's team got off to one of its worst starts, however, leading to a midseason head coaching change. The women's team, on the other hand, has been playing well, thanks to the play of senior guard Rhon'Neisha Taylor, who leads the team in points, rebounds, and steals.
vsu.edu
Virginia Union University Panthers
There's a lot of history at this school, which was formed by combining two colleges that were founded at the end of the Civil War. The current head men's basketball coach spent more than 20 years as an assistant to the previous coach, who led the team for 30 years. This year's squad is better than average, and has a weapon in three-point threat Braxton Byerson. The women's team, unfortunately, is looking forward to this season being history.
vuusports.com
Winston-Salem State University Rams
After moving up to NCAA Division I to compete in the MEAC for three years, WSSU returned to the CIAA, its longtime home, for the 2010-11 season. The men's team is a definite contender, led by senior forwards Shelton Carter and Paul Davis. The women's team, with young, first-year head coach Stephen Joyner Jr. (son of the JCSU's men's head coach), will be a force come tournament time. The team has exceptional guard play with Courtney Medley and Jasmine Newkirk.
wssurams.com
 
Visit www.charlottemagazine.com/ciaa for our comprehensive coverage of the events and parties surrounding the 2011 CIAA Tournament.