The Craftsman: Master Violin Luthier Kurt Widenhouse
In his Belmont workshop, he creates instruments for musicians around the world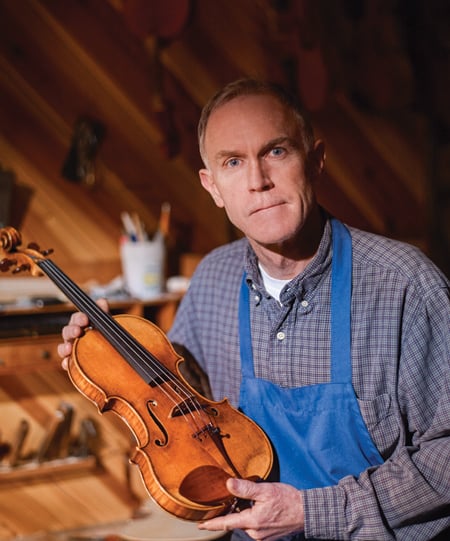 KURT WIDENHOUSE doesn't like to throw away good tools, so his workshop in Belmont is full of knives and scrapers crafted when he was a 23-year-old violin-making student in Salt Lake City. His dog, Pepper, is curled up in a chair by the workbench. Cords of silvery Bosnian maple lie on the shelf, and a dusty CD player surrounded by Bach albums sits in the corner.
Widenhouse is working on thinning the back of his latest violin, shaving the wood to within a tenth of a millimeter. He estimates that each of his violins requires two months of work. Over the course of his 34-year career, he has made roughly 250 instruments, some for clients in Italy, France, and Russia that sold for more than $10,000 apiece. Some were for maestros such as Alexandre Brussilovsky, a Ukrainian expatriate who has performed at Carnegie Hall, and Aaron Rosand, a Romantic violinist who taught at the Curtis Institute of Music. Others were for Charlotte musicians such as Martha Koljonen. Here, he talks about the style of the great Stradivarius, the scariest commission he's ever received, and why a wheelbarrow makes a good tanning bed for a violin.
Which of your violins gives you the most pride?
I was probably proudest of the first violin I sold to a professional player in Charlotte. Martha Koljonen [of the Charlotte Symphony] was one of the first violinists to have the confidence to buy an instrument from a local yokel. When she bought one, that gave people the confidence to say, "Hey, maybe this guy is pretty good."
What was the most difficult commission you have been given?
I made a copy of a violin for Aaron Rosand seven or eight years ago to replace his Guarneri [a violin made in 1741]. The instrument turned out well and enabled him to be willing to release his Guarneri, which was one of the most famous instruments in the world. [In 2009, Rosand sold the original Guarneri for what was then the highest price ever paid for a violin: $10 million.] That was a very hard instrument to make. I kept it in my shop for more than a year before I sent it to him. I'd like to say making a violin is fun, but that was not fun; it was tedious and frightful. He had a lifelong history with that violin, and he had made hundreds of recordings on it. It was scary to have him say, "Hey, make me an instrument. I'd like it to be just like my 1741 Guarneri."
What is unique about your approach to making violins?
The arches are the face of the violin, and they're really the most unique and personal characteristic. I try to copy the archings of Guarneri and Stradivarius. On first sight, they look very simple. After you spend about 30 years studying them, you learn that they're both simple and complex, and they're really not easy to master. It's a challenge every single time you make a violin, getting the arches in the classic Italian standard. And you want to get it right, because someone's going to try to make a living using the tool you made.
What is the scariest part of making a violin?
When you put a bow on it for the first time, when you hear it and sense whether or not it's going to have a good voice.
How do you get the color of your violins?
I let the wood oxidize by putting them out for three months in the sun in a wheelbarrow in the backyard. Essentially you're just putting them in a tanning bed. You just have to be careful not to leave them out overnight, because the dew in summer is unbelievably destructive.
What advice would you give a young person aspiring to become a violin luthier?
To my surprise, it's a viable career. A person can sustain a living, but if you don't have almost endless hours to pursue it, it's going to be hard to be successful. I spent many years working 14-hour days, living in self-doubt that I'd ever make anything good enough to be successful. In a way, I think if you don't have the self-doubt, you probably will never dig deep enough to be successful.