The Cult of Curry
In his first year in the NBA, Davidson hero Stephen Curry has spawned one of the most rabid and unlikely fan followings in professional sports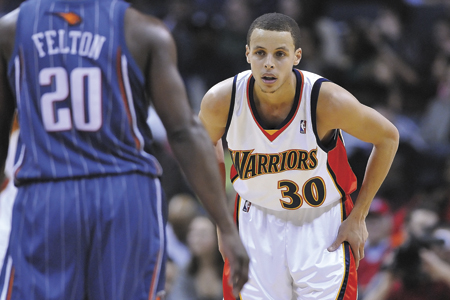 Golden State Warriors point guard Stephen Curry began dribbling down the court. It was early in the first quarter of a March 6 game against the Bobcats, the first time he'd touched the ball, and from the moment it reached his hands, it seemed, the entire arena erupted in shouts and applause.
Curry is having a sensational rookie season with stats (16 points per game, 5.5 assists) that so far put his debut among the best in NBA history, and the good-natured kid is already a fan favorite in Oakland. On this night, though, he was playing in Charlotte.
"They were cheering just because I was on the floor, and it was pretty loud," Curry said later. "It felt like a home game." Curry saw Warriors gold and Davidson red throughout the stands. The son of former Hornets favorite Dell, Curry grew up in Charlotte. In 2008 he led tiny Davidson, just thirty miles north but since its 1960s heyday never more than an afterthought in ACC country, into the center of the college basketball spotlight.
The next season the team came back to Earth, Curry left early for the NBA, and from the Warriors' first road trip he noticed the patches of red in the crowd and heard the Davidson chants. His reception at the game against the Bobcats wasn't just a warm welcome home, or fans from a small program keeping up with their new NBA star. Charlotte is the seat of a rabid contingent of Davidson fans that has sprung up across the country — a cult of Curry.
Each morning over breakfast or inside cubicles, people boot up their computers and religiously check his box scores. In driveways late at night, they sit in cars to listen to his games live via satellite radio. Many who have never paid the NBA any mind at all fork over for expensive TV pack- ages just to watch him. And they flock to away games to cheer for him, and him alone. In Time Warner Cable Arena, the Curry cheers became so loud and persistent that by the end Bobcats fans were booing him.
This is an odd development in a state where programs like Duke and North Carolina regularly dominate headlines and send stars to the NBA. It could only take place when an attention-starved fan base stuck for decades in the shadows of the ACC titans — and forever, it seemed, within a last-second shot or late-game run of emerging from them — suddenly sees its lone modern basketball star turn into one of the hottest stories in sports. At the Bobcats game, a Davidson alum who is now a medical student at Chapel Hill captured the hysteria with his ensemble.
He sat in a block of sixty seats purchased by a contingent of Curry faithful in section 221 and had a bright gold Warriors warm-up over a red Davidson tee. Beneath that was yet another shirt, white, also Davidson. On the back of that shirt, looking like one of those melodramatic, messianic paintings of Barack Obama, was an image of Curry.
Witness.
I was walking down Tryon when I realized that I, too, had become a member of the cult. It was a few hours before tipoff, and I wore a red Davidson tee that in big, white letters across the chest displayed a word I'd never thought about until a little old lady with frazzled hair stopped me.
"Who are you a witness for?" she asked, and the answer she wanted was obvious.
I told her the truth. "Stephen Curry." The shirt is a relic of the hype that surrounded Davidson's 2008 run, when the team came within a missed three-pointer of the NCAA Final Four and in the process multiplied the amount of success and exposure the program has ever had by some unknowable exponent. Dell had the prototypes made for students at the tournament, a spinoff of Nike's campaign for LeBron James (who had himself become a big Curry fan), and soon Nike had batches for the school to sell.
I graduated from Davidson in 2006 and lived in Charlotte during the run. Then I moved away, and after returning in February something struck me as funny: Davidson fans throughout the city obsessively following the Warriors, one of the NBA's more hapless teams.

In the buildup to the draft, Curry had been small-school slighted, hitting a sore spot for many Davidson fans. Now that he was being fawned over by every sports page and show in the land, it was like the gates of Rome had finally been opened and the fans were running amok inside, not quite believing they were there and savoring every minute. They stayed up late to catch the games live on West Coast time. When television commentators discussed Curry, they turned up the volume: "Yo! They're talking about Steph!" They knew the names and even tendencies of players such as Andris Biedrins. They despised star shooting guard Monta Ellis, who on the first day of practice told reporters he couldn't play with Curry. ("I love it! They're not even mentioning Ellis tonight.") One even procrastinated at work by clicking Charlotte Observer links relating only to Curry, sometimes repeatedly, in an attempt to inflate the demand for Curry content.
Another distributed unsolicited shirts he made online: Curry on the back, pounding his chest in a Davidson Wildcats jersey, "All Things" on the front. On the buzzing message board DavidsonCats.com, since July there have been more than 1,600 posts in a new forum titled "Cats in the Pros," who are really just Curry.
Now the Curry faithful were busy preparing for his return. At Nix in uptown, about fifty Davidson alumni, who would soon be packed together in section 221, were gathered for the strange pre-game scene. There were Curry Warriors jerseys, Curry Davidson jerseys, even a Curry New York Knicks jersey, but not a shade of Bob- cats orange or blue in sight. And though the Southern Conference tournament was in town, Davidson's basketball team, which had already been eliminated, was far from everyone's mind.
It was all about Curry.
Before Curry there was Brandon Williams.
From the start Williams was a unique recruit. Called "Ozone" for his prowess above the rim, he'd drawn interest from top programs, but when he arrived at Davidson in 1992 it was far from a respected basketball school. Coach Bob McKillop's record in his first three years stood at 25-60. None of the other coaches had made Williams feel like a priority, though, and McKillop sent handwritten notes.
With Williams's talent and potential came something new. He thought he could play in the NBA.
"For coach I was the first guy to go through that," Williams says. "I was the first guy to say I wanted to go to the NBA and legitimately have a chance."
The blueprint for getting there mirrored the one for growing the program — get better, sure, but also increase the team's exposure, so people would notice. In Williams's second season Davidson beat Clemson and N.C. State. His senior year, when the team went 25-5, Williams remembers an exciting development: commentators were mentioning Davidson, if only in passing. In the years that followed Davidson would regularly play teams like Duke and UNC, almost always losing, but occasionally faring well enough to gain more attention.
After college Williams, who is now the NBA's director of basketball operations, eventually made his way onto an NBA roster. He played sparingly over three seasons. He'd get letters and notes from Davidson fans, and during his only trip to Charlotte, with the Warriors in 1997, he was surprised by how many people showed up just to shake his hand.
Other than that, most people still had no idea what Davidson was.
"They're like, 'What?' Denison, Dickinson — it gets confusing," Williams says.
Then Curry came, people started tailgating for games at Belk Arena, and as Davidson drove deeper into March Madness, fans from everywhere started singing along to its trademark "Sweet Caroline" chant in the stands.
"And then for this period of time, everybody knew where it was," Williams says. "Everybody knew what it was. It became synonymous with Stephen. And that's all right."
Growing up in Charlotte, Curry didn't know much about Davidson himself, though it was just up Interstate 77 from home. He'd watched a couple of games on local television and played baseball with one of McKillop's sons, but other than that his main impression was of what Davidson wasn't: one of those big schools in the ACC. But none of those big schools offered him a scholarship, and Davidson did.
As a college freshman, he faced that same confusion whenever he left the area.
"All the time they didn't know what Davidson was. It's thirty minutes north of Charlotte — that was my go-to answer," he told me. "What state? What conference? We were just off the radar completely."
That year, after Davidson played Maryland close in the NCAA tournament thanks to Curry's heroics, he noticed that people were starting to pay attention. The next year, during the Elite Eight run, many of the things Curry — and that obsessive contingent of Davidson fans—could want people to know about the school were being broadcast live to a huge national audience: the closeness of the community, the academics and workload, the free laundry.
"You could tell that we were a different community at Davidson, compared to the other teams that were there," Curry says. "When everybody turned on the TV, there was something different, something special. From then on nobody really had to ask where Davidson was anymore."
That has happened, in large part, because the hype has since continued, just about every time Curry steps onto the court, from his junior season at Davidson to the game against the Bobcats.
Peter Wagner's first year as director of the Davidson alumni office coincided with Curry's freshman season, and his time in the post has been defined by what he calls "Stephen mania." The hype grew larger every year, the spotlight bigger, things crazier and more suffocating. He didn't know whether it would — or should — continue.
"To tell you the truth, we were a little bit hesitant about jumping in with both feet," he says, adding that his first priority is the school's current players.
He was also unsure what, if any, response alumni would have to Curry's new job with the Warriors.
But as the NBA season got underway and the Warriors hit the road, the requests started coming to Wagner's office. He began organizing alumni events around Warriors road games in big NBA cities — 200 people in New York, 100 in Denver, 300 in Atlanta. Like a lot of fans, he's even been catching the games on TV, and every morning he checks the Internet for Curry's box score.

What are people getting from watching Curry in a Warriors uniform?
"There's a piece of him in us, and there's a piece of us in him," Wagner says. "There are at least a thousand things you want to tell people about Davidson. And he helped us tell that story. He still does."
At the pre-Game event at Nix, rumor had it the stands would be full of similar pockets of fans. The official alumni tailgate at the EpiCentre's Strike City was packed. People had even been able to purchase discounted tickets through the Davidson Web site.
"Twenty months ago I didn't know who Monta Ellis was," said North Moore, who organized the pre-game and the block of sixty seats in section 221. "Now I know more players on the Warriors than the Bobcats. I've watched more NBA games this year than I have my entire life."
Out of the crowd and onto a stool stepped Patrick Mincey, a Pinehurst lawyer from the class of 2003. He silenced the room, which contained just as many people with no idea what was happening as it did Curry fans, and announced that he had two things to say. First, he thanked Moore for putting the whole thing together. And second? He paused. Then he shouted.
"Dayyy-viddd-sonnn!" Section 221 replied: "Day-vid-son!" Mincey is well known in this particular circle of Davidson fans for founding the Boris Meno Fan Club, to which many of them belong. When it started in 2004 Meno was a promising recruit. From the start, though, the six-foot-eight Frenchman's game was defined by heart and hustle, along with clumsy post moves, why'd-he-shoot-that-three-point attempts, and untimely hard fouls.
The BMFC offers as good a window as any into the pathos of pre-Curry Davidson fandom — a grudging and darkly comic embrace of obscurity, combined with a burning desire for success and attention. It probably comes from being constantly, painstakingly close to the college basketball big time but never quite getting there, stuck in mid-major purgatory, always toiling at the fringes of the mainstream. At the club's inception the team was in the midst of a pretty good run. Three years prior it had nearly upset Ohio State in the first round of the NCAA tournament, where a win is required for a spot in the national conversation, and where one hadn't come for Davidson since 1969. It had one of the best players in the conference in shooting guard Brendan Winters, and there was hope. Students packed into hotel rooms in Charleston and even Chattanooga for conference tournaments, hoping for the title and, more importantly, the automatic invite to March Madness. E-mail chains circulated whenever Coach Bob McKillop was on television. If the team was mentioned on a sports program, word got out, and people scrambled to catch reruns and enjoy the fleeting rush of hearing the word "Davidson" uttered before a national audience. In 2006, the year before Curry arrived, Winters led the team to yet another close Ohio State loss in the NCAA tournament. Always the valiant but doomed effort, and as the closing seconds ticked away we clung to those last bits of spotlight.
Sitting there in my "Witness" shirt during the pre-game party at Nix, that old familiar big-game rush settled in, which seemed odd considering I was going to a Bobcats game and didn't give a damn who won. Later I took my seat in section 221 and homed in on Curry as he went through warm-ups.
The game was a letdown — boring, quiet, and far from a sellout. But there was red and gold throughout the arena. "Let's go, Steph!" Mincey screamed, over and over, before the game had even started. Old familiar chants took hold. McKillop sat courtside with the Davidson brass, and just before the tip Curry gave him a hug.
The national anthem played, the cameras began rolling, and I was sure the commentators were seeing the fans in the stands and talking about Steph. Curry took the ball down the floor, and I cheered along with section 221 and what from there seemed like everyone else in the place.
Freelance writer Mike Giglio profiled mixed martial arts fighter Rodney Wallace for the April issue of this magazine.