The Custom Gown
For brides having a hard time saying "yes" to the dress, a custom, one-of-a-kind gown might just be the perfect fit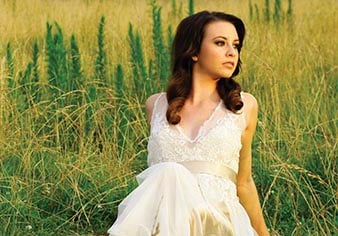 Erin Gray Cantrell; Hair/Makeup: Susan Gramling Artistry
An RCB Fashion custom gown by Erin Bohanon, styled and photographed to give brides an idea of gown shapes and fabric combinations.
It's one of your most important wedding decisions (aside from choosing your mate): What will you wear down the aisle? Whether it's the height of haute couture for a big-city 'do, a sentimental stunner for a hometown chapel, or a gossamer gown for a beachside vow exchange, the search is on for something special.
But what happens if what you've dreamed up can't be found at a bridal boutique or if something you adore doesn't suit? That's where Erin Bohanon comes in.
Considering Custom
Bohanon creates bridal glamour at her new studio in NoDa through RCB Fashion, her clothing design company. Although she graduated with fashion design and marketing degrees from American InterContinental University in Atlanta, she took a step away from fashion to do pattern-making for uniforms before launching her line and designing custom garments. Even then, she was intimidated by working with brides.
"Initially, I was absolutely frightened and never wanted to touch wedding dresses," she laughs. But once she dipped her toes in, there was no looking back. "I took a leap one time when someone had a very basic [gown]," she says. Today Bohanon creates upwards of 100 bridal gowns a year—split between her own custom clients and contract work with larger bridal companies to create store samples.
Although many clients come to her through word of mouth, brides from abroad also seek out Bohanon, thanks to her online presence at rcbfashion.com—and she's found that brides-to-be from near and far have the same shopping shocks. "I think a lot of brides have something in their head, and what they're finding in the store is just not for them," she says. Beyond requests for specific silhouettes and detailing, Bohanon also knows that sizing can make or break a style. "Every person's body shape is different, and it's hard for a lot of people to buy off the rack because they may be a size 4 on top and a 14 on the bottom," she says. "Even if you initially bought something off the rack, the alterations are going to completely change the dress."
The Process
Working with a custom designer is straightforward: Arm yourself with photos and sketches, and have some try-on sessions under your belt. "Most brides have a pretty concrete idea of what they want, but I always stress that they try dresses on," Bohanon says. "You may love something on somebody else, but you put it on your own shape and it just doesn't work."
Bohanon says that often, brides have bodices they prefer from one dress, a skirt or a sleeve from another, and even textural elements they want to combine for a custom gown. "I typically have brides email me either photos or a rough idea and I can at least give them a ballpark quote for labor," she says. Once you've settled on an idea, Bohanon can guide you through fabric and supply options for finishing touches.
While the search for "the dress" can send a bride into a fashion frenzy, Bohanon says she often finds herself playing against type. "I always tell brides I want to be the easiest part of their process. Everyone else stresses them out—deadline this, pay this, do this. I find a lot of the times I'm the mediator, the person calming a bride down."
Though her standard timeline is about six months, Bohanon has whipped up a dress in a couple of days for brides in a pinch—like those with online orders that have gone very wrong. If your big day is also a goal line for a new diet or workout program, Bohanon can coordinate and hold off on the construction of your dress until about two months out—settling on a design and fabrics in the meantime.
Saying Yes
Wondering whether custom might be compatible with your plans? There are some details that may sway: "One thing I tell brides is they can somewhat create the price of their dress," Bohanon says. "I don't ever quote with fabric because [a bride] can choose something that's six dollars a yard or choose something that's sixty dollars a yard. So I quote a labor fee, which includes all fittings, all alterations, everything from start to finish, and then [brides] have the fabric costs added on top of that." Labor starts around $500 for a simple, straightforward design; with labor and fabric costs, gowns typically start around $700. Unlike off-the-rack gowns, there are no additional alterations fees, since a custom gown is made for a perfect fit.
Bohanon says she's constantly learning new techniques to rise to style challenges too. "A lot of the times, a bride will give me a picture and I'm like, 'Hmmm, I'm not quite sure how to do this, but I'll figure it out.' And it's sitting with a mannequin, draping fabric until you figure out exactly what the little folded shape is that they have all over the skirt. I'm honing my skills all the time."
So while your dress is one-of-a-kind, Bohanon's pride in creation is a guarantee—whether you opt for a slimming sheath, vintage-inspired embroidery, or an impeccable princess gown. And your big-day dreams might help Bohanon settle on hers—the newly engaged dress designer walks down the aisle next year.
---
Margaret Pilarski is a writer, editor, runner, and expert-level bridesmaid in Charleston, South Carolina.