The Dark Thoughts of David Joy
Charlotte-born author discusses his first novel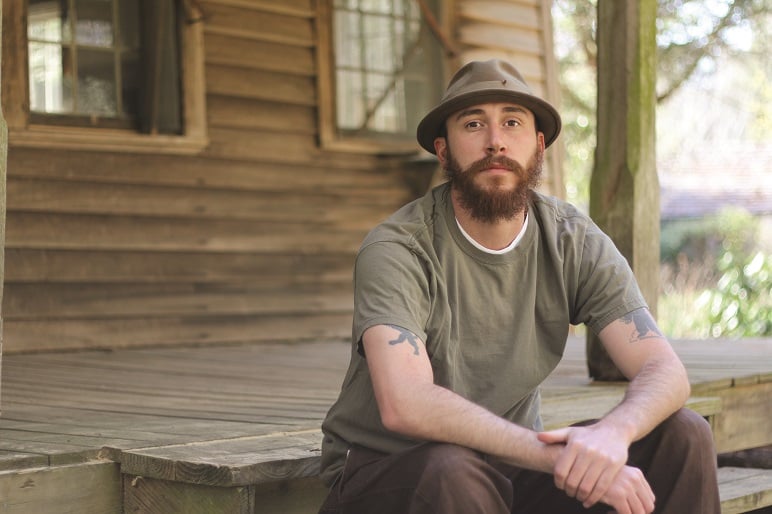 WHEN DAVID JOY graduated from Harding University High School in 2002, he thought he might move to the beach and become a marine biologist. Instead, he went to Western Carolina University, where he fell in love with the mountains and found a mentor in one of the state's best writers, Ron Rash. In early 2014, Joy landed his first major contract, a two-book deal with G.P. Putnam's Sons, an imprint of Penguin. His first novel, Where All Light Tends to Go, is a dark, haunting tale of a young man growing up with a savage father in the mountains. In the end, the only positive thing that comes from the book is a clear understanding that Joy has the writing ability to become one of North Carolina's next great authors. In mid-May, he spent a weekend speaking at a literary conference alongside giants Rick Bragg and Pat Conroy. He still lives in the mountains in Webster, and he has no plans to come home.
Recently, the Charlotte native with a thick Southern accent sat down for lunch with Charlotte magazine at Tupelo Honey. He talked about why he left Charlotte, what he thinks of it now, and how he writes about such dark places.
David Joy: That's my favorite sandwich in the world right there. The spinach, mushroom, and roasted red pepper Havarti melt. I'm a vegetarian, have been since 2012 or so.
Charlotte magazine: That was just before you wrote Where All Light Tends to Go. You'd just turned vegetarian?
DJ: Yeah, I'm starting to mix meat back in. I'd have been 28 when I turned vegetarian around August, turned 29 that December, wrote that book January to March.
CM: There's so much about you that contradicts the book you write. There sure as hell aren't any vegetarians in that book. You're a nice guy. You were raised by good parents. Where does all this darkness come from?
DJ: I'm a very depressed person. Kind of manically so. But a lot of it is, it's kind of what I've paid attention to. And where I grew up, I mean I grew up in a great family, but where I went to school, it was rough.
CM: Where'd you go to school?
DJ: Tuckaseegee Elementary School, Spaugh Middle, and then I went to Harding. I was robbed at gunpoint in eighth grade at Spaugh. The first time I saw drugs, I was at Tuckaseegee Elementary School.
CM: When did you find someone who could help you write?
DJ: I was really interested in rap music, and to this day I am. Language-wise, I'm fascinated by it. Especially Wu-Tang Clan. I was working with this professor on an independent study, trying to argue for the canonization of hip-hop. [Meanwhile] I had this other short story I'd written called "The Legend of Willie Simmons and the Uncatchable Fish." I wanted someone to read it. I handed it to [my independent study teacher] and she said, "That's not what I do. But I'll introduce you to somebody who can help you." And she took me next door and introduced me to Ron Rash. Ron was the first person to really read anything I wrote. He read my story, told me what he thought, and we wound up just becoming friends, talking about fishing.
CM: You obviously care about learning from the men in your life. And your book's about these men and their problems, yet Cosmopolitan recommended it.
DJ: I think it's a sad thing in American culture that the majority of readers are women. But this book was recommended by Penthouse, too, so I guess that covers the male audience.
CM: Do you have a reader in mind?
DJ: Myself. I write the book that I want to read.
CM: Does what you write about make you more depressed, or does it help you get through the depression?
DJ: I was writing that book, I can remember walking into walls. My mind was so enveloped into what I was doing that I literally couldn't see what was in front of me. I can remember when I finished that book, calling my sister, and saying, "It's going to take me a long time to get out of the darkness I created."
CM: What would you be doing if you weren't doing this?
DJ: When I wrote that book, I was working two jobs. I'd get up at 6:30 and I'd go to my first job running a historical society. I'd get off that and I'd go sit at the front desk of a rec center. And I'd write in those hours between. I did that for three months. I was getting two, three hours of sleep a night. But looking back, when I was at my happiest I was working in a warehouse. I was working for Pepsi, driving a forklift.
CM: Do you ever think you'll write about Charlotte?
DJ: Probably not.
CM: Why not?
DJ: My family's been here since the 1700s, around the Charlotte area, furthest away would be Hickory. So the Charlotte that I remember and the Charlotte that I grew up hearing stories about doesn't exist anymore.
CM: Why'd you connect so well with the mountain people?
DJ: They're identical to my grandmother. This is actually my father's aunt, who raised him. It was his dad's sister. [Dad's] father was an alcoholic, and his mother had her own things. And so he was raised by his aunt. And to this date, she's the best storyteller I've ever heard. She grew up when it was all cotton farms. Her stories are about Morris Chapel, Steele Creek, Paw Creek, back when it was nothing but cotton farms. That's always been what I listened to. When all of that seemed to disappear quickly here, I went to the mountains, and it's everywhere there. … Story matters there.
CM: What do you think matters here?
DJ: Instant gratification. It's having something to do, right then. Nobody sits. Another thing that happens in cities that doesn't necessarily happen in rural areas is that we move our elderly into facilities. In rural areas, there's no means to do that or facilities. So we can't do that. But if you want to find the storytellers, that's where you should go in Charlotte. You should go to the nursing home and sit there and listen.
CM: Where does a nice guy like you get to hear these terrible stories that wind up in your book?
DJ: The book is dedicated to three men. One's been a fire chief for 30 years. One worked in the sheriff's office for 25 years. And one was an assistant fire chief. These three older men, I'd sit and listen to them. And I sat yesterday with one of them, and somehow we wound up on a story about a guy being really in debt to a methamphetamine dealer. And the guy's dad went to the bank and got out $10,000, drove to the house with a shotgun in his lap, to go buy his son's life back. Those are the stories I hear.
In fire departments you hear stories. That's where I drank coffee every morning. And I just sat there and listened. Nowadays, one of them passed away, and our whole group fell apart. That book is dedicated to them. Rudy, Cecil, and Clyde. I've always connected more with older people.
CM: You're technically a Millennial. And this is the generation that does all the things that you don't like. How are you different?
DJ: I don't think about me. At the events, I tell people, I'm not a salesman. I'm not going to stand up here and convince you to buy my book. If they want to read it, great. But if not, then great.
When the Internet took off, all of a sudden every person on the planet had a say. The reality is, most people don't need a say. I don't know. I'm extremely out of touch with people my age. That's partly why I'm single, partly why I have very few friends. The things that interest them don't interest me at all.
CM: What are you going to do when the only people around are the people who are your age or younger?
DJ: I always tell people that I'd prefer to pass away early. You watch these people who live their whole lives, and then at the end they watch everybody that they've known and loved died. And they've watched the world they loved turn into something unrecognizable. To me that's not a happy place.
CM: Tell me about flying to New York and going to the publishing house for the first time to sign your book contract. When was that?
DJ: March 2014. And I'd never been on an airplane. I've never even really been out of North Carolina. People made it just sound like you jump on an airplane and go. I told them I needed my sister to come with me. I got [to the Penguin Press offices], and they didn't want to let me in. [Editor's note: He was wearing jeans, a T-shirt, hat, and boots.] The receptionist people, they thought I was a vagrant or something. … I was in New York City for about five hours. And I was out. Woke up that day on my parents' couch with a beagle. And went to bed that night on the same couch with the same beagle.
CM: You'd never been on a plane before then. How many times have you been on a plane since?
DJ: I have no idea. … When the book came out in March, it was 18 cities and 19 days.
CM: What'd you do when you got home from that 18-city tour?
DJ: I was driving home on [Interstate] 40. And when you top this hill somewhere around Morganton, you can see mountains for the first time. And as soon as I did, I just pulled over, hopped out, and laid on the ground. It's hard to even explain the connection I feel to that place. Nothing else feels right. At all.
CM: Are you connected to the place or the people?
DJ: Both.
CM: What comes first?
DJ: Originally place did. But at this point, they've become inseparable. That's part of why I stay there, because in Appalachia the two are inseparable, and I don't know if it's like that elsewhere. The thing that matters in a place like Charlotte is people. The landscape's gone.
CM: There are a lot of people who say, "I love Charlotte" all the time, though.
DJ: When Byrum's General Store went out of business, I drove down from the mountains to go there one last time. That general store had been there since the 1800s. My grandmother told me stories about that, and she was born in 1918. And I came back for one last hot dog. Places like Green's hot dogs downtown, or Price's Chicken Coop, those are the places that still matter to me. But those places mattered before they were kitschy. Nowadays someone would go to Price's Chicken Coop because they saw it on The Food Network or something. Some of my earliest memories are of going there. Quarter-chicken white. You walk up and you say, "Quarter-chicken white." And it's the disappearance of those things that worries me.
CM: What's the tattoo on your arm?
DJ: It's of Charlotte's skyline from the west side of town. It says, "Rather die for a cause than to die just because." I'm proud of where I'm from. It's just, the place I'm from doesn't exist anymore.