The Delegate Parties: An Inside Look
From cloggers and temporary tattoos to mid-century modern, event planners and venues are going all out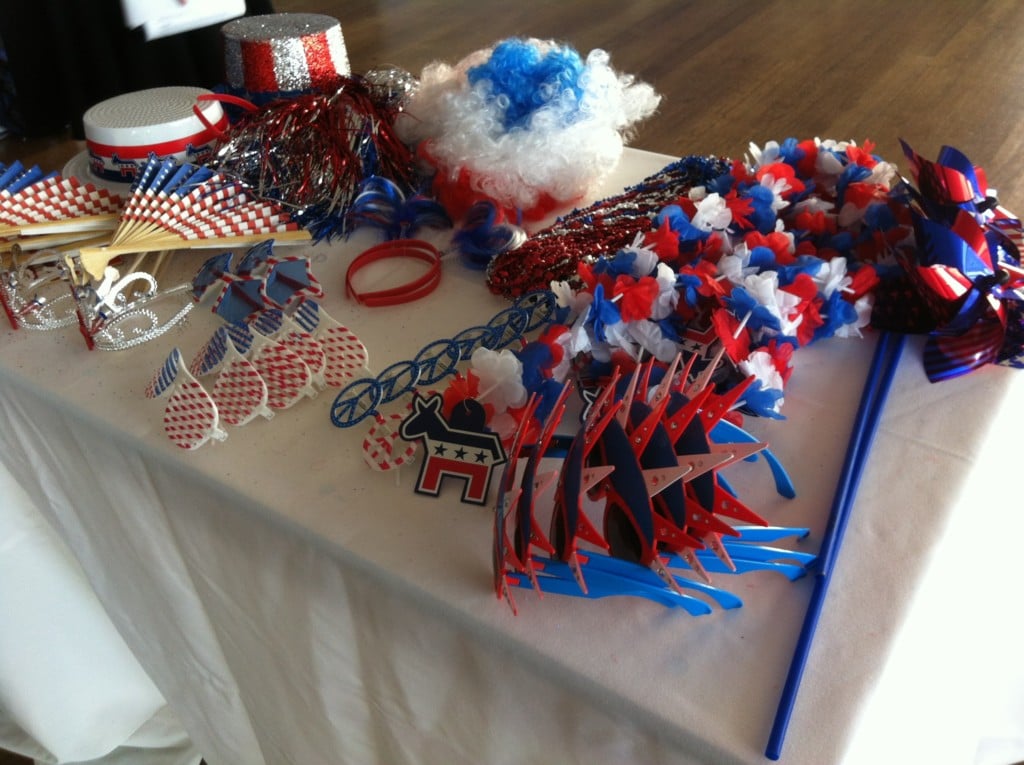 Delegates are partying all over the greater Charlotte area tonight, from the NASCAR Hall of Fame to the Carolina Raptor Center in Huntersville.
At the Mint Museum Uptown, it's an all-American theme from party planners Anne Markey of Favor Me Events and Michael Pazyniak of Lighthouse Creative Works. A red, white, and blue backdrop offers a red carpet effect, complete with photo booths from Shutterbooth and a host of patriotic props, including party beads, feathery headbands, pinwheels, and more.
Delegates will be welcomed by Mayor Foxx and Gov. Bev Purdue. The attendees—who have come to Charlotte from Illinois, Delaware, Hawaii, Pennsylvania, and Ohio—will also get to show their patriotism with a temporary tattoos station. The food is by La Tea Da's, including items such as the Hornets Nest BBQ Bar (featuring pulled pork sliders with Abbott Farm peach chutney), mini chicken and waffle cones with chipotle butter and vanilla bourbon maple syrup, golden ham biscuits, and pimento cheese paired with sweet potato crackers from Polka Dot Bake Shop. The specialty cocktail of the night? Apple pie midnight moonshine with cran-apple juice and a splash of ginger ale.
The evening's entertainment carries on the all-American theme with a performance by Cheer Extreme, the West Charlotte Marching Band, and the Sims Country Cloggers, who will perform together to exactly the music you might expect: a mashup of the Black Eyed Peas' "I Gotta Feeling" and Lady Gaga's "The Edge of Glory." (Below, the West Charlotte Marching Band greets delegates at the entrance to the museum.)
Meanwhile, next door at the Bechtler Museum, delegates from Kentucky, the U.S. Virgin Islands, Oklahoma, Indiana, and abroad will be welcomed by LJ Stambuk, president of the Charlotte World Affairs Council, and Dr. Dan Murrey, executive director of the Charlotte in 2012 Convention Host Committee. The Andrew Thielen Big Band will play as a sixteen-piece band, jazz trio, and solo electric saxophone.
The theme of the event, which was created by Soiree Charlotte, is "Retro Meets Modern," and draws inspiration from the museum's art collection. The menu is based on 1950s and 1960s convenience foods (think Spam and TV dinners), which are all modernized—and made a bit more upscale. The playful menu includes "The Burger Box," a Spam slider topped with a fried quail egg and ginger mayo, Swedish cocktail meatballs made with lamb, a lobster Newburg pot pie, a Ramen noodle station; desserts are red velvet whoopie pies, Tang meringues, and an Ovaltine and Khalua dessert cocktail with peanut brittle triangles.