The Disciplined Life: Jimmie Johnson
He works out every morning. He drives his daughter to preschool. He says the right things and drives the right way and makes friends wherever he goes. In the rowdy world of NASCAR, he's the sport's most consistent winner, year after year. This is not an accident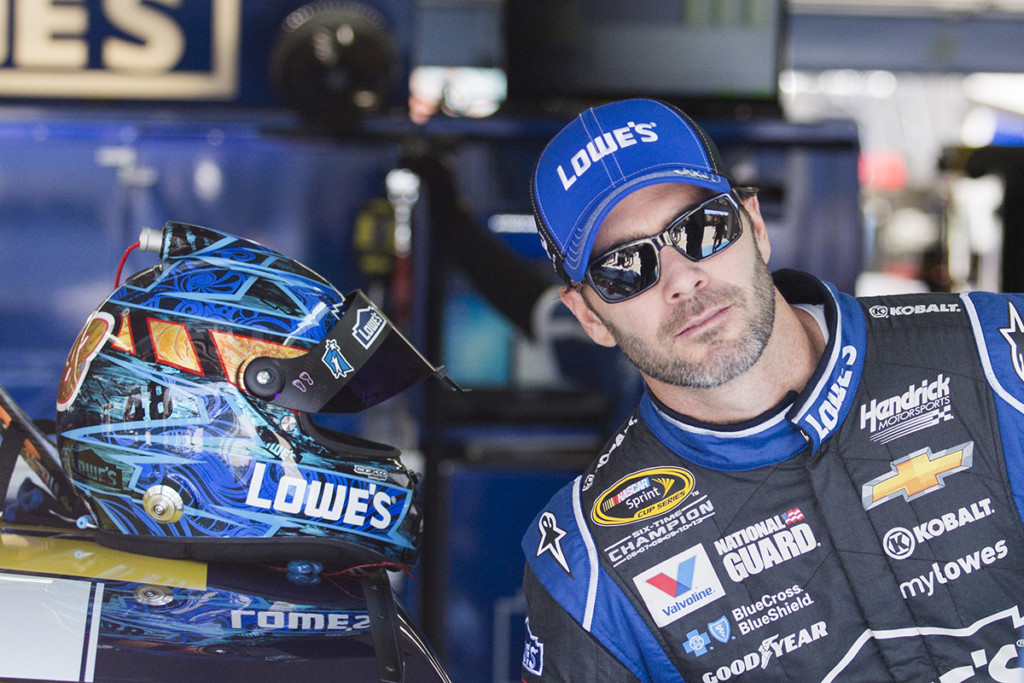 THE FIRST THING he does is hug people.
Jimmie Johnson arrives in the predawn darkness at Freedom Park, when the stars are still out and old-fashioned street lamps spill circles of light onto the pavement. Thinner and taller than he appears in photos and on television, he's also remarkably quiet. Not here to make a big fuss, just greeting friends. "Alright, 10 seconds!" Coach Jamey Yon, founder of TRi-Yon Performance, shouts to the assembled group of runners. They are a collection of slim waists, muscled legs, and ex-posed six-packs—moving limbs, ready to sweat. Their task this October morning, at 5:30 a.m. on a Wednesday, is to run 1,000-meter laps around the park's lake, five times in a row, with two-minute "recovery jogs" between each lap. They are training for triathlons.
It's 10 days before the Bank of America 500 race at Charlotte Motor Speedway, and Johnson's in the midst of pursuing his seventh NASCAR Sprint Cup championship—a feat that would tie his record with legendary drivers Richard Petty and Dale Earnhardt. This has not been his best season, but he's still the defending champion. People expect him to win.
The sound of footfalls, sneakers on pavement, breaks the morning quiet as runners begin to circle the lake.
The engine tuner for Johnson's racing team is here. So is his buddy, Wynn Davis, co-owner of Mac's Speed Shop.
Johnson, whom President Obama has called the "Michael Jordan of NASCAR," keeps up a pace that makes him neither the fastest nor the slowest in the group. He's consistently ahead, though, as each runner passes under the lamp where Coach Yon is standing, shouting times from his stopwatch.
The sky deepens to a velvet blue. By the third lap, some runners are starting to breathe harder. You can hear them huffing as they pass under the lamp. Not Johnson. His stride is steady.
When he circles by for his fourth lap, he shakes his head good-naturedly: "Brutal."
Heading into his last lap, he's still relaxed and joking about the people dashing ahead of him. "They don't like to rest," he tells Yon. "They go early every time, Coach."
He finishes the run in 27 minutes and 40 seconds—a respectable 5K time if you sub-tract the eight minutes of jogging between laps. Yon now leads the group in stretches and exercises on the ground.
They hold a plank position on their forearms; Johnson's hands dig into the sidewalk. Then they stretch the muscle that connects the pelvis to the femur, one leg bent in front, the other extended straight behind them.
When he's done, Johnson jogs off into the dark. The hour he has allotted for exercise this morning is over. It's time to drop off his 4-year-old daughter at preschool.
***
THE WORLD OF A NASCAR DRIVER is built entirely on risk: How fast can you push the car without crashing? How much will you gamble your own safety to win?
For most people, a high-speed car wreck means almost-certain injury or death. The thrill of watching a driver skirt that danger is part of what draws NASCAR fans to the track. But if drivers died too often, the sport would not exist.
In this world, a careful, calculating driver is an anomaly. Johnson is steady and even-keeled. He wins consistently and rarely crashes. That kind of person can be wildly successful; he can also be resented.
Johnson doesn't fit the stereotype of a hotheaded, hard-partying driver with a Dukes of Hazzard drawl. He doesn't work on a farm like Dale Earnhardt did, or get into fights with other drivers like Tony Stewart. Many traditional NASCAR fans can't relate to his polished, laid-back demeanor.
Yet Johnson takes both the praise and the criticism in stride. "He has a great head on his shoulders," says his wife, Chandra. "He's always been like that."
That kind of steadiness requires discipline. Johnson argues frequently with his crew chief, but has stayed with him for 13 years. He befriends everyone in the garage, giving the other drivers no incentive to wreck him during a race. No matter what kind of day he's having, you can count on him to stand in front of the cameras and thank Lowe's.
Perhaps this is why he runs. At 39, the champion race car driver is also a husband, philanthropist, and father of two young daughters. He has responsibilities. He has fears. And he chooses to cope with them by training for triathlons.
"It's to the point where it's just good for my head," he says. "To manage my stress, to get a couple of hours a day to just forget about it all."
In other words, one of the world's best race car drivers competes in triathlons to relax.
***
JOHNSON IS NOT a naturally gifted athlete, Coach Yon says, "but he maximizes the genetics that he has." Yon, a former professional triathlete, trains with Johnson one-on-one four or five days a week.
They've been working together for three years, long enough to learn some-thing about each other. The coach says Johnson pushes himself, asks questions, and listens to advice in the gym, just as he does on the racetrack. "He listens and learns from other drivers," Yon says. "He listens to Chad [Knaus]," his crew chief.
Another thing Yon has noticed about Johnson: He's in his element when they are training hard, sweating and covered in dirt: "He just likes to be a sweaty little kid."
Johnson was a little kid when he started racing. His parents gave him a pint-sized motorcycle for Christmas when he was three. This was in El Cajon, California, a suburb of San Diego. Johnson's mother was a school bus driver and his father worked for a tire company. Home video shows their eldest son wobbling along a sandy road wearing a helmet that seems to swallow his head. His dad's hand steadies the back of the motorcycle while a dog gallops along beside them. Johnson remembers being scared and tipping over, getting a little bruised up. But he grinned when he sat on the bike, and he laughed as he pretended to rev the engine.
Within two years, he was competing. His five-year-old brain was awed by the size of the racetrack, which was about a mile long: "The first day, my first race, I just remember being on that big track and wondering, 'Where do I go?' "
The path revealed itself soon enough. Johnson moved from motorcycles to off-road racing to the Busch Series to NASCAR's Sprint Cup (then known as the Winston Cup) in 2002. That year, his rookie year, he won a cup race for the first time, the NAPA Auto Parts 500 at California Speedway. From 2006 to 2010, he won the Sprint Cup championship five times in a row, becoming the only driver in the history of the sport to rack up that many consecutive wins.
***
LESS THAN TEN HOURS after the run in Freedom Park, Johnson is supposed to meet Yon at the Mecklenburg County Aquatic Center. They are scheduled to do a "recovery swim," a low-intensity workout to help Johnson's muscles release lactic acid so that he can train again tomorrow.
His goal, if Chandra and his NASCAR schedule allow it, is to compete in a Half Ironman in January. But that means he has to train. And right now, he's 20 minutes late.
Yon texts him from poolside, wondering if something came up with Chandra and Johnson's daughters.
Yon's own family—his wife and five children—are on their way to the pool, and the coach will have to leave soon to take care of them.
Finally, Johnson appears, apologizing. "I'm so sorry," he says, jumping into a lane with Yon.
It's a public scene. On the bleachers across from Johnson, mothers find seats to watch their children's swim lessons. One woman pulls out a laptop; another opens a book. None of them pays any attention to the NASCAR champion swimming laps in front of them.
Yon's kids arrive, and when the coach leaves to take them to the locker room, Johnson keeps swimming. He looks at the clock; it's pushing 4 p.m. He plans to stay another 40 minutes or so. It's clear those minutes are precious to him.
Nine months a year, his life is built around a tight schedule: traveling and racing on the weekends, public appearances during the week, and running, biking, and swimming nearly every day except Sunday, when he races. He averages six or six-and-a half hours of sleep a night. If his one-year-old daughter, Lydia, doesn't sleep well, he might not make it to a morning run. "I'm learning how to function on caffeine," he says.
"Breaststroke! We're gonna work on breaststroke!" shouts the teacher leading the swim class in the lane next to him. Small children float on their backs, preparing to splash and kick next to Jimmie Johnson.
He glides through the water, oblivious. Now he's doing flip turns when he finishes a lap. Yon's wife, Farrah, who also works with TRi-Yon Performance, jumps in and shares the lane with him. Back and forth they swim, not pausing to chat, just moving through the motions of their workout, lap by lap, until it's time for Johnson to leave.
He pulls himself up and out of the pool, towels off his hair, and begins stuffing his belongings into his gym bag. He wants to get home to his family by 5.
***
FOUR DAYS LATER, Johnson crashes. On the 85th lap of the Sprint Cup race in Kansas, Greg Biffle's car swipes him and sends his car spinning. No one is injured, but the 48 team rolls the car into the garage with serious damage.
Now Johnson is facing elimination from the Sprint Cup Chase. In one night, the defending champion has gone from fourth in the standings to 12th place—dead last in this round of the competition. He needs to win in Charlotte, or this could be a lost season.
At Charlotte Motor Speedway, the atmosphere is like a carnival. Fans park their RVs around the track in Concord for several days before the Bank of America 500—drinking, grilling out, and hoping for a glimpse of their favorite drivers. In the infield, music blares constantly over loudspeakers, the noise drowned out only by the roar of engines.
Two days before the race, at a wooden table outside Jeff Gordon's motor home, a deer-hunting show plays on a large outdoor TV screen. Johnson emerges from his neighboring motor home wearing jeans and a polo shirt. He's his usual, subdued self, speaking philosophically about the prospect of losing.
"I've had the great fortune to win six championships," he says, "but I've been racing since I was five."
There were many years that he did not win. "A championship is so rare," he says. "It takes so much to be that team. I mean sure, it's disappointing. But it is what it is."
Dark sunglasses shield his eyes, making it difficult to tell how much he means this and how much he is convincing himself. So instead, we talk about racing. We talk about risk and fear. "It was easy when I was single," he says. "I remember being in situations where it crossed my mind, Man, that could've been it. And you're young, you're caught up in the sport you love, you're willing to risk it all."
Fourteen years after Dale Earnhardt's death, the sport is safer but Johnson is also more aware of what he stands to lose. "I fear death," he admits. "I fear cancer—it seems like everybody I know around somewhere is affected by it, which is so terribly sad. Having kids just ramps up the whole fear factor."
Before he can dwell too much on these thoughts, a PR representative interrupts to tell him it's time for his next appointment. Johnson jumps onto a golf cart and pats the empty seat next to him. We zoom across the infield to a press conference at the track's media center. "Welcome to our circus," he tells me.
Inside, he waits for his turn in front of the row of television cameras. Driver inter-views are spaced minutes apart, one after another, like a cattle-call audition. Reporters sit at long tables, tapping away on their laptops. Some of them barely look up when he starts talking.
Johnson does his job, answering canned questions with canned responses. Only one question trips him up. It's about how he looked in the garage after the crash in Kansas. A reporter from Sirius XM NASCAR Radio says Johnson had his arms folded while Knaus, his crew chief, had a soft smile on his face. It was a reversal of their usual roles.
"Um, I don't, uh …" Johnson fumbles as he tries to explain. "I definitely wasn't happy, to be sitting there tore up."
His voice is low, and an uncharacteristic hint of frustration creeps in. "I guess I just didn't have anything to do."
When his time in the hot seat is done, John-son walks into a closed room not visible from the main media area. It's quiet, almost private. He takes a phone call from the comedian Jay Mohr, who has a show on Fox Sports Radio. Laughing with Mohr, his face relaxes into the biggest smile I've seen on him all day.
Then he's outside again, striding across the asphalt of the infield. A photographer aims a camera at his face. Random strangers run up and shove items at him to sign: photos of him, or a model 48 car. The roar of engines is so loud that these fans can't talk to him—they just hand over a treasure and wait for his auto-graph. He walks and signs silently, moving at a good clip until he reaches his team's hauler.
There, he might be able to steal a few moments of privacy.
***
TWO DAYS LATER he loses again. His 17th-place finish at the Bank of America 500 means he has almost no chance of winning the championship. Fellow drivers Matt Kenseth and Brad Keselowski steal the spotlight, tackling one another after the race and creating the drama that dominates the massive television screens at the speedway.
Johnson, the man known for six seasons as the driver to beat, simply disappears. The following week at Talladega, he finishes 24th. It's official: He won't be a champion this year. But he keeps training. Two weeks after Talladega, he pulls off an unexpected win in Texas while Jeff Gordon and Keselowski bloody their faces in an all-out brawl.
Again, Johnson stays above the fray. He starts advising his old friend Kevin Harvick, giving him tips on how to win a championship. This is the way Johnson is, his friend Wynn Davis says: "He's very encouraging to everybody. He's thinking about the other person a lot."
When Harvick celebrates his first Sprint Cup championship in mid-November, he thanks the man who helped him get there. "Jimmie was in my trailer as much as many of my teammates, and calling me and … doing all the things that it takes to tell me what I needed to do today," Harvick tells reporters after the race.
Once again, Johnson pulls off the impossible. Somehow, instead of ending the NASCAR season in disgrace, the defeated champion comes off looking like a Good Samaritan.
Back in Charlotte days after Harvick's victory, Jimmie and Chandra hold a press conference. It's not about Harvick or the Sprint Cup or why next season will be better. It's about public schools.
Between 2009 and 2013, the Jimmie Johnson Foundation, in partnership with Lowe's, donated more than $860,000 dollars to public and charter schools in Mecklenburg and Cabarrus counties, along with more than $2 million to schools in the Johnsons' home-towns in California and Oklahoma. Now they're ready to give out hundreds of thousands of dollars more.
The event takes place at Garinger High School in east Charlotte on a cold day in November. Jimmie, Chandra, and their 4-year-old daughter, Genevieve, wait near raised beds of vegetables on the school's urban farm. Genevieve has dressed for the occasion in a puffy gold jacket and a white tutu skirt. "You gonna smile?" Jimmie asks her, pointing at planters full of radishes.
She hugs his leg. It's clear why Johnson is known for his devotion to his family. Gene-vieve peeks out from behind the podium when he takes the microphone. As other speak-ers take their turns, he picks her up and holds her in his arms. And when it's time for the photographs with giant, oversized checks, Genevieve steals the show—hiding behind the checks and then popping out from under them, like she's playing hide-and-seek with the crowd.
Afterward, Johnson poses for more pictures with students from the schools receiving grants, including Garinger, whose urban farm will receive $50,000. Johnson bends down to shake hands with a young man wearing glasses and a sweatshirt. "Nice to meet you," Johnson tells him, just as casually as he hugged his fellow runners in Freedom Park.
Then it's time to face the microphones and cameras. A reporter asks Johnson about the help he gave Harvick. "Honestly, I was just being a friend and a teammate," he says. Putting to rest the notion that he might retire, he appears relaxed and in good spirits. He doesn't have to worry about winning any races for a few months. Except, of course, for the Half Ironman in January.
Of course he's still training for it. Of course he's using two of his three months of vacation to forgo sleep for running, to swim and bike instead of partying his way through the holidays. That's who he is.
And now that he doesn't have to report to the track every weekend, he can train on Sundays, too.
Lisa Rab is an associate editor for this magazine. Reach her at lisa.rab@charlottemagazine.com or on Twitter: @lisayrab.
JIMMIE JOHNSON FOUNDATION WELLNESS CHALLENGE
You can run, bike, and swim with the NASCAR champion at these local events, designed to raise money for Johnson's foundation and promote health and wellness.
Jimmie Johnson Foundation
5K Run/Walk and Family Fun Run
April 26 in Huntersville
Jimmie Johnson Foundation
Cane Creek Sprint Triathlon
August 11 in Cane Creek State Park
Jimmie Johnson Foundation
Lake Davidson Sprint Triathlon
September 13 at Ingersoll Rand's Davidson campus
More info at: jjfwellnesschallenge.org.